---
Jerry GOLDSMITH The Flint Movies : In Like Flint (1967); Our Man Flint (1966) OSTs VARÈSE SARABANDE VSD5935 [65:00]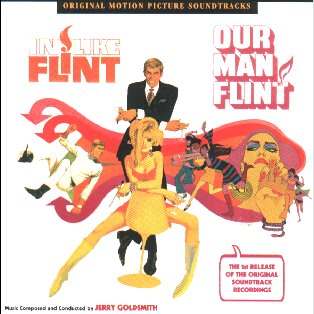 These scores are very much of their time. They are examples of a 'cool' 1960s sophistication. The Flint movies with their now horrifically non-PC approach to women and pretty well everything else seemed to be pastiching themselves even then. The two movies (and that is all there was!) occasionally make it to television but not at peak time. James Coburn is the epitome of the US counterpart of James Bond.
These early Goldsmith scores will fascinate for a language which is best recalled from any music for any episode of The Man From UNCLE; a mix of jazz and cool big band sounds. Lots of clunking percussion, chaffing string themes, maracas shush, saxophones sleaze, big band brass threatens. The petrol was cheap, the cars had big tail fins, the villains sweated and Flint was elegant, successful and won but not only did he win … he always won with style. The notes suggest a stylistic difference between the two scores. I do not hear any.
If you are into creating nineteen-sixties atmosphere or are deeply immersed in nostalgia for the Americana commercial side of that era look no further. Personally I can work up little pleasure for this as a musical experience. As a souvenir of the film it will recommend itself to a specialist audience who probably requested its issue and already have the CD on their shelves even as I write.

-minus
Robert Barnett
---
Return to September Film Music Reviews
---