---
***************************************************************************
EDITOR'S RECOMMENDATION Sept/Oct 1998
***************************************************************************
Basil POLEDOURIS Conan The Barbarian (1982) OST The Orchestra and Chorus of Santa Cecilia and Radio SO of Rome conducted by the composer VARÈSE SARABANDE VSD5390 [67:10]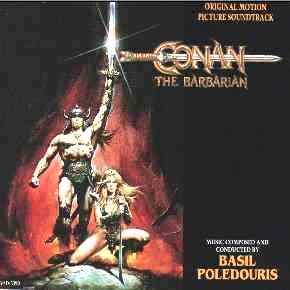 We owe it to director John Milius that Conan is a grand manner symphonic score rather than yet another anonymous dollop of pop pap. Milius had Poledouris writing music before during and after filming making the music more than usually an organic part of the warp and weft of the film. There are similarities here with the work of Walton on Olivier's Henry V.
The tracks on this well-filled CD are often quite substantial in length with seven of the 16 being longer then 4 minutes. The notes tell us that this album also offers up music which could not be used in the film.
The title track contrasts galloping drums and barking horns with a mystical chantlike theme. The orchestration is gloriously profligate with a breathtaking twentyfour French horns. The chant theme is the basis for the next track -(Riddle of Steel/Riders of Doom) which has Mahlerian chirping (Symphony No 1). Trumpets call in spasm and there is a rather distant Orff-like choral contribution. Bass drums and gong clash and hammer.
The gift of fury conjures up in high-striving strings Conan's loss of his parents. A sad downward curving woodwind theme underlines the tragedy. The Wheel of Pain vividly evokes the creaking and giant wheel powered by Conan goaded and derided by his captors. The unoiled creak of metal and wood is a counterpoint to the vast swing and thump. Atlantean Sword is summoned up in high whispering violin harmonics creating a subdued rainbow effect and a chanting hieratic trance.
Theology/Civilisation is a woodwind solo over clinking high percussion like some Egyptian Dance (much of this score reminded me of the exoticism of Florent Schmitt and Louis Aubert) with small cymbals and bells. This dissolves into a vigorous dance which sounds Armenian (rather like Hovhaness) and is full of flowing life. Then comes a section which sounds like the carriage ride from Philippe Sarde's score (1979) from Polanski's Tess. In a huge acoustic a great string hymn builds in great vaulting arches of sound like an emotionally unchained Tallis Fantasia. The track ends abruptly: a pity. The Leaving/The Search is a waterfall of sound. Rózsa and Newman are among Poledouris's heroes and this is not surprising given this music which is sad but hopeful - very English. Patrick Hadley's meltingly Delian symphonic ballad The Trees So High may have been in the composer's mind when he wrote this track. The fade at the end of track is brutally quick. Clanging chains signal the Mountain of Power procession. This has a conventional stuttering heroism like the Roman legions entering to Rome. There is an engaging grittiness rising to one of the most emotionally eloquent statements Poledouris has ever achieved -extremely impressive. From this we move to the atonal miasma of the Tree of Woe. Great steel plates clash quietly heavy with threat and small bells resonate.
The Kitchen and Orgy (odd juxtaposition) track uses more choral Orffiana. To an accompanying jerky figure like the street market music in Herrmann 's Seventh Voyage of Sinbad the orgy is portrayed through a curvaceously thriving statement of a Ravelian waltz theme (part-written by Poledouris's daughter, Zoe). This is strikingly spun and hefted, dripping with oriental exoticism and the big concert sound. The Funeral Pyre is cor anglais solo singing a carol of sorrow over the death of Valeria. This is again in the grandest manner, punched home with heavens-storming strings and hammered brass chordal work. The Battle of the Mounds also has choral grandeur. Rexor's death is portrayed in weird blackness with hushed spoken choral singing out of Ligeti's sketchbook and sometimes Howells-like choral character.
The stumbling 'Dies Irae'-like march catches the sombre uncertain tone of the religious event which accompanies the death of the villain. The final track tops all that has gone before in heroic mountain-shouted grandeur. It combines a sense of fulfilment and quaking wonder. Shame again about the unnaturally severed resonance at the end.
Sound quality is quite good with age telling only in the quality of the string sound. It would be good to hear it in up-to-date sound. However, be clear, the sound is healthy and full of impact.
Kevin Mulhall's notes are for grown-ups. They are excellent: brief but full of illumination.
I wonder if Poledouris ever considered putting together a Conan Symphony. If so please don't lose a single French horn. All of this reminds me that I must get to hear the Poledouris score for The Blue Lagoon remake (1980); Poledouris's first real big break.
This Conan disc is a Hall of Fame album: important in its own right; gloriously enjoyable wonder-drenched music fully worthy of the Big Screen and the Great Imagination.

Rob Barnett
Visit Conan's Realm at Barbarian Nation
---
Return to September Film Music Reviews
---