---
**************************************************************************
EDITOR'S RECOMMENDATION (1975 recording) Set/Oct 1998
**************************************************************************
Bernard HERRMANN The Ghost and Mrs Muir Orchestra conducted by Elmer Bernstein VARÈSE SARABANDE VSD-47254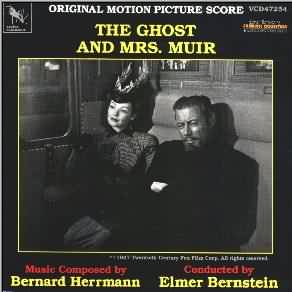 This recording is not new; in fact it was made in England (I suspect with the National Philharmonic Orchestra) in 1975. I include it as a retrospective review and as a palliative against the harshness of the Herrmann scores above and below. This is altogether a more gentle, more romantic and dreamy side of Bernard Herrmann. The Ghost and Mrs Muir, starring the beautiful Gene Tierney, Rex Harrison and George Sanders, in a typically charmingly caddish role, was made in 1947. A delightful little tale of the supernatural, it was set in an English seaside house that is haunted by the ghost of a cantankerous sea captain (Harrison) who befriends its new occupant, an impoverished young widow (Tierney) and persuades her to write down at his dictation, his memoirs which subsequently become a best selling book to provide her with an income. It was Herrmann's seventh score and the fourth of a long series of assignments for 20th Century Fox. Reviewers at the time commented that Herrmann's music was - "a telling factor in building up and sustaining the spirit of the story." As Fred Steiner says in his excellent CD booklet notes (with the unusual inclusion of musical examples)- "Much of Herrmann's music is romantic in style; many of its pages have a dreamlike quality which alternatively evoke images of the sea and the mystery inside the haunted house ...the composer avoids the typical conventions of Hollywood-type ghost music."
There is much to admire in this score: music that reminds one of Delius or Warlock in the cue Poetry; music of great delicacy and beauty in the Debussy-like The Spring Sea and the lovely "Nocturne" that quietly speaks of the sea and the ghostly cottage. More turbulent figures represent "Storm at Sea" and the composer cleverly and most convincingly shows us the "sorrow" Lucy feels when she discovers Miles' (Sanders) duplicity after she had fallen so hopelessly in love with him and driven the ghost away. Other delightful cues include the high-spirited and optimistic "Local Train" and the chiming-clock music underscoring "the reading" as Lucy awaits the verdict on her book.
A classic amongst Herrmann's works.

Ian Lace
see also Bernard Herrmann web page
---
Return to September Film Music Reviews
---