---
Erich Wolfgang KORNGOLD Suite for 2 Violins, Cello and Piano Left Hand

Franz SCHMIDT Quintet in G Major for 2 Violins, Viola, Cello and Piano Left Hand Leon Fleisher (piano); Joseph Silverstein and Jaime Laredo (violins); Michael Tree (viola) Yo-Yo Ma (cello) SONY SK 48253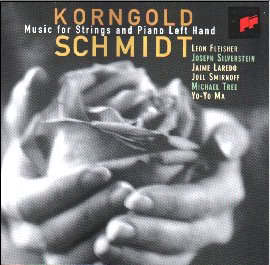 The life of Paul Wittgenstein would have made an ideal subject for one of those Hollywood weepies of the 1940s which charted the love lives and tribulations of composers and concert artists. Wittgenstein's burgeoning career as a promising professional pianist was threatened after a First World War wound necessitated the amputation of his right arm. Not one to be defeated, he hunted around for repertoire for the left hand only and, in due course, commissioned works from Maurice Ravel, Benjamin Britten, Richard Strauss and Franz Schmidt as well as Korngold.
The Korngold Suite for 2 violins, cello and piano left hand is very accessible and melodic. The work gives the pianist many chances to shine with piano solos opening the outer movements and playing an important role in the central Trio of the middle "Groteske" movement. Korngold's clever writing is such that one often has the impression that two hands are at work and Wittgenstein, himself, reminded his listeners that it "takes double the talent and energy for a left-handed pianist."
The first movement opens sombrely in a manner very reminiscent of the pride and haughty Spanish grandeur of Ravel's D Major concerto but soon the mood lightens to allow a warmer, more lush romanticism. The second Waltz movement pre-echoes Korngold's opulent, romantic film music especially the early sections of the Anthony Adverse score associated with the illicit romance between Louis Hayward and Anita Louise. The Groteske movement is more abrasive and hectic rather like a pack of excited puppies but the contrasting middle section (referred to in the preceding paragraph) is calmer and again with a Spanish feel - the piano part is very beautiful. Lied, the fourth movement is a serene nocturne, restrained and warmly nostalgic a mood which is carried over into the opening of the final Rondo with a lovely cello melody before the music becomes more high-spirited and a little cheeky. I will leave you to spot all the seeds which germinated into later film scores from this 1920 work.
Franz Schmidt (1874-1939) was, like Korngold, an Austrian. His Quintet in G for 2 violins, viola, cello and piano left hand is, like the Korngold work, accessible and melodic. The piano part is less showy and more integrated into the fabric of the whole. To quote from David Grayson's erudite CD booklet notes (which include fascinating background detail about the Wittgenstein family) - "...the piano part, often delicate and suggestive of a harp or celesta, blends readily with the rich Brucknerian string writing." The outer movements are light and genial; the melodies as openly romantic as any by Korngold. The central movements are more introspective; the Adagio is particularly affecting, poignant and anguished by turn while in the Sehr ruhig third movement, the instrumentalists engage in an elegant and refined dance. As might be expected from such a distinguished line-up of soloists, these are exquisitely blended performances of real distinction.

Ian Lace
---
Return to September Film Music Reviews
---