---
CINEMA CHORAL CLASSICS

CINEMA CHORAL CLASSICS II

Crouch End Festival Chorus/David Temple City of Prague PO/Paul Bateman
SILVA Classics SILKD6015 (Vol I) [71:33] SILKD6017 (Vol II) [73:23]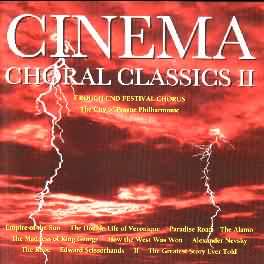 The power of chorus and orchestra whether in film or concert hall is undeniable. Composers and film-makers have been quite happy to use the work of other composers and sometimes have been more than content to use established classics such as the ubiquitous Carmina Burana of Carl Orff. Silva Screen have with their usual acumen spotted a gap in the market and have filled it with some success in these two volumes.
What has now turned out to be the first volume opened with a really excellent performance of O Fortuna from Orff's Carmina Burana. Although for many it will for long be associated with the Old Spice surf advertisements on TV it is here because of its use in John Boorman's Arthurian legend film Excalibur.
Maurice Jarre's Prelude and Birth of Christ draws, in its prelude, on the example of Vaughan Williams' hushed reverence with a nod towards Rózsa in his Biblical epic mode. Pleasantly subdued religious ecstasy really well done but not perhaps as disturbing as it might be. That is a matter of the music rather than the performance which strikes me as first class. Barber's Adagio for strings (originally from the string quartet) has been used in many films. This choral version emanates from The Scarlet Letter. It is achingly done.
The next track is a real contrast. Jerry Goldsmith's Never Surrender from First Knight also appears on the recent two CD Goldsmith collection. It has something of the turbulence of Carmina Burana but mixes in a big-stage surging romance coupled with a strange recollection of Vaughan Williams' sixth symphony. Not surprisingly I occasionally was reminded of the Goldsmith score for The Omen which also appears on this disc.
From initially calmer seas we have the heavenly sounds of Alan Silvestri's The Abyss like some divine visitation from English cathedral music. An even grander and more sublime vision soon enters in a wordless and chorally heaven-storming sequence ably abetted by the orchestra. Similarly calm is The Lord's Prayer from Rózsa's King of Kings. It rises to great heights as it progresses through its brief 2:45.
Basil Poledouris's complete score for the first Conan film, Conan the Barbarian (1981) is one of the treasures of film music. In parts Mahlerian and in parts just a ripely romantic and exotic Rimskian romp the score is well despatched here. I just wish they had used more of the music. I am still hoping that one of these days we will get on a single CD the scores for both of the Conan films.
Then come two more ethereal choral slices from the Morricone score for The Mission (1986). The first section is rather bland. The second segment entitled On Earth as it is in Heaven is in its staccato singing remarkable and the final yelp plus ethnic drumming makes this a memorable track. John Barry's miniature suite of music from The Lion in Winter opens with another punched out and vigorous chorus followed by a misty gently rocking sketch of Eleanor's Royal barge arriving at the palace. There is then another regally glorious closing section disconcertingly called We're Jungle Creatures.
Everyone knows the name of Vangelis for the dynamic score for Chariots of Fire. Amongst his many other scores is Ridley Scott's Columbus extravaganza: 1492: Conquest of Paradise (1992). The five minute extract here is the streaming, sunglinting glory describing the billowing sea and the small fleet of ships challenging the elements. The mandolins or guitars give the score a suitably Hispanic feel.
Mario Nascimbene seems to have had little attention in the reissue of film scores and yet his music for The Vikings (1959) is very strong and memorable. No-one so far has recently issued the complete score or re-recorded a large suite of the music. The horn motto which is everything in the score seems too distant to make the impact I had hoped when I saw the piece listed and although I recognise the imposing march and pace of the music I felt that it remains to be better served. The chorus make something of the motto but I would still have preferred an even more colossal sound which even a volume boost cannot compensate for. Still … this will do nicely to be going on with.
Goldsmith's Oscar-winning music from The Omen (1976) is represented in a suite which sizzles and shudders in its own black juices. The orchestra squeals and slithers. The chorus wails and moans. The trumpet screeches like some episode from Mussorgsky's Pictures at an Exhibition and the massed strings and brass reach deep into the Rite of Spring. The chorus wholeheartedly embrace the Black Mass they are required to sing. As a moratorium from this Sabbat we get a string-hefted love theme which drifts sweetly by in true 1950s fashion. But it is soon disrupted by little demons leering and soon by a monstrously hollow stamping and a choir singing of Satan, the eating of flesh and the quaffing of blood. Who would have thought that this choral song was nominated in Hollywood as Best Song of the Year!
Patrick Doyle's famed score for Henry V was quite an achievement given the classic competition which he was up against. Walton's score is an intimidating achievement. Doyle in fact pulled off a wonderful coup and those great tracking shots through the battlefield as the Non Nobis Domine rings out are the part of the film which lingers longest in my memory. Doyle has a great gift for nobility in his music. We hear that in strength here. The terracing of sound from solo voice through to section after section of choir and orchestra is lovingly handled in this recording.
*****************
This second volume Silva collection is well-filled as was the first volume. It is of interest not just as easy and occasionally impactful listening but also because it restores or makes conveniently available for the first time a number of classic cinemusical moments.
Handel's Zadok the Priest (Madness of King George) is given a regally powerful performance. Van Den Budenmayer is a mythical composer featured in a number of the films of Kryzstof Kieslowski. The composer was in fact Zbigniew Preisner. The Concerto in e minor is from the Kieslowski film The Double Life of Veronique. This is sweet-toned, romantic and not at all baroque in feeling. It uses orchestra, solo female voice and chorus.
Alfred Newman's choral How the West Was Won is given well by the chorus who are critical in this collection. This however is one occasion where the authentic Hollywood Western American accent would have helped. There is an attempt at authenticity in 'plenty' being pronounced 'plenny' but it does not have the burning (and slightly un-nerving) conviction of the technicolor original. This is the sort of music which benefits from a completely raw and wild enthusiasm: the sort of thing you find in Roy Harris's Folk Song Symphony.
Sanctus (a trendy classic of the 1970s LP era) as used in Lindsay Anderson's film If does not have the anarchic force of the original in this performance although it is vigorously done. Exultate Justi an original piece by John Williams accompanied the masterly film, Empire of the Sun. Sub-Mozart, it is done in attractive and lively style. Patrick Doyle's score for the Branagh directed Much Ado About Nothing (1993) in these two choral excerpts is smooth and extremely effective. The solo tenor voice is extremely affecting and the music generally shows the usual evidence of Doyle's facility with nobility and beauty a sort of next step onwards from Finzi though there is more of Andrew Lloyd Webber in Sigh No More Ladies than there is of Finzi.
The perfectly matched film and score for Tim Burton's Edward Scissorhands is a wonder. This is an unforgettably quirky film with a fragile magic created by the partnership of visuals, extraordinary acting by everyone, plot and music. Danny Elfman's dreamy music-box, snowstorm glinting is well caught here leaning into the more romantic stretches of Tchaikovsky's Nutcracker. It is really very well done by everyone concerned though the high entries for the sopranos were not ideally smooth all the time. Overall though this is a lovely track, well worth sampling and with great perspective.
Mars Attacks is another summer crowd-pleaser of a film. It featured a remarkable lineup of actors. Elfman was again conscripted by Tim Burton. The score this time is rather atonal and horrific whooping horns and clashing metallic plates and a warbling ondes martenot. It is all rather fun even if it did several times smack of Franz Waxman's score for The Bride of Frankenstein.
Next comes a deeply inauthentic but nice Largo from Dvorak's New World Symphony (Paradise Road) sweetly done. The Green Leaves of Summer is a choral song by Dimitri Tiomkin and was used in the film The Alamo. It is delivered here with great sincerity slightly cheesy maybe but quite affecting. It enjoys a gentle jog trot of a pace and is rather sweet in an English pastoral way.
Tradition of the Games by Basil Poledouris is the only track here not composed for the cinema although the grand spectacle of the Games is a close enough approximation. It is rather effective and is intended to catch the antique Olympian Greek spirit with dashes of exoticism, tinkling cymbals, small bells and, towards the end, the wildness of a bacchanale. A grand selection and it may well be the only recording of the piece.
Promise of the Holy Spirit from The Robe is another track by Alfred Newman. It is rather Vaughan Williamsy: mystical and intended to be uplifting. Even in the film it proved rather bland as it does here. Then comes two more Patrick Doyle morsels. Weep You No More Sad Fountains from Sense and Sensibility and In Pace from Hamlet. The first is a simple quiet operatic aria for soprano - no chorus this time. In Pace is, as expected, reverential and earnest. This time it features the full chorus but rarely launched at full blast.
Poledouris gets a second lookin this time with some real film music: The Hymn from The Hunt for Red October, potentially quite a raw and dark piece, it merits a weightier tread and impact than it gets here. I felt that it needed a darker denser tone and a bigger more muscular sound.
Prokofiev's ecstatic celebration of Alexander's Entry into Pskov is taken from his world famous music for the Eisenstein film Alexander Nevsky. It is vibrant and full of interest and is performed to match.
The disc, which opens with Handel in Zadok, closes in lively character with the Hallelujah chorus by Handel. The chorus was used in The Greatest Story Ever Told.
**********
There are full notes for both volumes with pretty well every detail you could ask for. Unusually, full texts of the sung words are given. If you can run to only one of the two discs I would lean in favour of the first.
Vol. 1

Vol. 2

Rob Barnett
---
Return to September Film Music Reviews
---