---
SCREEN EXTRAVAGANZA The Best of BRITISH TV and Film Music National SO conducted by the composers (in most cases) 2 CDS MCI MPMCD2 004 [131:11]

BARRINGTON PHELOUNG: Inspector Morse; Nostradamus; Truly, Madly Deeply.
George FENTON: Memphis Belle
Colin TOWNS: Vampire's Kiss; Puppetmasters
Debbie WISEMAN: Haunted; Tom and Viv; Good Guys.
Joseph HOROWITZ: Rumpole of the Bailey
Christopher GUNNING: Under Suspicion; Cold Lazarus
Carl DAVIS: Pride and Prejudice; The French Lieutenant's Woman; Champions.
Ron GOODWIN: The Battle of Britain; Those Magnificent Men in Their Flying Machines; 633 Squadron.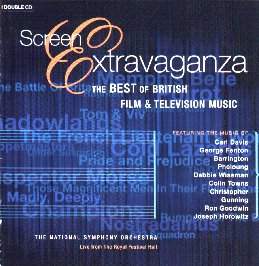 This is a recording of a South Bank film music concert bringing together many of the leading British film and TV music composers conducting their own music. Applause is included but otherwise there is hardly any audience noise. There are not many coughs. The sound quality is excellent.
The recording may reignite a debate about authenticity. A number of the tracks, while patently the same music as the music heard on the small screen, sounded subtly but certainly different. A TV score heard time after time, week after week, will etch its way into the consciousness and affections. When you buy a CD like this you may hope to renew an exact facsimile of the TV sound experience. Initially you may be disappointed or resentful when the sound is noticeably different. These are however concert performances as is declared very clearly by the (very infrequent) coughs and the applause. If film/TV music is to stand any chance of a separate existence it must be able to carry different interpretations and approaches in live concert and in re-recordings. George Fenton Shadowlands appears as a suite and the music is based heavily on Mozartian music which might have escaped from the Clarinet Concerto transformed into 20th century dress. His music to Memphis Belle appears as a three movement suite deploying an arrangement of The Londonderry Air and various other familiar tunes.
Pheloung's theme for Morse is masterful and comes across hauntingly in this recording even if it does remind you of Cavatina from Stanley Myers' music for Cimino's The Deer Hunter and Sibelius's Symphony No. 5. The first disc is very strong on atmosphere and although it has some fast and loud music I did not find it a commanding listening experience. It is however satisfying in a quiet and sustained way and all credit to those represented on that disc.
The second disc is the most impressive of the two. Chris Gunning's music for Cold Lazarus (companion to Karaoke), the controversial TV serialised play by Dennis Potter, is exuberantly ardent with infusions of Vaughan Williams and Rachmaninov as well as Gunning's own fresh-minted brand of romanticism. This is a highlight of the disc and one which will tempt me to try the complete Potter/Gunning scores available on Silva Screen. The applause seems niggardly in the face of this magnificent music.
I should also mention the well-carved character pieces for Poirot and Rumpole of the Bailey, both loved and recognised fixtures of British television. The Carl Davis trio of scores from Pride and Prejudice (well known), Champions and French Lieutenant's Woman is extremely effective without being wildly original. The music for P&P and FLW is a great success and well worth hearing in these no holds barred performances.
I have always been rather dismissive of Ron Goodwin's film music. That will now have to stop. His name is famous in film music circles because he was the composer who was chosen to replace the Walton score for The Battle of Britain a scandal which was none of Goodwin's making. In any event the music is spot-on in summoning up the changing moods of the film. The first section is a typically pompous Nazi march complete with an oompah beat, chirruping whistles, jingling stahlspiel and fluttering Swastika banners. There is a seductive swooning Lili Marlene-like dance-serenade to depict decadent and deadly, nocturnal wartime Berlin as the two officers visit the Luftwaffe HQ. Next comes a concluding rough-edged march with a grim determined set to the chin and lips. Excellent stuff!
The Goodwin music for Those Magnificent Men is again much more subtle than I had remembered and is certainly not just an over-the-top rendition of the famous song. There are various postcard clichés of the various nations taking part in the contest. When we get to the song it is given with brazen brashness and a straight face. The music for 633 Squadron is also explosively and intoxicatingly done. The french horns deserve a Nobel prize. I have never heard such a burred, tubby and flaming edge on a brass section. Magnificent. If this doesn't give you a shudder down your spine I don't know what will.
I confess to first listening to these discs while on a long motorway journey from North Yorkshire to the far North West of Scotland. Rather like the music of Rossini it is probably best to avoid playing 633 Squadron or The Battle of Britain music while you are in the outside lane of the motorway and in a hurry. A pity that the composers' names are not appended to the titles of the films on the back cover of the CD. All the information is in the booklet but it is irksome to have to search out the identity of the composers for each film in this way.
Proof-reading of the otherwise useful notes would have helped. Gielgud is not spelt Guilgud. Lazarus is not Lazurus. It is Kennith Trodd not Kenneth actually I am not sure about the two 'n's. Also is no-one familiar with the correct use of an apostrophe (its and it's)? Having declared myself as an arch-fogey I had better return to the music.
As a really quite generous collection of the best of music in its field this is very successful and should attract the serious film and TV music enthusiast.

Robert Barnett
Visit Home Page for Barrington Pheloung
---
Return to September Film Music Reviews
---