---
Brian LOCK The Land Girls OST (Tracks 9 13 15 199 are not by Lock but in most cases by Matthew Scott) orchestra conducted by David Firman SILVA Screen FILMCD300 [53:39]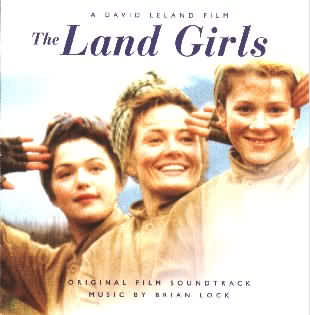 Brian Lock's name is not well known. The documentation (not at all bad this time!) reminded me that he was responsible for the arrangements of music by Johann Strauss and Schubert in Jane
Campion's Portrait of a Lady. He also wrote the original score for Karoly Makk's The Gambler. The latter film was famous for the indecision over which of two scores to use: Gerard Schurmann's or Lock's. Lock's was chosen but both were recorded and issued on CD. The storyline recounts the wartime lives of three landgirls. Lock's score (also orchestrated by himself rather than another contractor) is innocently pastoral without a strong rural impressionist element. There is less Vaughan Williams and more of Beethoven's third and fourth piano concertos and pastoral symphony.
There is also a touch of Mozart from the late piano concertos. All of this is heavily overlaid with a romantic element à la Elvira Madigan. This is not entirely pastiche but the influences I have mentioned are clear. The acoustic guitar and solo piano make strong highlit contributions. Track 6 Lost Love digs deeper emotionally in Lost Love without a hint of anything bitter or violent. The suite for Joe (tracks 7-9) is different giving some impression of conflict and jagged edges closer to Herrmann or Rózsa in film noir over-drive. Track 8's Shattered Dreams is back into subBeethoven Für Elise territory. The Countryside Suite sounds as if it came from the rural side of the same block as Carl Davis's music for Pride and Prejudice. It does not have the big emotional punch and landscape quality of Richard Rodney Bennett's music for Far From the Madding Crowd but then this presumably is not that sort of film. The sustained string sweetness with piano solo glinting through and over the texture might occasionally suggest Richard Clayderman. Also we hear the music of one of Lock's teachers Gorecki (Symphony of Sorrowful Songs).
Track 9 by Matthew Scott has a 1940s big band and rhythm clatter - all done rather effectively, luring you into thinking Lock is about to copy a Glen Miller evergreen and then turning away at the last moment. Track 15 has a bucolically gurgling Albion Band in Speed the Plough. The CD tracks (20) are unusually laid out. The music is divided into suites, one each for: The Lovers, Joe, The Lawrences, The Countryside, Stella and finally Love Remembered.
The music is undemanding, just a touch pallid but surely serves its purpose in the film, discreetly under-pinning and spurring forward the action without distraction. The recording is quite close and very up-front; just a touch unnatural. Undemanding background listening and a souvenir of the film.

Robert Barnett
See also Reellife.com
---
Return to September Film Music Reviews
---