---
MUSIC FROM THE MOVIES "Beautiful arrangements performed by The 101 Strings Orchestra" Themes from 22 movies EMPORIO (Music Club International) EMPRCD001 [69:14]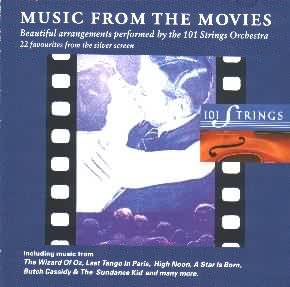 This collection, which I confess to having sampled only, is a slice of easy (in fact the easiest) listening. The arrangements are not for strings alone. There is a rhythm and percussion section which joins in on some tracks in truly queasy style. Wind instruments occasionally appear and a horrific Hammond (or similar) organ in the Charade track (11). A dwarf of a synthesiser or electric guitar makes a completely dreadful contribution to Windmills of Your Mind.
There is no pretence at authenticity. The Zorba track is notably unsatisfactory being terribly weakened as played here. At least many other tracks sound warm and enveloping. Film music specialists will look elsewhere but this album was not designed for them. This sort of thing has been done many times over the years. Mantovani and Semprini made their reputations with arrangements like this: great swoopy strings in richly terraced sound.
I am sorry but I cannot work up any enthusiasm for this disc and even Francis Lai's wonderful theme for A Man and a Woman loses its Gallic/tragic edge in a souping up which has removed all the rough edges and pretty well all of the magic. Even the usually perky Georgy Girl loses its cheekiness. You will know whether you like this sort of music playing in the background. I do not enjoy it and cannot recommend it. Get ready to see this disc in the remainder bins and in market stalls.
No stars awarded
Robert Barnett.
---
Return to September Film Music Reviews
---