---
John WILLIAMS Thomas and the King - stage production with lyrics by James Harbert James Smilie; Dilys Hamlett; Caroline Villiers TER CDTER 1009 [50:04]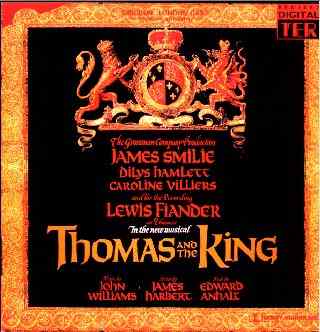 This is one of those doors which film composer John Williams (Jaws, Star Wars, Schindlers List etc) opened once and so far has not returned to. Williams is well enough renowned for his film scores but who would have thought that he had written a musical. And yet here it is. The musical is written in a style we now recognise as from the same source as Stephen Sondheim (Follies - very strong resemblances in the big romantic ballads), Camelot and Lerner and Loewe. The music is vital and buddingly passionate and well sung here.
The recording is a remastering of the LP originally recorded in 1981. The sound is warm and undistorted. I loved this immediately though things began unpromisingly with a mock-archaic processional and monastic sounds. However this is soon swept aside in the ardently swung story of King Henry II (James Smilie) and Thomas Becket (Lewis Fiander). Henry the King torn between sensuous indulgence and duty. Becket his friend spiritual authority - in many ways his conscience. A non-stop rush of glorious tunes and words are mobilised in tracks 2 to 4 with Henry in love with passion (compare I Will Marry the Miller's Son from Sondheim's A Little Night Music) and Jennie (Caroline Villiers) the peasant girl wondering about her own beauty. The tension between duty and living is explored in duet between King and Becket in The Question. We Shall Do It strikes an awfully misjudged note - like something sung by Professor Higgins from My Fair Lady which is fair enough … but not for words of commitment to making a new rule, justice and order.
Improbable as Spring is a serenade of a song for Henry hymning the unexpected joys the King finds in the arms of Jennie. It is dated by the electric piano tinkling in 1970s fashion. Queen Eleanor's insanely quick merry-go-round of a vengeful song (Power) celebrates her plans to manipulate the King and the kingdom. The song (probably appropriately) is shouted by Dilys Hamlett. The first act closes with Henry's decision to appoint Thomas as Archbishop of Canterbury and with Thomas ringingly affirming his duty to God.
The Second Act begins with martial celebratory music which in fact is the background to Thomas's consecration meanwhile Eleanor plots Thomas's downfall. 'Tis Love begins unpromisingly with a tinkling harpsichord but this is just a first impression. Very soon a gorgeous tune if introduced for Jennie and Henry's self-absorbed duet marvelling quietly at their mutual love.
Sincerity is a sour quickstep Weill-like song of the Cardinals in Rome plotting against Thomas who has come to Rome to speak to the Pope in the hope of seeking papal support. Becket's solo The Test is a monologue addressed to God. It has a quick exciting propulsive pulse although once again there are miscalculations with Henry Higgins-like asides which for me mar the message. Lewis Fiander even sounds like Rex Harrison sometimes.
Jennie is heard touchingly imploring Henry on Thomas's behalf (Replay the Game). A New Way to Turn has that intoxicating drive and wonder we know from tracks 2-4 - flighty, optimistic and aspiring. Will No One Rid Me? marks Henry's realisation that he must destroy Thomas and he is haunted by his earlier passionate self and his friendship with Becket. His voice breaks with emotion and the orchestra hammers away in a nightmare of turbulence like something from a bleak scherzo Shostakovich symphony. Even Jennie's voice is transformed and of course Eleanor goads him further into action against Becket with screams of 'impotent!' Finally Henry cries out 'Will no one rid me of this turbulent, treacherous, arrogant priest?' Becket is killed. Henry is left grieving and reflecting on Becket (now martyred) wisdom. The musical ends with Henry's solo So Many Other Worlds in which the King affirms a glowing future -a better world embodying Thomas's values.
This musical was rather panned in Gramophone (September 1998). I disagree. Though nothing else really touches tracks 2, 3 and 4 those tracks and much of the rest is memorably in fact indelibly attractive. OK there are strong resemblances to the earlier work of others but these songs have a strong charge and should be enjoyed for a long time to come. Just try track 4. Glorious!

Robert Barnett
---
Return to September Film Music Reviews
---