---
Kurt WEILL/Ira GERSHWIN/Moss HART

Lady in the Dark Royal National Theatre Production TER CDTER 1244 Dolby Surround [70:50]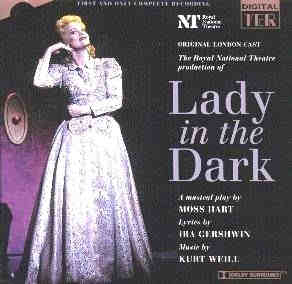 This is Ira Gershwin without George. Lady in the Dark is about the dreams of a psychiatric patient who is also a madcap columnist on a fashion magazine. It dates from 1941 and was a considerable success on Broadway where it played for three seasons totalling (with the out-of-town playings) 777 performances. The original cast included Gertrude Lawrence as the patient, Liza, The Lady in the Dark of the title; with Victor Mature and Macdonald Carey as her suitors and Danny Kaye, as Russell Paxton, who brought the house down with his rapid fire delivery of 50 Russian composers' names in less than a minute.
The film of the play, unfortunately lacking most of the songs, was made by Paramount in 1944 had generally good reviews and was quite successful. It starred Ginger Rogers, Warner Baxter, Ray Milland and Mischa Auer.
Kurt Weill, by now an émigré in America, was criticised for not fulfilling the promise he had shown in Germany and for stooping to embrace a popular American musical idiom. In fact Weill's music is tuneful and vivacious and reminiscent of the style of George Gershwin. Weill, saw his dream sequences as "little one act operas" while Ira Gershwin deemed his Lady in the Dark lyrics to be the best of his career - and there is no doubt they brim with wit and sophistication. Here's just one example:-
"It's never too late to Mendelssohn,
Two hearts are Journey's Endelssohn,
What e'er their future they must share it,
I trust they Lohengrin and bear it."
There is no real plot for Lady in the Dark for the authors were more interested in character development. Instead we have four dream sequences in which things usually come unstuck for Liza as she lies dreaming on Doctor Brook's (her psychiatrist) couch. These are: Glamour Dream in which Liza dreams she is the girl of the moment adored by Huxley, Stravinsky and Epstein etc; in Wedding Dream she cannot make up her mind whether to marry ageing magazine owner Kendall Nesbitt or the dashing Valentino-like Randy Curtis; in Circus Dream she successfully defends a woman's right to change her mind and in the final Childhood dream, she finds the key to her neurosis in the recollection of a childhood song, fragments of which occur in her nightmares. There are some fine memorable melodies such as "One Life to Live" in Glamour Dream and the poignant but witty "Saga of Little Jenny" in the Circus Dream plus the delightful final song "My Ship" that is the Childhood Dream. There is some clever multi-part choral writing in, for instance, "Oh girl of the moment." The Royal National Theatre company are all splendid with Maria Friedman outstanding in the title role and James Dreyfuss impressive as Russell Paxton. In fact Dreyfuss won the Olivier Award for Best Supporting Performance in a Musical in 1997 and this whole production won the (London) Evening Standard Drama Award for Best Musical in that year. The CD booklet notes are very informative with many colour pictures of the NT stage production and a full libretto. This CD is thoroughly recommended as a lively and unusual evening's entertainment.

Ian Lace
---
Return to September Film Music Reviews
---