---
Bernard HERRMANN Garden of Evil; Prince of Players William T. Stromberg conducting the Moscow SO MARCO POLO 8.223841

You may buy
this disc here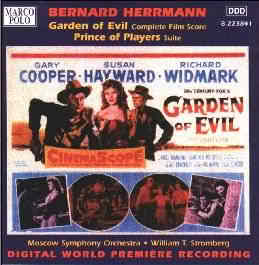 Marco Polo continue to explore the realms of classic film music. Their entire emphasis is on rerecording and reconstructing scores. This is an expensive process. Given the occasional criticisms of Naxos/Marco Polo it is worth making the point that this is not a field you would obviously expect Mr Heymann to be involved in if his only concern was with cheap product and a quick return. In the series involving John Morgan and William Stromberg we have previously had Friedhofer, Salter, Dessau, Skinner, Korngold and Steiner. They do not restrict themselves to complete scores and have been quite happy to resurrect or create suites of music.
Prince of Players (a drama of theatre life) is represented by a suite. The Prelude is instantly engaging: brisk, breezy but with the usual black undercurrents reflected in the brass. Having been
listening to quite a lot of Herrmann recently I am struck by how much really quiet music he wrote. The lovely Idyll is a reflective sketch with a blossoming Scandinavian coolness to it. The music has Herrmann's usual sour fanfares, basalt-toned string writing, athletic vigour and icy tenderness. The 2:20 prelude is a very entertaining showcase for the whole disc.
The Garden of Evil was a Western starring Susan Hayward, Gary Cooper and Richard Widmark. It was an unofficial remake of Treasure of the Sierra Madre - a very moral tale. The Prelude has echoes of the fanfares from the Herrmann wartime Symphony and this figure recurs throughout the score. The archetypal open prairie jog-trot with a long lyrical line on the violins is heard in track 16 (Hooker) and later at 25. The Nocturne [20] is a very English serenade for clarinet and oboe perhaps a step out of Herrmann's own For the Fallen. A threatening oppressive atmosphere permeates The Revolver. Shreds of a desperate hoe-down are heard in track 30 and even a shard of Dies Irae. Interesting that while Herrmann enjoyed the prairie serenade in track 16 he did not resort to 'Tom-Toms along the River' clichés for the Apaches. Instead at 34 and 36 we get impending doom and tension. The Watchers and the turbulent Chase deploy a new galloping dynamism but still using that fanfare figure. The finale has an appropriate deep pile richness and romance.
The overall effect of the mosaic of cues (mostly less than two minutes and many less than a minute) is one of great and ear-stimulating variety. Those from a classical music background will have sport spotting the influences. It recently clicked with me that the ticking insistent figure in the Psycho score must surely have been inspired by the string accompaniment figure in Khachaturyan's violin concerto. Before anyone jumps to Herrmann's defence I am not criticising his music which I have devotedly followed since the mid-1970s. No composer is uninfluenced one way or another by the music he hears, performs or conducts.
By the way for anyone with lingering suspicions about how well the Muscovites would handle a Herrmann score be reassured. You might have expected braying fruity brass and old style warbling wind instruments. There is none of that. Personally I rather lament the increasingly cosmopolitan tone of orchestras from Seattle to Kamchatka; Glasgow to Cape Town. Here the grand conformity serves Herrmann's cause cleanly and well.
Steve C Smith (author of THE Herrmann bio A Heart at Fire's Center, University of California Press, 1991) wrote the Prince of Players notes; Christopher Husted, the Garden of Evil notes. There are equally valuable notes by John Morgan and profiles of all the main players. 16 page booklet. A new photo of Herrmann conducting (p.13). Several stills from the films and a rather grainy colour handbill of Garden of Evil on the front cover. Notes in English only. Some proofreading oversights - e.g. surely it should be 'Norma' rather than 'Norman' Shepherd Herrmann? This is a picky point as the product overall is excellent and I would have to say a better intro to Herrmann's work than the recently issued bleak as bleak score for Torn Curtain.
Here are two hardly known scores from the same tumultuous year. Garden of Evil is Herrmann's only film score for a Western! These recordings have been long anticipated and their arrival is very much to be welcomed. Recommended

Robert Barnett
see also Bernard Herrmann web page
---
Return to September Film Music Reviews
---