---
George GERSHWIN The Complete Orchestral Collection Erich Kunzel conducting the Cincinnati Pops Orchestra TELARC 2CD-80445
Rhapsody in Blue; Concerto in F for Piano and Orchestra; Variations on "I Got Rhythm" and Rialto Ripples Rag (William Tritt - piano); Second Rhapsody (Stewart Goodyear - piano); An American in Paris; Cuban Overture; Lullaby; Walking the Dog; Mexican Dance Catfish Row (Symphonic Suite from Porgy and Bess) (Double CD set)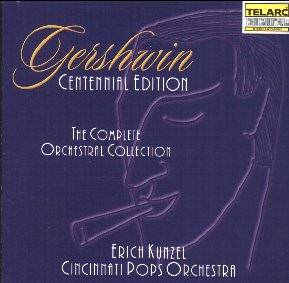 There is no denying Maestro Kunzel's devotion and dedication to the cause of Gershwin. He has researched deeply into the music and has rediscovered some gems over the years. This is an excellent collection of recordings made between 1981 and 1997.
The first CD concentrates on the works for piano and orchestra beginning with a cheeky, gutsy reading of the famous Rhapsody in Blue (the original Paul Whiteman version for "jazz band") with William Tritt as soloist. Much of the phrasing is attractively cheeky and will raise a smile but I felt that the big tune was a trifle restrained. The Second Rhapsody is more convincing in its structure, the texture is richer and the development stronger particularly of the central theme which in my opinion is every bit as attractive and memorable as the big tune of Rhapsody in Blue. This splendid, vibrant performance uses Gershwin's original manuscript authentically and idiomatically. The Piano Concerto in F is full of character and colour with some fine melodies in all three movements; the central bitter sweet Adagio has some of Gershwin's best writing - bitter sweet and almost Delius-like in parts. I have no reservations about the Tritt and Kunzel combination here. The delightful Variations on I Got Rhythm was written in 1934, is also played with perzzaz. This late work is lots of fun but assured with, for example, one variation in waltz time and another imitating Chinese flutes played out of tune. The short Rialto Ripples is an early composition (from 1916). It is a catchy rag written in the traditional Scott Joplin form.
But it is the second CD that has the pearls of this collection. Beginning with an exuberant An American in Paris, we pass on to the Cuban Overture coloured vividly with Cuban Sticks, Bongos, Gourd and Maracas but with a quieter sultry slower siesta-invoking middle section featuring the sensuous voice of the clarinet. After the excitement of the Cuban Rumba (the original title of the work) we pass onto the serenity of Lullaby (c.1919) originally written for piano and later transcribed by Gershwin, for string quartet. Edward Jablonski's otherwise outstanding notes do not say if Gershwin wrote this beautiful gently-rocking transcription for string orchestra which has some lovely multi-part writing and at times reminds one of the early twentieth century English composers writing for strings such as Elgar and Vaughan Williams. The theme for Lullaby is Gershwin's song "Has One of You Seen Joe, My Joe" from his early one-act opera, Blue Monday. There follows what I think is the best performance I have heard of the perky little piece Walking the Dog from the film Shall We Dance - Kunzel and his players have got the happy snappy rhythms of the man's, woman's and dog's footsteps just right. Now comes a real oddity and a world premiere performance of Mexican Dance, written in 1921and based on the song "Tomale (I' m Hot for You) which sounds more like Ketèlbey than Gershwin. But the highlight is a ravishing performance of Catfish Row, Gershwin's orchestral suite developed from his opera Porgy and Bess. This is, to a degree, Gershwin's last composition for the full orchestra. The suite was first performed in 1936 in the same year as the opera opened but lay forgotten until Ira Gershwin was prompted by his secretary's discovery of it and renewed interest in the opera to have it performed and recorded under its present title (It should not be confused with Richard Rodney Bennett's suite (or medley) arranged in the late 1940s) This performance is distinguished by some wonderfully irreverent trumpet playing using various mutes and "in the hat" and some abandoned piano playing by William Tritt in the first Catfish Row movement, a frighteningly realistic evocation of the "Hurricane" and lovely sultry renditions of "Porgy Sings" ("I Got Plenty of Nuttin'" and "Bess, You is My Woman Now") featuring the banjo playing of Timothy Berens in the former song. The whole concert ends with another curiosity, another world premiere recording of, dare I say it, Gershwin's uninspired patriotic piece from 1919, O Land of Mine, America. But the rest of this disc more than makes up for it. A top drawer collection.

Ian Lace
---
Return to September Film Music Reviews
---