---
Leonard BERNSTEIN West Side Story Kiri Te Kanawa; José Carreras; Tatiana Troyanos; Kurt Ollmann; Marilyn Horne; Orchestra and Chorus conducted by Leonard Bernstein DG 457 199-2 [76'36]

NO LINK YET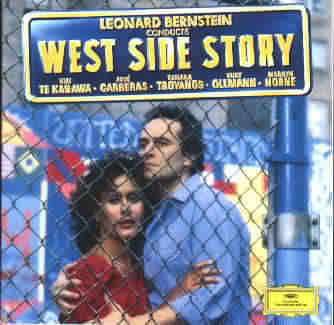 This recording was originally released in 1985 as a 2CD set, coupling the powerfully evocative Symphonic Suite from On The Waterfront which is clearly of interest to film music enthusiasts. This incarnation is shorn of On The Waterfront to accommodate West Side Story on to one CD with the obvious price saving.
Paul Myers, in his book reviewed above, gives a fascinating account of the turbulence that was the recording sessions for this set - in fact many readers will remember that the rehearsals were filmed and subsequently shown on television. The showing of the film had an enormous beneficial influence on the marketing of the recording and the album became one of DG's all-time best sellers.
It is an excellent recording with outstanding playing and first-class chorus work (just listen to the extraordinary vitality of "America" for instance) and some fine singing. The critics, myself included, were concerned about the casting of the leads particularly Te Kanawa who sounds too matronly and Careeras middle-aged and paunchy, Te Kanawa just does not have the voice of a young girl discovering love and pain. But that aside, West Side Story has so much to offer with evergreen songs like "Tonight", "Something's Coming", "Maria", "I Fell Pretty", "One Hand, One Heart" and "I Have A Love", not to mention the more dramatic numbers like "The Rumble" the Gym dance numbers and the wicked irony and social comment of "Gee, Officer Krupke." Let's hope that the lower price tempts a new generation to discover this wonderful musical.

Ian Lace
In passing I recommend readers to sample another Bernstein masterpiece - his opera Candide, based on the book by Voltaire, the production of which emerged through many changes and over many years as Myers describes in detail in his book. Candide is an enjoyable and exotic fantasy very accessible with many good tunes. Highlights from the DG recording starring Christa Ludwig, Adolph Green, Nicolai Gedda and Della Jones is available on a single CD - DG 435 487-2
Return to September Film Music Reviews
---