---
Randy EDELMAN Six Days, Seven Nights OST HOLLYWOOD 162 163-2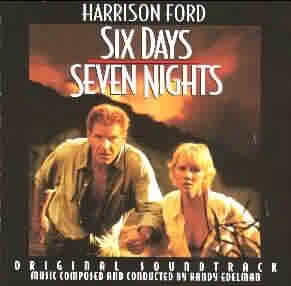 Another lyrical score - how nice it is to be spared the poundings and hammerings of so many of today's film scores; but then Randy Edelman's film music is often more relaxing than the norm. Not that this varied score does not have its thrills, as evident in the cues "Pirates" and "Just a Small Snake."
Six Days, Seven Nights is basically an old romantic comedy/drama, but up-dated for nineties audiences about two mismatched people thrown together who, despite themselves, come together.This time it is about a thrusting workaholic assistant editor of a glossy woman's magazine (Anne Heche) and a cargo plane pilot who flies her to a photographic assignment in Tahiti (Heche is on holiday on a nearby island with her boy friend David Schwimmer [of Friends fame]) but Ford's plane crashes on a deserted island and the hapless couple have to endure unfriendly animals and pirates as well as each other.
Edelman's score, for the most part, is unashamedly romantic too. In fact the main theme that we first encounter in the opening cue "Into the Mist" could have been written by Max Steiner or Alfred Newman. Likewise "Robin's (Heche) theme" has the full lush treatment with piano spinning dreamily over lush romantic textures. Much of the score is inspired by Caribbean music styles and I would defy anybody to be able to stay still through these catchy dance rhythms. Edelman grasps every opportunity to use exotic percussion instrumentation (and occasionally Hawaiian-type guitars) to imaginatively fill the sound stage - there is always something to interest the ear in this lively, attractive score. I was especially impressed with one cue "Panorama" and although I have yet to see the film the evocation was so vivid that my mind's eye could visualise the small plane with its engines audible in the bass instrumentation flying through clouds which then part to reveal a glittering sea below speckled with small islands. This panoramic evocation spills over into another similar cue "Subways and Skyscrapers" in which a contrasting glitter of a busy and sophisticated urban landscape is portrayed. I enjoyed this CD a lot.

Ian Lace
Link to Official Film Site
---
Return to September Film Music Reviews
---