---
**************************************************************************

EDITOR'S CHOICE - FILM MUSIC CD OF THE MONTH - September-October 1998

***************************************************************************
Thomas NEWMAN The Horse Whisperer OST
HOLLYWOOD 162 137-2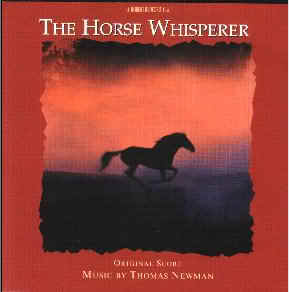 Thomas Newman is the youngest son of the Alfred Newman, brother to David Newman and cousin to Randy Newman. His film scores include: Desperately Seeking Susan, Fried Green Tomatoes, The Player, Scent of A Woman, Up Close and Personal, How to Make an American Quilt, Oscar and Lucinda, and his Oscar nominated scores for Little Women and The Shawshank Redemption. John Williams in an interview with myself, thought Thomas Newman to be amongst the most promising composers for the screen amongst the new generation.
Briefly, The Horse Whisperer is a poignant story about a 14 year old girl who is emotionally and physically scarred following a riding accident while astride her prize horse, Pilgrim. Her mother (played by Kristin Scott Thomas), a high-powered magazine editor finds Tom Booker a "horse-whisperer", (Robert Redford) in Montana. Tom helps to rebuild their shattered lives and love blossoms... Given this scenario, Newman responds with a pastoral score of often great beauty using a standard orchestra and at other times just small groups of instrumentalists (eg piano, viola and cello in "Percheron Stallion") and, occasionally, more popular country style music. There is a strong Copland influence in this music, in fact there is a fragment of Copland's Fanfare for the Common Man quoted at a number of points in this score. Newman is very successful in not only evoking wide vistas shimmering tranquilly under the sun and the sounds of nature (especially in "Runaway Meadow" with its bird calls and glistening watery effects), but also the human dramas unfolding within this landscape; and he does it with great warmth and compassion. In some cues such as "The Whisperers" and the lovely "The Rhythm of the Horse" one senses a fusion of styles from his own Scent of a Woman and Mark Isham's splendid score for another film directed by Robert Redford, A River Runs Through It.
I will just mention one or two more cues at random from this most satisfying score. There may not be too much variety but then the composer is obviously responding to the needs of the screenplay and he does so splendidly, but the important thing is that listener fatigue (in my case anyway) is minimal. The opening cue, "Double Divide" is almost an American Vaughan Williams pastoral evocation and "Montana" and "The Vast Continent" with their impressive horn writing are as majestic as the scenery they evoke. "Accident" cleverly underpins the tragic horse ride, flying hooves and portents of disaster. One of the best new scores to come my way this year.

Ian Lace
- and another viewpoint from Rob Barnett -
This is an impressive score which continues to impress when played time after time. The 28 tracks offer various styles and vistas. The first track recalls the grand music for the TV series The Virginian (whatever happened to Percy Faith and did he write film scores?) but with a dash of bluegrass and Deep South. The orchestra is joined by various instrumentalists including mandolins, bowed bass dulcimer, guitars, birdsong and wind. The coursing piano work in track 4 recalls Nyman's The Piano. This is a bright-eyed open air score full of effects and magic jangling faery instruments like something out of Prospero's island translated to the US MidWest. We even get little Mahlerian shudders mixed in among the Copland shadowing wide-open-spaces lyricism. The recording quality is great, the music is imaginatively fine and sometimes better than fine. Curious (or is it) how often I thought of Richard Rodney Bennett's music for Far From the Madding Crowd. There is a genuine Hardy element in this music. The US prairie scene comes over with connotations of Wessex and with a touch of Hardyesque tragedy. The documentation is, as usual, inadequate. Recommended strongly for the classic music.

Rob Barnett
see also www.horsewhisperer.com
---
Return to September Film Music Reviews
---