---
Erich Wolfgang KORNGOLD Piano Music Ingrid Jacoby CARLTON 30366 01102

Fairytale Pictures; Four Little Caricatures; Much Ado About Nothing; Pierrot's Dance Song (The Dead City); Don Quixote; Four Waltzes for Piano; Tales of Strauss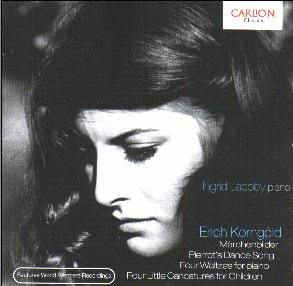 Ingrid Jacoby brings an essential sense of wonder and delight to these charming works. She also brings to them character and atmosphere as well as vitality and her acclaimed musicality - and pianism. One continues to be amazed at the considerable accomplishments represented by these early works of Korngold.
The Fairytale Pictures, composed when Korngold was 17 clearly points the way to the romance of the film scores. You can hear the Sherwood scenes from The Adventures of Robin Hood music pre-echoed in The Enchanted Princess (and in Dogberry and Verges of the Much Ado... Suite) and the scented, romantic music in "The Brave Little Tailor" and, especially, "The Fairy Tale's Epilogue" that clearly anticipates the sort of melodies Korngold would pen for the love scenes between Flynn and De Havilland. "The Gnomes" demonstrates his skill at character portrayal; these are very busy little fellows. "The Fairy King's Ball" employs, for the first time, Korngold's favourite device of ascending fourths which would figure in all his major works.
The Four Little Caricatures (1920) are very brief sly digs at the styles of Schoenberg, Stravinsky, Bartok, and Hindemith. They were never published because the publisher funked and they only appeared properly in 1995. In 1911 Korngold wrote his Four Waltzes; each inspired by a separate girl friend. Margit, the longest, is the most beguiling - ardent but predominantly delicate, dreamy and plaintive. The earliest work Don Quixote is astonishingly mature for an 11 year-old. "Sancho Panza and his Grey Donkey" is a vivid character study while "Dulcina Von Toboso" has classical Bach-like elegance plus an appealing tenderness. Pierot's Dance Song comes from Korngold's most famous work, his opera Die Tote Stadt (The Dead City); it became a favourite encore away from the opera. The recital ends with charming transcriptions of famous Strauss waltzes under the title Tales of Strauss.

Ian Lace
---
Return to September Film Music Reviews
---