---
| | | |
| --- | --- | --- |
| Cliff EIDELMAN One True Thing OST VARÈSE SARABANDE VSD5972 [32:36] | | |
| | | |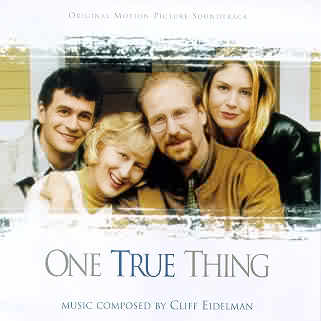 One True Thing is a gentle, nostalgic, romantic/dramatic score and it makes a very pleasant change from the thumping, crashing macho, all-action movie scores that too often come our way. Cliff Eidelman has composed music for such features as Star Trek VI; Untamed Heart; Free Willy 3: The Rescue; and Now and Then. The film, One True Thing, is described as a perceptive, humorous and moving rites of passage drama that examines the confusing, painful and ultimately healing circumstances that occur when an ambitious young Manhattan journalist is forced to move back home to help her middle-aged parents through a crisis. Eidelman responds with music of simple and honest sensitivity with relatively thin textures and few instruments, choosing to focus mainly on piano and strings. Those who enjoyed Thomas Newman's score for The Horse Whisperer will respond to this music; there is a similar quality here; and I am also reminded of John Williams's melancholic but beautiful score for The Accidental Tourist: there is often that overwhelmingly sad, empty feeling associated with bereavement in Eidelman's score.
The opening Main Title cue ("Remembering") is an understated, quietly serene and nostalgic long-flowing melody for piano over strings with subtle woodwind interpolations to suggest bird-calls, so reinforcing the pastoral as well as the homely, nostalgic atmosphere. "Spring", a lovely evocative cue, continues in this warm, peaceful, pastoral vein with long-held, high strings over rippling piano chords and weighted by the occasional cello chord. "New York" is a shimmering evocation and essentially a serene one, as if the hustle and bustle of the great city is being held and viewed at a distance; it seems so unreal. "Journey" is an often repeated simple piano tune as if it is some fondly remembered piano exercise that is irrevocably associated with memories of parents and home. "Suspicion" has an air of sadness and quiet desperation. "A Christmas Wish" is another lovely track, muted, recalling fond thoughts of bygone Christmases. "One True Thing", the title track, is beautifully lyrical with the main theme stated most definitively of all the tracks in the album.
Most of the tracks are slow moving Adagios. The two exeptions are:"Halloween Carnival" which is a perky yet sad little folk dance; and "Press Conference" that has all the busyness associated with such events, with rushing piano figures and some exotic percussion to add colour and urgency. The later cues are all much in the same pleasant vein as those discussed in the preceeding paragraph: "Comeback Inn" is a touching elegy; "Passing Away" features the piano exercise theme again in such a way as to suggest the shock and chill of sudden bereavement while the following cue "Love" conveys a warmer compassion and consolation. "A Passage of Time", feels remote and suggests isolation estrangement and separation (very like The Accidental Tourist music, this cue) while the final "Reconciliation" gradually restores warmth - and reconciliation.
I liked this unpretentious score a lot - it spoke simply and sincerely.

Ian Lace
---
Return to Index