---
| | | |
| --- | --- | --- |
| Bernard HERRMANN The 7th Voyage of Sinbad John Debney conducts the Royal Scottish National Orchestra VARÈSE SARABANDE VSD5961 [58:46] | | |
| | | |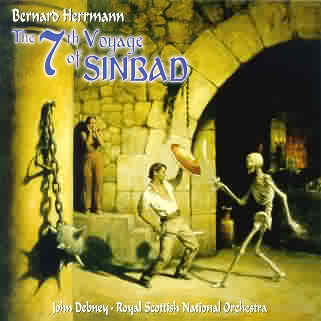 What an extraordinarily inventive mind Bernard Herrmann had! His imaginative scoring was miraculous - however did he work out how many instruments he would need to get the exact sound he required: the number of harps to produce the underwater atmosphere in Beneath the Twelve Mile Reef; or the number of horns in On Dangerous Ground?
The exotic Arabian Nights adventure, The 7th Voyage of Sinbad, the first of the four Bernard Herrmann/ Ray Harryhausen collaborations, gave Herrmann the opportunity to give his imagination full rein. Previously he had experience scoring Far and Middle Eastern subjects with Anna and the King of Siam (1946); Five Fingers (1952); King of the Khyber Rifles (1953); and The Man Who Knew Too Much (1955). Working on some of these projects he had become familiar with such styles as the Javanese pelog scale (evident here in the cue "The Egg").
Parts of the score for ' Sinbad were lifted from music he wrote earlier for diverse projects including CBS radio material; the colourful "Bagdad" music, so vividly evoking dust and heat, the busy bazaars, and the allure of dancing girls, was originally written around 1934 for an unfinished project: Egypt: a tone picture.
A normal size orchestra is used but with an expanded percussion section. High strings in romantic-tender-vulnerable mode are used to portray the Princess and her plight (she is miniaturised and kidnapped) and groups of brass, wind, and percussion instruments are used for evoking the monsters: the Cyclops, the dragon and the Roc; and in the celebrated Duel with the Skeleton in which Herrmann makes clever and appropriate use of the xylophone. Some of the music is ferocious as befits the fights with the huge on-screen monsters, three successive cues are especially so: "Dragon and Cyclops"; "The Crossbow"; and "The Death of the Dragon"; with really raw and guttural timbre; percussion, piano, horns, clarinets, bassoons, trombones and tubas all combining to powerful effect. For much of the score, Herrmann uses a highly repetitive pattern of simple triads and motivic figures, the material passed from instrument to instrument and subtly modulated; the ear is attracted by timbre rather than theme. Additionally, Herrmann creates striking atmospheric effects - how well he evokes Sinbad's ship becalmed or labouring through "The Fog"; and I was impressed with the cue "The Genie's Home" which employs celeste and (I think) xylophone; it is as if you are listening to running water - magically tinkling raindrops dripping at regular but opposing tempi, beautifully juxtapositioned. But I could cover pages describing so many of the 37 short cues. (This present recording is the first extended presentation of the score since the soundtrack album was compiled in 1958. Bernard Herrmann, himself, conducted the National Philharmonic Orchestra in a suite from the film score. It is now available on London phase4stereo CD443 899-2)
John Debney and the Royal Scottish National Orchestra give stunning performances and they are served with excellent, detailed, wide perspective sound.

Ian Lace
---
Return to Index