---
Alex NORTH Viva Zapata Jerry Goldsmith conducting the Royal Scottish National Orchestra VARÈSE SARABANDE VSD-5900 [32:00]

Crotchet (UK)
Amazon (USA)
Soundstone (USA)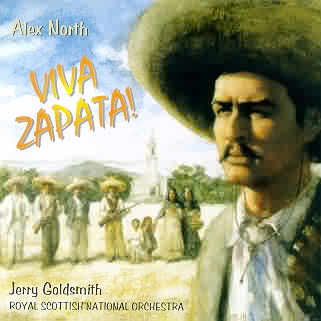 Jerry Goldsmith has at last fulfilled a long-held ambition and recorded Alex North's vibrant Mexican, ethnically-orientated music for Elia Kazan's Viva Zapata. The commitment and enthusiasm Goldsmith and the Scottish players bring to this vibrant, colourful music is testimony to his love of this exciting score. Released by Twentieth Century Fox in 1952, the film starred Marlon Brando in the title role and Anthony Quinn who won the Academy Award for best supporting actor as his brother Eufemio.
Alex North was film music's only true expert on Mexican music. This was because of his personal association with the famous dancer Anna Sokolow, who was invited to perform in Mexico. North accompanied her and although they subsequently split, he chose to remain in Mexico where he studied with Silvestre Revueltos. North absorbed Revueltos's penchant for difficult rhythmic metres and his propensity for couching melodies in dissonant counterpoint. North absorbed these characteristics and like the music of his teacher, his scores are painstakingly precise and melodic. "What I learnt from him was invaluable when it came to scoring Viva Zapata," commented North. "It's important when you write music based on the elements of another country's music to be able to feel it. None of my music for Mexican-based stories and characters would have had the same emotional resonance without my exposure to Silvestre."
Interest in this score was sparked with the recent release of the Nonesuch album of film music by Alex North, recorded by Eric Stern and the London Symphony Orchestra, which included the "showpiece" of the Viva Zapata score - "Gathering of Forces" a very impressive study in crescendo. It rivals Franz Waxman's "The Ride to Dubno" from Taras Bulba (see the review of the Ryko CD also published this month); it has the same sort of thrilling repetitive figures in crescendo and, like, Dubno, the North cue could become another concert piece to rival Ravel's Bolero. Both Stern and Goldsmith give us thrilling readings. I was struck early on in Goldsmith's performance with a short phrase that almost identically pre-echoed "Don't Cry for Me Argentina" of Andrew Lloyd-Webber.
The score opens with a short half-minute Foreword found by producer Robert Townson that was not used in the film - a grand, sweeping statement that had been intended to overlap the Main Title which is a very colourful, vibrant piece with much work for trumpets in typical Mexican rhythm, mariachi band style, and also uses exotic percussion including tambourine and xylophone. Much of North's strongly accented music vividly, violently, patriotically underscores cues illustrating battles, and raids and pillage brought on long-suffering village communities. In quieter mode, North writes some witty music for children's horseplay and a sympathetic love theme for Zapata and Josefa (played by Jean Peters). A rounded portrait of Josefa, in rich harmonies, is given in "Josefa's Love" and "Josefa" - her dedication and suffering as she is abandoned for long periods by Zapata and eventually realises he will be killed in a trap.
Another success for Vàrese Sarabande.

Ian Lace
---
Return to Index