---
| | | |
| --- | --- | --- |
| Jerry GOLDSMITH Planet of the Apes/Escape From The Planet of the Apes OSTs - orchestra conducted by composer VARESE-SARABANDE VSD5848 [67:42] | | |
| | | |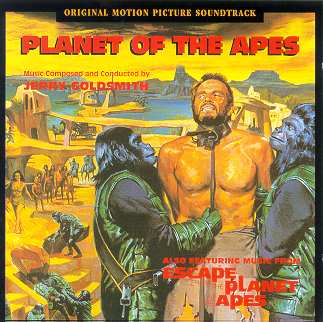 Varèse Sarabande have done it again. They have resurrected, in fine sound, a classic score of the 1960s. In doing so they have not lazily gone to the OST LP and reissued those tracks but have assembled additional material. Not content with 50 minutes of music from the 1968 film they fill in with a suite from the 1971 sequel. Tracks featured on the original LP have been extended with supplementary material from the audio elements of the 35mm film.
The music is a strange amalgam of American symphonic music of the 1950s (Schuman and Sessions) with ominous jungle noises - chittering and clanking. Goldsmith sports quite a range of percussion (including steel plates) and it is used with classy originality (especially noticeable in the case of what I take to be miniature cymbals). The ram's horn would benefit from more prominence if the soundtrack is ever re-recorded. However it makes its exotic and commanding presence well and truly felt in The Hunt (Track 7). Jacob Gimpel plays the urgent piano solo part in the No Escape track. This style of music was soon adopted by countless US TV series. Mission Impossible leapt to mind several times.
The Suite from the 1971 film is more commercial (the merest splash of Starsky and Hutch 'blaxploitation' music) although still urgent and nervy. The percussion is innovative with highlights provided amongst other things by Caribbean metal band drums. Among the effects is what sounds like a milled coin rolling across a roughened metal plate: menacing! For contrast there is a cool and loving but brief pavane for guitar and flutes (5:50).
The album is launched with Alfred Newman's familiarly brassy Twentieth Century Fox Fanfare. The booklet notes are in English only (multilingual efforts are very much the exception with film music discs) and are by Jeff Bond. The booklet and sleeve are decorated with stills from the film and artwork from the original film posters.
Recommended for Goldsmith fanciers and as an ikon score for the late 1960s and early 70s. Goldsmith can be bland but these scores are in fact quite salty. They shake and shoal with glittering and glimmering sounds. Even so they are not attention-holding as a straightforward listening experience.

Rob Barnett
---
Return to Index