---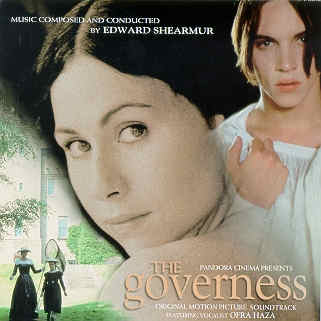 This is a most unusual, intriguing score. One might expect it to be classified as world music if it was divorced from its OST connections. I have not seen The Governess but the CD notes and the information from Sony indicate that it is a romantic drama that stars Academy Award winner Minnie Driver as Rosina Da Silva the ambitious daughter of a happy family in the Sephardic Jewish community of 1840s London. When her father is murdered and her family is plunged into debt, Rosina is forced to make her way in the world outside as a governess.
Edward Shearmur, who won a BAFTA nomination for his score for The Wings of The Dove, researched the musical heritage of the Sephardic Jewish tradition. "These ancient melodies, straddling the divide between Arabic and European musical culture, are a crucial element in the score, and we were lucky in having a wealth of fine recordings from which to draw inspiration.", he says.
To get some idea of the music it is interesting to examine the instrumental line-up as listed in the CD booklet: viola da gamba, recorders, percussion (of the type associated with Egyptian/Arabian music), rebec, lute, harp, piano, viola, cello and violin - with vocalist Ofra Haza. The music is often sensuous, sinuously evocative and provocative. The opening track, "Mary Blackchurch" sets a mood of sultry love more associated with the desert than Victorian London. Many tracks have a quiet and fascinating beauty - like "The Box Camera" cue with its slow plaintive violin melody of yearning and melancholy, and "Passover" - a slow mystical invocation yet ultimately impassioned, featuring solo recorder, tambourine, hand drums and vocalist. Colourful tracks like "Purim Dance" are instrumentally arresting and rythmically irresistible. The music seems to become more and more attractive as cue follows cue. "Fixation" beguiles the ear with softly caressing, lilting, rippling music for harp, lute, violin and piano. "Salome" is a quietly yearning, erotic study for voice, drums and a variety of colourful percussion instruments, bird noises, recorder and viola da gamba. "Love and Loss" is again a melancholy study mainly for lute and violin with a hesitant desolate piano part.
"Photographing Cavendish/Adio querida" impresses: it is a substantial 7½ minute cue. It commences quietly and introspectively with soft, almost Ravelian piano figures before the violin and viola de gamba join in the musings, to be succeeded by lute and harp. The music gradually becomes more animated cascading over itself; then the more rhythmically vital Adio, querida section begins with vocal and percussion joining the lute and violin. But the standout track is "Enr'acte". It is ravishing; it haunts the ear. It is a lovely sultry nocturne with the solo violin in high register, singing over lilting piano chords and beguiling, lazy rhythmic two-note harp interjections. If music can be said to be perfumed then this is so. In the middle of all this music, sits, somewhat incongruously, considering its surrounding tracks - but perhaps in tune with the film's Victorian setting - Schubert's Ständchen.
I think I have said enough to give a flavour of this rare and often bewitching album to give you a flavour of its unusual appeal. A release that continues to grow on me

Ian Lace
---
Return to Index