---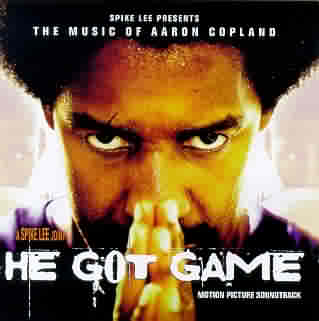 Spike Lee's latest film uses orchestral music by the usually melodious Copland and this disc is a souvenir of the score. The recordings are taken from CBS/Sony's classic catalogue of Copland recordings (1965-71). Many of these tracks are conducted by the composer; others by Leonard Bernstein.
John Henry is a rough hewn score itself drawn I seem to recall from a film is attractively muscular. There is a triptych of movements (the favourite moments) from Appalachian Spring. The Rodeo Hoe-Down is clinkily rustic and close in spirit to the Billy the Kid music from which three tracks are included. A curiosity is the narrator-less score of Lincoln Portrait. I have loved this work for many years. I know some people find it overblown but I warm to it in versions both with and without narrator. A parallel might be the voice-less version of Vaughan Williams' Serenade to Music. Interlude from Music for Theatre was a piece I had not heard before and I was very glad to be introduced to it. In this selection it is as close as you get to Copland's grittier style but it is not hard work. Fanfare for the Common Man is suitably loud, brazen and magnificent. People speak slightingly of Copland's Symphony No. 3 a movement of which uses the Fanfare quite extensively. I rather warm to the Symphony as it makes so much of the fanfare. The Pas de Trois - a strange title in this American company - (from Dance Panels) and Letter From Home are other works I did not recall hearing previously. In their slender, clean-lined and glistening tunefulness they are well worth getting to know. I was rather sorry that Spike Lee had not found a home for Copland's Outdoor Overture which would have made a nice contrast amongst so much reflective music.
Sound quality is fine with an invigoratingly wide sound-spread. Notes are inadequate if you are interested in the music. This CD is valuable as a substantial sampler of Copland's accessible style of music. There is hardly anything from his grittier years. What we get is the touching, vernally fresh, rain-washed music mixed with the Western ballets.
Recommended as a Copland sampler (though there are more generously-filled compilations) and as a souvenir of the film.

Rob Barnett
---
Return to Index