---
Alex NORTH The Misfits OST; orchestra conducted by composer RYKO RCD 10735 [48:13]

Crotchet (UK)
Amazon (USA)
Soundstone (USA)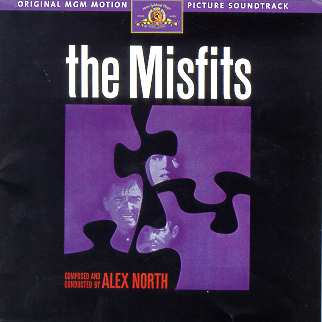 North is, perhaps, best remembered for his ground-breaking, jazz-based score for A Streetcar Named Desire and for his sword and sandals score for the epic film Spartacus. In fact North spent most of 1960 working on Spartacus immediately before writing the score for The Misfits. The insert reminds us that in fact he was best known as a leading exponent of jazz and dance music in film. During the 1930s and 1940s he wrote music for dance artists Martha Graham and Anna Sokolow.
The music cuts violently in but soon subsides into a deep velvet tortured melody with creamy virtuosic piano solo. Highly charged emotion like Korngold without the Viennese composer's (usually) glorious excesses. There is a smoochy "Rendezvous" (2) with clarinet against a soft shoe shuffle background. A perfectly ordinary serenade. The main theme returns (3), shifty and evasive leaning on rich high violins. There is a jazzy big band version (4) of the main theme.
"Love's Reverie" is a dream waltz version of big theme and is resplendently done with many little flourishes and accents to point up what is after all rather a good tune. "Love's Idyll" is more urbane and is like a vaudeville scene with a slight romantic element.
Tracks 7 and 8 return to North's dance milieu. "Paddleball" is a blatant and blarey 1940s jive dance. Reno Bar Dance is a Western rustic dance complete with tinkling piano and Border fiddle.
"Compassion" is a solicitously tender hushed variation of the main theme. The final falling segment of the theme has something of Rozsa's epic romance to it. Track 10 is a prairie-lazy and slightly boozy wander in the sun. The solo violin invokes the shade of Korngold but the track ends in tortured atonalism.
"The Roundup Suite" (track 11) is the longest track at 14:34. There is tender use of the celesta which reminds me of Korngold again but North has his own tougher spin on the music. Rhythms criss and cross cut through the suite with much clinking and clanking. It is, as the notes say, quite modernistic. Interesting that this 1961 film went that far out when in Britain such an approach was very acceptable for horror and war films but verboten in big melodramas. I wonder if I detect more of the avant-garde Henry Brant here than Alex North? The suite ends in shifting rowdily unstable emotional sands - turbulent to the end.
"Trying for Freedom", is an endlessly rocking but uneasy cradle song. The final two tracks (Resolved) boil to a finely emotional conflict with Shostakovich buffeting Copland and then continues in a quieter vein. You are left with a feel that nothing is resolved and the after-taste is regret, ashes and disenchantment.
It is interesting, given the Western locale, how North largely avoids the Coplandesque cliche. The landscape is a psychological one and even in the roundup the violence is convincingly of the mind rather than flatly pictorial.
Great credit must go to the orchestrations by Henry Brant (quite well known in American contemporary classic music circles). He worked with North on Cleopatra (1963), Who's Afraid of Virginia Woolf (1968), The Devil's Brigade (1968), Wise Blood (1979), Under the Volcano (1984) Prizzi's Honor (1985) and The Dead (1987).
Sound quality is good mono. Notes by Kevin Mulhall impeccable. I would however have liked to know something about the orchestra.
When the film came out an LP was issued but this CD is the first and most complete official release of the music. There is much additional music here beyond the vinyl issue.
And yes the insert is another of those damned single sheets folded five times. Enough said.
A fine memento of a fine score. Recommended. The few popular dance sequences were not very likeable but most of the tracks have an inventive splendour which makes the disc highly attractive. I have only recently discovered Alex North and will be listening out for more scores. How long before we get a compilation of North scores from Los Angeles PO and Salonen?

Robert Barnett
---
Return to Index