---
Joe HARNELL V Original Soundtrack Recording (1983-84) orchestration by Don Davis conducted by composer JHCD01 [58:07]

Crotchet (UK)
Amazon (USA)
Soundstone (USA)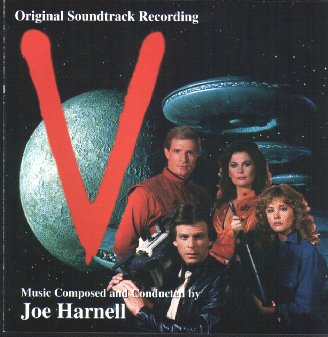 Harnell was a pupil of Copland and was (is?) deeply involved in the classical music world. He wrote the music for such 'classic' TV series (each with cult followings mark you!) as 'The Bionic Woman' and 'The Incredible Hulk'. This shows in the really quite refreshing and romantic music he wrote for V. If Joe Harnell's music for the original V miniseries is littered with cross-references to other pieces at least they are acknowledged in Kenneth Johnson's affectionate notes. This score, unlike McCarthy's for the latter instalments of the various series, is symphonic with choral interventions, making a much cleaner sound. Some tracks are pure 'cheese' as in the gloopy Lizard Love but most are a cut above.The first track is a tribute to Herrmann's title sequence for North by North-West - rather like one of those Godowsky-Chopin arrangements. Later tracks make use of the col legno menace and creepy sweeping tune of Holst's Mars. A pity they spell Holst's name 'Holtz'. Track 11 has a classily smoochy solo violin dipping into gypsy style serenading. Track 12 is a extraordinary meeting of Die Walküre and Herrmann. Over this an heroic horn theme strides confidently. There is more ringing heroism (borrowed from Panufnik's Heroic Overture?) in track 13. Tracks 17 and 18, combining the worst elements of disco and Caribbean band sounds, are worth avoiding but they are there for fun and to fill out the disc. The last track is eminently heroic but borrows very directly from the finale of Beethoven's Fifth and was a mistake. It is utterly incongruous despite the morse code references to the letter V in the first movement of the symphony. The dedication of the disc is 'to resistance fighters - past, present and future'. No doubt sincerely meant it rings hollow here in music for a fluffily entetaining NBC TV miniseries. The album would have stood quite happily without it.
This disc provides the music for the V miniseries and sequels up to but not including the second half of "V The Final Battle" in October 1984. After that the better known (but here less impressive) Dennis McArthy took over. It is not clear why this happened but the notes do mention that Joe Harnell was suffering from heart problems so that may have been the reason.
The recording is from an analogue source and this CD is the first time the score has been heard in stereo. NBC were broadcasting in mono in the early 1980s. Recommended with a measure of warmth. I make no great claims for the music but (borrowings and all) it has a certain freshness lacking in the McCarthy disc.

Robert Barnett
---
Return to Index