---
***********************************************************************

EDITOR'S CHOICE - FILM MUSIC CD OF THE MONTH November 1998

***********************************************************************
CINEMA CAFÉ The European Film Music Album The City of Prague Philharmonic with instrumentalists soloists and singers; conductors: Nic Raine and Paul Bateman SILVA SCREEN filmxcd 302 2CDs [155:41]

Crotchet (UK)
Amazon (USA)
Soundstone (USA)
Jean de Florette; Cyrano de Bergerac/Petit; Mon Oncle/Barcellini and Romand; Playtime/Lemarque; Betty Blue;Camille Claudel/Yared; Un Homme et Une Femme; Bilitis/ Lai; La Reine Margot/Bregovic; Last Tango in Paris/Barbieri; Emmanuelle/Bachelet and Roy; Diva/Catalani - La Wally; Il Postino/ Bacalov; La Dolce Vita; Amacord/ Rota; Cinema Paradiso/ Morricone; Death in Venice/ Mahler - Adagietto 5th Symphony; The Tin Drum/ Jarre; Black Orpheus/ Bonfa; The Hairdresser's Husband/ Nyman; Fort Saganne/Sarde; Opera Sauvage/Vangelis; Providence/Rozsa; Subway;La Femme Nikita; Le Grand Bleu; Atlantis/Serra; Jules et Jim; Day for Night/Delerue;"Z"; Phaedra/Theodorakis; Antonia's Line/Sekacz; The Double Life of Veronique
Vocals: A Man and a Woman: Mary Carewe and Keith Ferreira; Emmanuelle: Keith Ferreira; Ebben: Lasley Garrett; Phaedra: Haris Alexiou; The Double life of Veronique: Charlotte Kinder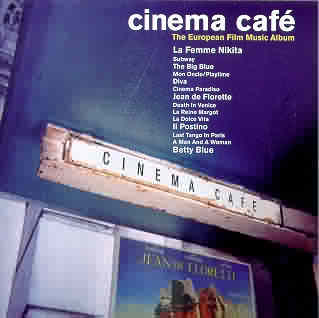 This is a most impressive collection, generous (nearly 80 minutes of material on each CD) and intelligently selected. A really wide variety of music, very well performed is recorded in stunning sound. It is gratifying to note that most of the orchestrations and arrangements have been made by the composers of the original film music themselves; where this has not been possible (mainly because some of the composers are now deceased), the work has been done most sensitively so that we hear music that accurately reflects what we heard in the cinema.
There are so many haunting melodies in this collection: Pierre Bachelet and Herve Roy's theme for Emmanuelle; Francis Lai's theme for A Man and a Woman with its catchy "da-ba-da-ba-da-ba" lyrics (followed by the stirring dramatic music, from the film, which was adapted for BBC's Panorama signature tune); Enrique Banclov's lovely theme for Il Postino; Ennio Morricone's music for Cinema Paradiso that so beautifully caught the atmosphere of childhood innocence and fondly remembered events surrounding the cinema and its projectionist in the little Italian town; Nino Rota's delightful Amacord music; and Luis Bonfa's beautiful score for Black Orpheus and so on.
Amongst the delights are: Catalani's aria from La Wally, sung here by Lesley Garrett, featured in Diva; and Mahler's Adagietto from his Fifth Symphony as used in Death in Venice, passionately performed by the Prague Philharmonic. There are some very striking inclusions. I was very impressed with Maurice Jarre's colourful music for The Tin Drum (a sardonic tale about an adult-within-a-child obsessed with his toy drum set against a backdrop of the Nazis' rise to power). This fascinating score features some very unusual instrumentation including a Fujara - a kind of Polish didgeridoo. Another compelling and unusual score is that for La Double Vie de Veronique which is a striking setpiece for solo soprano, mixed choir and orchestra. Yared's score for Betty Blue is a gem too and how well it fits Beineix's film of Betty's descent from wild exuberance into madness. The two Jean-Claude Petit scores are splendidly played: Jean de Florrette with its clever harmonica interpolations into Verdi's Force of Destiny (so aptly chosen for this intense rural drama) and the proud, swaggering opening music for Cyrano de Bergerac counterbalanced by the music that speaks of Cyrano's noble self-sacrifice and unrequitted love.
There is something for everything in this splendid collection. For guitar music fans, there is the gently beguiling music for two guitars from La Reine Margot working against the general blood-letting of that film. For the younger listeners there are four cues of electronic/rock music for films of Luc Besson scored by Eric Serra. For older listeners and Holywood film music fans there is the music of Miklos Rozsa for Providence - the truly lovely "Twilight Waltz" and the Finale music.
I have just one or two minor criticisms: I missed the essential joie de vivre that Hugh Wolff and the London Sinfonietta brought to their Nonesuch recording of Delerue's music for Jules and Jim (but no complaints about the Prague players' rendition of the more neo-Baroque music for Day for Night. The other is the inclusion of Nyman music for The Hairdresser's Husband - but that's just me - I have a deaf spot for this composer's work!
A very firm recommendation. This should be a best seller.

Ian Lace
and Rob Barnett's review of this release:-
Congratulations to the always innovative Silva Screen people for spotting a gap in the catalogue and filling it. Not only is this album an enterprising lacuna-filler it does so with distinction, artistic acuity and a generous spirit. European film music has been a Cinderella in the cinema music world. The concentration has been on Hollywood and a certain snobbism has set in to the detriment of many attractive European talents. Of course certain European composers have been adopted by Hollywood and Generation 1 of the Californian composers included people such as Korngold who came to Hollywood in the 1930s. Composers such as Delerue have also made an impact in Hollywood but I still have the impression that they fight an uphill battle against the central Hollywood tradition.
These two well-filled discs offer a cross-section of European film music touching on the familiar (A Man and A Woman) and the largely unfamiliar (Black Orpheus). Of course the diligent follower of continental films will have been able to catch many of these in the UK on Channel 4 and BBC2.
Jean de Florette (Petit) has music which perfectly caught the shimmering heat and suffocating tragedy of the storyline. The Mon Oncle - Jacques Tati Suite is charming and light-footed. Francis Lai's music for A Man and a Woman opens with that famous music forever associated with the romance of the night-rain bombarded windscreen of the drive towards his lover. The Lullaby by Bregovic from La Reine Margot is a Deerhunter type guitar serenade.
The next group of tracks is called Sex in the Cinema. Gatto Barbieri's music for Last Tango in Paris (the complete OST of which was recently reviewed by me for this site) was lost in the hoo-ha about the film. It is in fact perfectly attractive music - not at all sleazy. Here I feel the music does not have quite the punch found in the OST album (Ryko) or maybe it is just that I rather miss grainy sound of the OST. We return to Francis Lai's not very inspiring keyboard synthesised music from Bilitis. The song from Emmanuelle is charmingly done but is a very slight thing.
The soprano aria from Diva is given with full battle honours and is touchingly done without (thank heavens) any bluster. Cosma's Promenade Sentimentale from Diva is a sensational little moonlit walk of a piece combining a Satie-like concentration (Gymnopedie) with Debussy's Clair de Lune. Gabriel Yared's suite from Betty Blue (dir Jean-Jacques Beineix) starts nonchalantly and then finds its feet in the direction of Eric Serra's synthesised approach. A pity!
The next five tracks (12-16) are from the Italian Cinema. Bacalov's music from Il Postino is delightfully Mediterranean in feel: a smooth accordion, mandolin, guitar and a close-up clarinet with orchestra. Nino Rota's music for La Dolce Vita is charm personified with a 1940s-style vibraphone dance (13) which is amongst the most imaginative tracks in the set. Ennio Morricone can be relied upon to produce music of touching depth as he has most recently in the music for Lolita. The track (14) from Cinema Paradiso is not an exception. The film Death in Venice made Mahler's Fifth Symphony's Adagietto world-famous. Here the Prague players give it an interpretation well worthy of the world's best. Then back to Rota and an urbanely light-hearted suite from Amarcord, in step with the Dolce Vita music. Lastly on this first disc comes Maurice Jarre's music from The Tin Drum. This is strange music which you feel is leading you on deeper and deeper into someone's surreal and unnerving world.
Disc 2. Petit's music for Cyrano de Bergerac is sorrowfully regal with a hint of Lully but without being old-fashioned. In the end-title section we catch more of the emotional charge of the story. The terracing of sound is extremely well caught in this recording with depth of sound-stage and placement of instruments particularly well done. The Deer-Stalker-like solo guitar gavotte of Bonfa's Manha de Carnival (Black Orpheus) initially has the qualities of the famous Myers piece but soon becomes more lively, introducing drums and full orchestral strings in a suave dance which melds Latin celebration with regret.
A three movement suite from Michael Nyman's music for The Hairdresser's Husband is well-suited to a tale of nostalgia, childhood fantasies lived out and then snatched away. The music has that smooth gentleness we are used to from Nyman evolving into Finzi-like serenades throbbing like a heart-beat. I also noticed the relationship of the music on track 4 to Nyman's fantasy for saxophone and orchestra 'Where the Bee Dances'. I know the film quite well and found the performance caught the mood of the film and the original soundtrack very accurately. Track 5 in this three track suite reflects the sense of loss and a dreamlike relaxation or contentment in loss. See the film. You may even develop an interest in Moroccan music and the hilariously serious dancing of the Hairdresser's Husband himself.
The Banquet is a waltz from Camille Claudel by Gabriel Yared. This is a slightly eerie Grand Hotel-type waltz with similarities to Stephen Sondheim's waltzes from A Little Night Music. Philippe Sarde will be known for his masterful open air score for Tess. In Fort Saganne we get a miniature cello concerto which is largely contemplative. Opera Sauvage had a score by 'Chariots of Fire' man, Vangelis and frankly this is more of the same; not one of my favourite tracks.
Next we get the Valse Crepusculaire/Finale from Rózsa's score for Providence. The commanding twilight waltz (with a smidgin of Beethoven) is for solo piano and small string ensemble. It would keep happy company with Richard Rodney Bennett's music for Murder on the Orient Express. The finale boils up into a much more typical Rózsa passionate climax. All the hallmarks are there … and very welcome too.
After the romance and passion of tracks 6-9 the following four tracks comprise music by Serra from the films of Luc Besson. Subway has a rock beat. La Femme Nikita uses what sounds like synthesised samples from a Caribbean steel band. The track is preferable to Subway but is repetitive without having a great deal to say. Le Grand Bleu serves up more synthesised bland noises offset by a really nice saxophone solo (or a sampled facsimile). Atlantis (a suite) is the last of the four Serra tracks. Serra's predilection for synthesised sounds shows strongly. He can create magical results and we get some of this in Atlantis although whenever a rock beat intrudes the effect disappears.
I was glad to get back to the natural orchestra with the next three tracks all for Georges Delerue's music from Truffaut's films. Tracks 14/15 are from Jules et Jim. The style is akin to Poulenc's in knockabout charming mode though Vacances [15] has more repose. Then comes the Chorale from Day for Night ,like an eldritch Handel/Nyman creation.
Theodorakis (whose symphonies I would love to explore) represents the Greek cinema in two tracks. The theme from Z is well known. The theme is a meeting of and El Cid. Then comes his music for Phaedra. The suite opens very quietly and then introduces a breathy chanteuse, a solo guitar over cool strings and then a majestic El Cid-type climax.
Dutch cinema is shown off by Ilona Sekacz's music from Antonia's Line. Ms Sekacz wrote oodles of music for BBC Radio 3 and Radio 4 productions but her reputation became much more prominent with the music for this film and with the pastoral score for Mrs Dalloway reviewed by me about six months ago. Antonia's Line is in much the same attractive though not riveting style. This track is licensed from the OST album.
Next and finally we hear the Concerto in E-minor is from The Double Life of Veronique. In the film the music is referred to as being by the composer 'van den Budenmayer' who is in fact the real-life composer Zbigniew Preisner. This is a 5 minute piece for solo soprano [Charlotte Kinder] (à la Symphony of Sorrowfull Songs), the Crouch End Festival chorus and orchestra. It has a majestic poise close to Fauré, ethereal and pure. This has made van den Budenmayer's music something of a Holy Grail among some film music fans. Preisner has completed a Requiem (for the director Kieslowski) which is due to be performed in London before too long. I wonder if there will be van den Budenmayer echoes in that work.
The set is packed with great tracks and succeeds so well because of its rich and freshly compiled variety. I look forward to volumes 2 and 3. If you are feeling jaded with the production-line scores which cross our screens then give this collection an airing. You are unlikely to dislike it and will find new doors opened to you. One of Silva's best.

Rob Barnett
---
Return to front page