---
THE DISASTER MOVIE MUSIC ALBUM City of Prague PO/Nic Raine and Paul Bateman Silva Screen FILMCD301 [75:56]

Crotchet (UK)
Amazon (USA)
Soundstone (USA)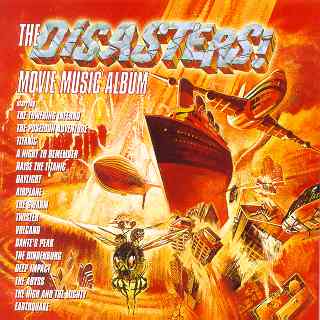 Silva Screen's reputation for film music anthologies continues to grow. They cut the cake many ways. Some anthologies collect different scores by one composer (usually in two disc sets). Others offer thematic medleys such as War, Pirates, Monsters, Romance (the latter two their best) and here Disaster Movie music.
You never quite know what to expect with their selections. Alongside the Horners, Silvestris, Williams and Goldsmiths one also gets Alwyn's Night to Remember, Tiomkin's High and Mighty and Elmer Bernstein's Airplane suite. Towering Inferno (now a denizen of Sunday afternoon TV) has a punchy sophisticated big city score with little snatches of William Schuman and Copland, a dash of Dynasty, some Alex North (a composer I am becoming increasingly interested in) and a slice of music from ITN's News at Ten. John Williams' score is big and brassy; confident and just a little heartless.
After fire comes water - a sequence of extracts from five watery grave movies. This launches and sinks (and rises) with Titanic. James Horner's score for the recent wildly successful Titanic (film and score) is represented by a 4:20 excerpt. This, I am afraid, is a shadow of the atmosphere of the OST though it is perfectly respectable. John Williams returns with the prelude to Poseidon Adventure. This is darker than Inferno. It is portentous and has its impressive moments especially in its dynamic closing pages ending in calm. Alan Silvestri's heavenly choir dominated The Abyss is very well done by the Crouch End Chorus. The ardent heavenly atmosphere aims for and achieves a measure of exaltation.
William Alwyn's discography is extended by a 2:35 slice (the main title) of A Night to Remember (another tale of the Titanic). This is both grand and sombre in approach. The oceanic sequence ends with John Barry's 8:27 suite from Raise the Titanic. This may have been a clinker in the cinema and broken a few studio bank balances however the music stands out in this company. Barry has always been good in marine subjects.
Daylight (1996) is a story of motorists trapped in a collapsed road tunnel and of their rescue. Randy Edelman reaches for sadness, sincerity and calm then reaches for epic heights in a curving romantic theme with many a Finzian twist and Nymanic turn. The end credits are bedevilled with trendy drum noises: processed, spitting and clicking at you in an ultimately annoying way with little to commend.
I saw Twister in the Warner Brothers Cinema in Leicester Square (London) in 1996 and loved it. Like many of these films it is high calorie low sustenance material (just the opposite of the earnest, elevating, appalling and viscerally exciting Saving Private Ryan) but it packed a giant jolt. Special effects, visual and aural, amaze and transfix. The music by Mark Mancina mixes mid-Western hoe-down and Deerhunter peacefulness with a peppy beat.
John Williams' love theme from Earthquake is cocktail piano stuff, sophisticated Richard Clayderman material - all lilac tuxedos, cummerbunds and fluffy cravats. Just a bit too civilised and dated to be completely interesting but it is done as it should be: with utter conviction.
John Frizzell wrote the score for Dante's Peak (1997) although the main theme is the work of James Newton Howard. The 5 minute extract here is a rhapsodically pastoral interlude.
Alan Silvestri returns for the score for Volcano (1997). Rasping louring brass depict the sizzling march of the lava as it inexorably engulfs Los Angeles. The music is solidly propulsive. The next track from the film is called Cleansing Rain. It has a magical, washed-clean, morning-after-the-storm and sun-breaking-through splendour. If this is a cinematic cliche it is well-judged and propelled here.
I have heard the two tracks from The Swarm (1978) before in the Jerry Goldsmith compilation reviewed by me a few months ago. The music has some of the stabbing, buzzing and gritty urgency of Herrmann in North by North-West. Dies Irae puts in an appearance yet again. Interesting to be able to compare this score with the late Wilfred Josephs' work on the film Killer Bees. The end credits of the Goldsmith score draw on the Planets as well as on Copland's and Roy Harris's Third Symphonies. A grand score. Deep Impact (1998) has a disaster striking from space in the form of a giant comet. James Horner's extract (The Wedding) from his OST is not about colossal effects and slaughter but a small scale heart-on-sleeve essay rising to a serious, stolidly-pacing romantic theme. A solo piano and refrigerator-cool woodwind touch in the gentler highlights. Horner's work is to be watched, heard and collected.
David Shire's music for The Hindenburg (1975) is dominated by vocalising soprano and a priest-like trumpet part. There is an effortless airiness about the music. The soprano's part has echoes of Richard Strauss in various of his orchestral songs. This is not out of keeping with a film telling a story centring around a German airship.
The High and the Mighty is super symphonic big band music (New York Under the Stars stuff). Tiomkin tackles this with aplomb and a heavy glossy chrome style. Finally we get the super-serious music for the spoof Airplane (1980). Elmer Bernstein borrows a little (well quite a bit actually) from John Williams' Jaws but this is all part of the joke. Listen to the carolling, cross-calling and hallooing French horn choir at 2:00. This a treasurable moment. The choir vocalises around aah-ooh, aping the horn chorus. Proceedings are wound up (in various senses) with borrowings from the 1812 Overture.
Generous playing times (a subject of continuing skiamachy between myself and David Wishart of Silva) are assured. The notes are written with charming tongue-in-cheek by Mr Wishart. Beyond style the information is good with dates of films and leading players given throughout. Given the predilection of Silva for printing notes over pictures it is a pity that although this looks nice it does not help legibility. The performances by an orchestra once slammed as off-key and crudely provincial are really well engaged and in-style.

Robert Barnett
---
Return to Index