---
Dennis McCARTHY V: The Series Original Soundtrack. (1984-85) conducted by composer DMCD02 [59:15]

Crotchet (UK)
Amazon (USA)
Soundstone (USA)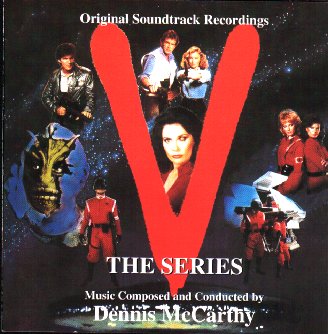 Dennis McCarthy has won Emmys for his work on Star Trek: The Next Generation and Deep Space Nine. He started out as an arranger for Alex North and Glen Campbell. This score, while smoothly skilful, is not quite in the Star Trek league. V (inspired by Sinclair Lewis's novel It Can't Happen Here - fascists take over the USA) was first shown as a four hour TV mini-series on NBC in May 1983. V continued in various formats after that, such was its ratings success. The final episode was shown in the USA in May 1985. The series follows the insidious infiltration of earth by initially benevolent-seeming aliens. Dennis McCarthy's music is orchestral with plenty of homage to Holst's The Planets. a soupcon of Battlestar Galactica and borrowings from Ligeti and Penderecki - but all packaged in a non-intimidating way. There are even leanings towards Close Encounters and a dash of cool jazz. The use of a drum machine with the usual 'oomphy' disco sounds does not help the score, trendy though the sounds were in the early 1980s. The choral contributions step out of Holst's Neptune with additions of small bells, tranquil string noises and harp decoration. This all adds up to a pleasant "easy on the ear" experience but how those damned sampled/processed drums deface the picture. The music has a freshness and occasionally a dynamism as in track 7 which is quite invigorating but is not special in terms of music alone. The music rather unobtrusively underpinned the dialogue, images and actions for the series and did it with some panache but heard alone this is not an engaging experience. Track 12 has a nice dash of menace defused by a brief recollection of Dvorak's Serenade for Strings.
This disc is from analogue master tapes held by the composer. The disc warns that any inherent sound limitations are due to the analogue source. They need not have worried except on the tracks where a breathily close saxophone does sound a little distorted. There seems to be no other audio problem with the sound.
This is for McCarthy completists, Sci-Fantasy fans and V cultists only. I have marked it with an eye to the skill of the writing. Aural background.

Robert Barnett
---
Return to Index