---
George GERSHWIN An American in Paris; Concerto in F*; Catfish Row Suite with scenes from Porgy and Bess; Second Rhapsody for Piano and orchestra**. Garrick Ohlsson* (piano); Michael Tilson Thomas** (piano) and conducting the San Francisco Symphony Orchestra

RCA RED SEAL 09026 68931 2CDs:

Crotchet (UK)
Amazon (USA)
Soundstone (USA)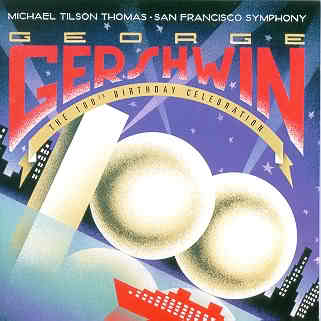 I have always been impressed with Michael Tilson Thomas's recordings of Gershwin that he made for CBS Masterworks (now Sony) in the 1970s and early '80s so I was eagerly looking forward to this new double CD set with the San Francisco Orchestra. His view seems to have matured and sobered somewhat over the years.
The fist CD contains some unusual material and so its value is, accordingly, considerable. First we have an over 40 minute performance of Gershwin's Catfish Row Suite specially augmented, for this special 100th Birthday Celebration with four of the original songs from Porgy and Bess. The opening number is a laid-back, nicely understated and languid "Summertime" which is sung by Audra McDonald a lovely velvet-toned high soprano with a great sense of the song's line and its expressive opportunities. Her expressive talent is given even more opportunity as she bewails her loss in "My Man's Gone Now." Even more expressive and very impressive is the authoritative oaken voice of Brian Stokes Mitchell (a young man to watch on this evidence) singing, first, Porgy's aria "Bess, You is My Woman Now" and then a slyly, oily Sportin' Life singing "There's a Boat Dat's Leavin' Soon..." In this, towards the end, he is in danger of being just that bit too expressive, treading a tightrope and just succeeding in staying this side of being over the top. The Hurricane music promises excitement but just misses delivery - I felt the strings needed just that bit more volume and bite to balance the gathering fury in the rest of the orchestra.
Completing CD1 is a performance of the original version of the Second Rhapsody. (I applaud the inclusion of this sadly underrated work rather than yet another Rhapsody in Blue.) The Second Rhapsody was first published in a version for two pianos and not until the early 1950s, well after the composer's death in 1937, did it come out in an orchestra-and-piano version that was an "improved" edition that simplified much of Gershwin's orchestration. The original parts were subsequently destroyed. In 1982 Michael Tilson Thomas, helped by Ira Gershwin, made a new set of parts from George's original manuscript, which was preserved in the Library of Congress. This is the version we hear and Tilson Thomas has added a cadenza he has written in the Gershwin style. Readers will remember that originally the music appeared in a 1931 movie, Delicious. In the film, a composer, with a Russian accent, introduces his "New York Rhapsody" at the piano with the following dialogue: "It begins like we all see the city first: the great towers almost in the clouds. Down below, in the long furrows, human seeds trying to grow to the light. And noise: riveters drumming in your ear from every side...And this is the night motif: night silencing the rivets."...
This evocation must have impressed Gershwin for his first title for this work was Rhapsody in Rivets. I was quite taken aback by this version; it sounds rather different, tougher, grittier and darker-toned, than the version of the Second Rhapsody we normally hear. It takes some getting used to but I am looking forward to returning to it and really getting to know it.
Tilson-Thomas's An American in Paris, which opens CD2, cannot rival the Previn version reviewed above; but it is lively enough and it has some nice contrasts, interesting nuances and the big romantic tune is most captivatingly played. The notes reminded me of Gershwin's (admittedly rather bland) description of his American's visit to Paris: The bustling first section represents "him strolling about the city, he listens to various street noises, and absorbs the French atmosphere.." and later "perhaps after strolling into a café and having a few drinks, he suddenly succumbs to a spasm of homesickness". This description fits the work's main romantic blues melody and the Latin treatment that punctuates it. Eventually, as Gershwin says, "having left the café and reached the open air, the American has downed his spell of blues and once again is an alert spectator of Paris life."
I was delighted by Garrick Ohlsson's sprightly yet graceful reading of the Concerto. He shows a keen insight into jazz nuances which he infuses intelligently and aptly into his performance. Tilson Thomas gives him a sympathetic accompaniment with some arresting touches including an inclination to follow long held chords with short sharp staccato ones to give an appropriate edginess to this work.

Ian Lace
---
Return to Index