---
George GERSHWIN The Best of George Gershwin (Nonesuch Gershwin recordings compilation with new additions) SONY SM2K 60661 2 CDS

Crotchet (UK)
Amazon (USA)
Soundstone (USA)
CD1 [76:45]: Rhapsody in Blue/Bernstein cond and piano; An American in Paris/Bernstein; Piano Concerto (Allegro agitato)/Previn/Kostelanetz; Prelude No.1/Katia & Marielle Labèque; Strike up the Band/ John Williams /Boston Pops; Symphonic Picture: Porgy and Bess/ Ormandy; Overture: Girl Crazy/ Michael Tilson Thomas
CD2 [74:08] Jazz and Songs: 20 numbers from such artists as: Miles Davis; Mel Torme; Benny Goodman Sextet; Billie Holliday; Ella Fitzgerald; Chet Baker; Duke Ellington; Stephane Grappelli; Fred Astaire; Erroll Garner and the Woody Herman Orchestra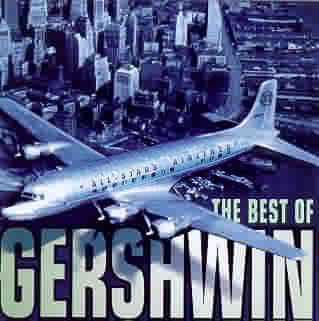 This is another very attractive Gershwin collection.
Bernstein as pianist and conductor in Rhapsody in Blue is wayward, nothing unusual in that; making his own personal statement. As pianist, he begins thoughtfully, he is almost restrained; then he shifts gears and dashes away, but what he continually offers us, is the unexpected little turn of phrase, the trenchant little nuance or flourish. As conductor, he encourages characterful brass snortings through various mutes and a really soulfully-indulgent big tune which some might say borders on the exaggerated. Rodney Geenberg in his book, George Gershwin, reviewed elsewhere on this site, rates this performance highly, listing it amongst his recommended recordings. He also lists Bernstein's brash but always interesting and, again, personal view of An American in Paris - there's plenty of excitement and it's full of character and colour. Previn, as pianist, and Kostelanetz in only the concluding movement of the Concerto in F, offer plenty of attack and gusto.
John Green's arrangement of Strike Up the Band played by film composer John Williams and the Boston Pops Orchestra is an exuberant celebration, especially enjoyed by the brass and percussion sections. The Labeque Twins are equally exuberant in their two piano rendition of the Prelude No.1. I was generally very impressed with Ormandy's version of the Robert Russell Bennett suite from Porgy and Bess. It has heart and warmth - a beautifully balanced reading with very fine ensemble playing and a nice feeling for jazz nuances. The playing of "Bess You is My Woman Now" is heart-stoppingly beautiful and the storm music is very thrilling putting the new Tilson-Thomas recording reviewed above in the shade. I just wish the rendition of "Summertime" did not make me feel as if Ormandy was taking a patronising view about coloured speech patterns.
Finally, on this first CD, there is a magnificent Girl Crazy Overture from Michael Tilson-Thomas with so many catchy tunes such as "Embraceable You", (They're Playing Songs of Love) "But Not for Me" and "I Got Rhythm". I am surprised that Sony have not reissued the splendid CDs of Gershwin's music that this conductor made on the former Sony label, CBS Masterworks, for the centenary celebrations this year.
The second CD comprising twenty songs and jazz numbers will be welcomed or not according to taste. Personally I liked most of them. Traditional, mainstream and progressive jazz treatments are represented. There is Miles Davis's own unique way with "Summertime" and toe-tapping infectious contributions from the Benny Goodman Sextet ("I Got Rhythm") and Stan Getz ("Who Cares?") I loved the close-harmony singing of the L.A. Voices and the instrumentals of Supersax in "Embraceable You" - schmaltzy yes, but I don't care, I found it delectable. The same comment goes for the Hi-Lo's "Of Thee I Sing." Ahmad Jamal offers some nice touches that made me smile in his version of "They Can't Take that Away from Me" and I was impressed with the chocolate brown tones of the extended six minute arrangement of "Bess You is My Woman Now" from Tommy Flanagan (piano), Ron Carter (bass) and Roy Haynes, while Erroll Garner, fingers flying over his eight minute, "The Man I Love" variations, is just incredible. I loved Ella Fitzgerald's cheekily expressive "Nice Work if You Can Get It" but then Ella is renowned for her Gershwin Song Book (again praised by Greenberg). Fred is well, Fred Astaire, incomparable; and Peggy Lee is also memorable with Benny Goodman's orchestra in "How Long Has This Been Going On" even though she cannot displace Audrey Hepburn's special way with this number in the film Funny Face. I also loved the gravelly but great Tony Bennett, he has a great way with "They All Laughed..." I was not impressed with the flat singing of Mel Tormé in "Isn't it A Pity?" he loses all the opportunities that the singers grasp in this song in the stage production of Pardon My English reviewed on this site last month. I was equally unimpressed with Billie Holiday's "The Man I Love", a disappointment that surprised me knowing her reputation. Another surprising disappointment was Duke Ellington's rendition of "Summertime", a most peculiar reading with some very odd percussion sounding like DIY gone mad. But, all in all, this CD is a pleasure; and I would rate the whole set -

Ian Lace
But Rob Barnett is not so impressed -
What we have here are two slices of the Gershwin's music. The first is a very attractive CD of Gershwin's concert works. The artists are all top-flight and in evident sympathy with the idiom. Bernstein is both pianist and conductor in Rhapsody in Blue which is played with slickness, understanding and a sly and knowing sleazinesss which seems just right. This carries over into An American in Paris. I could have happily done without the other pieces in favour of having the whole of the piano concerto; as it is all you get is the third movement played by André Previn with André Kostelanetz and his orchestra. The Labèque sisters play a two piano arrangement of Prelude No. 1 - all suitably dynamic. The overtures from Strike Up the Band and Girl Crazy are well done. Lastly we have a slightly under-sprung version (Ormandy and the Philadelphians possibly slightly out of sympathy with the music?) of Robert Russell Bennett's Symphonic Picture of Porgy and Bess. Give me the Gershwin suite any time. All in all a very satisfying collection with one or two missed opportunities. The second disc has twenty generally uninspiring jazz versions of Gershwin songs from a wide-cross section of generation. Here we can hear Aretha Franklin, Ahmad Jamal, Tony Bennett, Ella Fitzgerald; Mel Torme and best of all Billie Holliday. With the exception of the Holliday and Fitzgerald tracks I found little to attract a second hearing. A case of missed opportunities.

Rob Barnett
---
Return to Index