---
| | | |
| --- | --- | --- |
| George FENTON Ever After OST DECCA/LONDON 460 581-2 [60:40] | | |
| | | |
See also George Fenton talks to Paul Tonks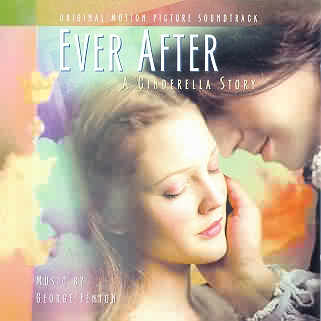 One of the most frequent criticisms that I find I write over and over again on this site is " but this score lacks variety..." Not so in this case; George Fenton has written a magical, romantic score rich in style and mood.
Ever After is described, in its subtitle, as: "A Cinderella Story". While still retaining the essentials of the well loved ancient fairy tale, it has (of course) been up-dated for the 1990s. This Cinderella is more sassy, more of a tomboy who actually saves the Prince herself (we are rapidly becoming redundant chaps!) and the fairy godmother is a fairy godfather in the shape of Leonardo Da Vinci - just as well its not DiCaprio! The film stars Drew Barrymore as Daniella (Cinderella) and Angelica Huston as Rodmilla, the wicked stepmother; with Dougray Scott as Prince Henry.
Britsh composer, George Fenton's previous work for film, theatre and televison has included the music for BBC News, the films: Gandhi; Dangerous Liaisons; White Palace (wonderfully imaginative Main Title music); Cry Freedom; The Fisher King; Groundhog Day; Shadowlands; The Madness of King George and Multiplicity. His scores have won him five Oscar nominations. He has also received several BAFTA and Ivor Novello awards for his work.
The session orchestra made up of some of London's finest players was at times 96 players strong and never less than 70 to 85. Fenton asked for and got a large string section consistent with the requirements of a lush romantic score. As you can see, there is a relatively generous helping of music here (nearly 61 minutes) in contrast to many OST albums. Many of the cues are substantial too, compressing a lot of music of different moods and styles; so, rather than analyse individual tracks, which would take pages and try your patience, I will restrict my comments to a general survey of the CD's content.
The Main Title sets the fairy tale atmosphere - misty and other-worldly - in its opening bars before the introduction of the lush, main romantic theme which is somehow reminiscent of Sondheim and Lloyd-Webber. This is nicely developed in later tracks - it becomes a particularly appealing smoochy waltz for "Proposal", for instance. The mood of wistfulness, and the ardour and yearning of romantic courtship, appealingly pervades such tracks as "Walking on Water", "Trying to Relate" and "The First Kiss." The more daring-do, action tracks have a ring of Korngold (which Fenton himself acknowledges), and Steiner but still retain the composer's own individual style. It should be emphasisied that Fenton is clever enough to avoid clichéd figures and postures. The only jarring element in this context is the inclusion of those Irish Pipes (they seem to get everywhere these days). Original medieval instruments are eshewed but Fenton convincingly evokes the style and atmosphere of the 16th Century. Hunting fanfares and the courtly manners are imaginatively caught in "Cinderella" and "The Girls, The Prince and The Painting" Fenton handles the sinister and the villainy with some original touches and there are nice tongue-in-cheek, darkly comic episodes in "Rescuing Maurice" for instance with imaginative use of the woodwinds. "Your Highness, what a surprise", after those wretched pipes, develops into a memorable study for pizzicato strings. The Choir of Magdalene College, Oxford sing a Kyrie eleison for the cue "The Royal Wedding"
A pity we are brought down to earth with the obligatory song "Put Your Arms Around Me", performed by Texas, which is scored for modern electonics - but then I am old fashioned. Regardless of this crass addition, this is a nice romantic wallow - pass the chocolates and the Kleenex!

Ian Lace
---
Return to Index