---
Erik NORDGREN (1913-1992) The Classic Film Music : The Bergman Suites Slovak Radio SO/Adriano MARCO POLO 8.223682 [53:39]

Women's Waiting (1952); Smiles of a Summer Night (1955); Wild Strawberries (1957); The Face (1958); The Garden of Eden (1961)

Crotchet (UK)
Amazon (USA)
Soundstone (USA)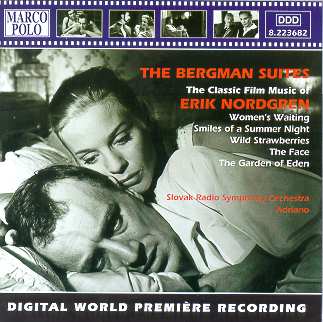 With this CD another step is taken towards recognising European film music as just as significant and distinctive as its counterparts in the USA.
No praise is too high for Marco Polo's enterprise and production values. The dedication and, more to the point, utterly committed enthusiasm of Adriano is evident in the performances and the notes. The notes (almost twelve pages in English) are exhaustive to the point of being exhausting (and that is not a complaint). The author is Adriano who as well as being delightfully informative is also self-effacingly grateful to his collaborators and to Klaus Heymann The booklet is graced with stills from the various films represented. The notes are in English, French and German.
These Bergman films may well have been seen on satellite or cable. Certainly a number of them (I recall seeing Smiles and Wild Strawberries) have been shown on British TV (Channel 4) and BBC2.
Erik Nordgren is not the same person as the Finnish composer Pehr Henrik Nordgren. This Nordgren studied at the Stockholm Royal Academy of Music. His compositions include a clarinet concerto (1950) and another for bassoon (1966). His collaboration with Ingmar Bergman, recorded on this disc, spanned seventeen scores. Nordgren also wrote music for films by Alf Kjellin, Alf Sjoberg, Gustav Molander, Lars-Erik Kjellgren and Jan Troell (The Emigrants, 1972). Tragically their collaboration ended when Bergman married the Finnish pianist Kabi Laretei (a name well known to me as soloist in the Nystroem Piano Concerto). Bergman found himself absorbed in music through his wife and Nordgren and Bergman drifted apart. The Garden of Eden was their last collaboration.
What of the music? This has that icy, reserved yet utterly devastating Northern beauty which is found in the smaller-scale Sibelius and especially his theatre music. Mixed in with this element and providing an anarchic and occasionally unwelcome contrast is Nordgren's penchant for raucous Galops and Marches - rustic and worldly. Another element is his use of the harp to illuminate texture and to project a theme.
Women's Waiting (6 tracks - a theme and five variants) opens in Gallic-style harp filigree. This is overlain with energetic writing for the strings. If you have ever heard the Concerto for Strings by Herbert Howells you will have some impression of the sound. The harp is a serious player in this track. The second track is a dark serenade but it is still a serenade - Sibelian and romantic. The third and fourth tracks sound like refugees from Sibelius' Fourth Symphony - wisps of tune wander amid a bleak landscape occasionally brilliantly lit by an excoriatingly bright sunlight. Track 5 has a clip-clop charm laced with more cool romance. The finale has Poulencian brass calling out like nightmare escapees from the suave night-life of 1920s Paris. The tick-tocking background soon asserts itself and to a solo violin melody an exhaustion settles on the landscape.
Smiles of a Summer Night is famous because Stephen Sondheim made his name with A Little Night Music and his musical is based on the Bergman film. The orchestra is bigger in sound and presence than the score for Women's Waiting. The first movement has that keen-edged mix of longing and joy. The march which follows [8] is stern but delivered alla turca with little bells under marcato high woodwind seeming to have stepped from the pages of Nutcracker. The Galop is less French than Italian - Rossini in fact - slightly pompous and definitely absurd. Track [10] is more of the same - very operatic or more accurately operettic! Dangerous Wine [11] is a deft essay for the solo harp winding, curving, falling and floating. This is spendidly woven music. Crisis is painted in unrelieved drabness. The Menuet is a Josef Haydn pastiche. Gavotte is not far away stylistically from Menuet - full of pomp and even a little pomposity.
These ancient dance forms had attractions for Sibelius also (cf King Christian II and Pelleas). With The Park we return to a more impressionistic world and even a little heroism in a burnished contribution from the French horns. More in the same flow comes in the final Escape which ends in a cheeky little gesture.
Wild Strawberries (3 movements) in Emotions sounds like a cross between Sibelius, RVW and Gerald Finzi until bell tolling and clock ticking disturbs the atmosphere and then a quick gambolling theme enters delivered by the woodwind and the strings enter again like Vaughan Williams' Fifth symphony. Memories is elegiac with so many of the elements of English impressionism that one catches one's breath. Still and all there is a chilly Scandinavian element which marks the music out as slightly but distinctly different. Clocks ticking and time passing are summoned up in the last track of the sequence: Dreams. The pilgrimage is through a surreal landscape which often seems threatening and closes in a violent dark awakening.
The Face (3 movements) opens in the track Swindle and Deceit with dull drums, shuddering tambourine and a guitar figure which slaps you full in the face. The guitar gradually takes on a more lyrical role partnering the harp - clearly a favoured instrument in Nordgren's palette. March is another vulgar and brazen effort with more than a hint of Sousa and a soupçon of Poulenc and Satie. The Galop follows the same approach but is more nearly evocative of France than the Galop from Smiles.
Secret Chambers of the Heart is the first track of The Garden of Eden. Here we are back in Sibelius territory. This is the Sibelius of the perfect miniatures (Valse Triste) and the incidental music (Belshazzar) rather than the symphonies. A meltingly lovely duo for harp and flute is to be found from 2:00 onwards on track 23. This rises in triumph into an excoriatingly romantic moment for full orchestra. The last movement Small Town Affairs is more Galop-March style music - fluffy and direct - a necessary contrast to the romance which Nordgren can articulate with heart-disturbing acumen.
Nordgren appears in two Bergman films: Wild Strawberries and Not to Speak of All These Women. In the latter he plays a cellist who dies of a heart-attack during a private concert.
I do hope that the musical material for Seventh Seal (currently missing) will reappear and that it can be recorded.
This was Adriano's 20th disc for Marco Polo and his eleventh in the Classic film Music series. I look forward to the next and the next and the next ...
A warm recommendation for this disc which is rewarding and out of the ordinary.

Rob Barnett
---
Return to Front page