---
| | | |
| --- | --- | --- |
| Bernard HERRMANN Taxi Driver (1975) OST Tracks 1-13 composed and conducted by Herrmann Tracks 14-18 composed by Herrmann and arranged and conducted by David Blume ARISTA 07822-19005-2 [61:33] | | |
| | | |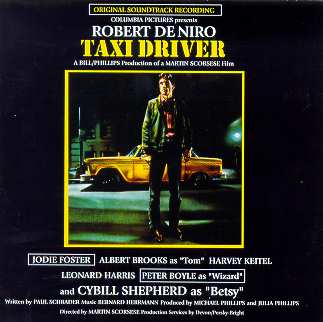 Strongly recommended. Here at long last is the complete musical soundtrack of Herrmann's last film. It is one of his most distinctive scores. Various pirate label discs have been in circulation but I would expect that this CD tops them in its sound quality and certainly in its breadth of music included. The technical side seems excellent with a very distant hiss which is only to be expected from analogue tapes. It is just perceptible when listening with headphones. Otherwise the sound quality is very impressive.
First impressions of this score centre on the sleazily seductive side of the music. It is only with repeat hearings that other dimensions float to the surface. There are plenty of obsidian undercurrents and nightmare subterranean seas in this work. There is a certain manically driven quality to the music and strata of despair and catastrophe.
The saxophone (a musical counterpart of Bickle) is a mellifluously sexy disenchanted troubadour. Its centre-stage role should not blind us to masterly touches such as gritty little harp figures as hard as shards of steel (compare the Octopus music in Beyond the Twelve Mile Reef) as well as a jazz drum-kit placing the drama in the city - loneliness surrounded by people. The deep brass and woodwind are also evident occasionally throwing up reminders of White Witch Doctor. The drumbeat has a wild-eyed martial air charting the pressure on Bickle who is increasingly oppressed by the corruption of things around him. Harp, drum and sax play extremely significant roles in all this music. The sax is the prima donna and it is played with an audacious falteringly bubbly tone and pacing.
The insert is very informative with superb notes by Martin Scorsese. The fullest documentation is given for the music tracks linking them in great detail to individual takes. It is a pity that once again the insert comprises a single sheet folded four times. It will never last.
The last four tracks are David Blume's arrangements of Herrmann's materials. This is Herrmann neatly gutted and presented without the tangy dark side or much flavour. It sounds like Edmundo Ross or some sophisticated dance band from Come Dancing; bland stuff I am afraid. I did not like these tracks. You may.
Track 12 is called "Diary of a Taxi Driver" and features Herrmann's music with Robert de Niro's voiceover taken direct from the soundtrack. You can cut the atmosphere with a machete!

(c) Robert Barnett
---
Return to Index