Music Webmaster Len Mullenger

FILM MUSIC RECORDINGS REVIEWS

DECEMBER 1998
---
This file has been designed for easy printing

COMPETITION WIN a CD of your Choice from Crotchet

*****************************************************************************

EDITOR'S CHOICE - FILM MUSIC CDsOF THE MONTH December 1998

Philip SAINTON Moby Dick

****************************************************************************
| | | |
| --- | --- | --- |
| Philip SAINTON (1891-1967) Moby Dick William T. Stromberg conducts the Moscow Symphony Orchestra Marco Polo 8.225050 | | |
| | | |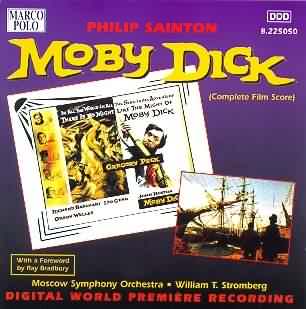 Philip Sainton is a name that is little known even to lovers of British music. His output was small; the total number of his titles would easily cover one A4 sheet of paper leaving plenty of white space. It is therefore remarkable that John Huston, the great American film director should choose to use Sainton for he had all Hollywood's compositional resources to select from: Max Steiner, Alfred Newman, Dimitri Tiomkin, Franz Waxman, and Victor Young etc were all at work in the major studios; so too was Bernard Herrmann who had actually composed a cantata called Moby Dick - that, actually, did not impress Huston. Then there was his frequent collaborator Alex North. But Huston insisted that he needed a composer who had a strong empathy with the sea and its ever-changing moods and perplexing mysteries. He knew that many British composers had written such music. There was Arnold Bax, Vaughan Williams, Benjamin Britten to name but three composers who might have been induced to score his film. Yet Huston chose Sainton on the slight evidence of his orchestration and arrangement of a Jack Gerber piece Fiesta that Huston happened to hear, confirmed by Sainton's seafaring hymn "Ribs and Terrors in the Whale" which is cue 4 on this CD. (It has generally been assumed that Huston's choice was made on the evidence of Sainton's seascape writing in his moody seventeen-minute symphonic poem, The Island [available with Patrick Hadley's masterpiece The Trees So High, on Chandos CHAN 9181]). There was, of course, another more mundane factor that must have influenced the choice, in that the production of the film took place in and off the coast of Ireland (also Wales, Portugal and the Canary Islands), far away from the U.S.A., so there was probably a logistical expediency to consider; yet Huston's faith and confidence in a composer who was so little known and who was habitually plagued by self-doubt paid off handsomely for this is undoubtedly one of the best film scores to have been written by an English composer. In passing it is worth noting that, for this score, Sainton recycled material from some of his earlier works including The Dream of the Marionette and Nadir both of which can be heard on Chandos CHAN 9539.
Special arrangements were made for Sainton to see the film being shot, so that he could absorb the atmosphere and, more importantly, gain extra time for composition because inspiration came painfully and slowly. (The usual time for the film scoring process is about six weeks after filming has been completed.)
The music for the Main Title, which shows more than a passing influence of Vaughan Williams, is strong and virile. (RVW's influence is apparent in many cues in this score.) It presents Sainton's themes for the obsessive Captain Ahab (Gregory Peck), for Moby Dick the huge white whale and warmer, more humane music to represent the friendship between the Polynesian headhunter- turned-harpooner Queequeg and the young whaler Ishmael (Richard Basehart). It is also a graphic portrait of turbulent, heaving, cross-waved seas whipped by gales.
The following cue, "Sea Music", is in direct contrast for here is the sea in calmer friendlier mood and Sainton's lovely evocation displays influences of Ravel and especially Delius, using flutes, clarinets, harp and celeste in gentle glittering arpeggios. Comedy writing that includes a droll bassoon commentary informs the first meeting between Queequeg and Ishmael when through a mixup at a New Bedford hotel the former finds the latter in his bed. The hymn mentioned above, sung by the whalers, is reverent in the best tradition of church hymns and is worthy to be included in the English Hymnal. The hymn tune is reprised in full orchestral dress before the "Dock Scene" which is jolly and optimistic and full of high-spirited rhythmic vitality as the sailors look forward to their adventure and freedom from domestic cares at sea. There follows an alternative take on this scene which has a memorable tune that could have been a British light music classic. This music is developed in "Going Aboard".
Now the music darkens as the "Stranger" Elijah foretells that all save one aboard the Pequod will perish. "Preparing for Departure" and "Pequod's Departure" contrasts optimistic muscular seafaring music as Ahab's ship music leaves the shore with anxious figures representing the fears of the women left behind on the quayside. The music plunges deeper into the abyss with the introduction of Captain Ahab and we are left in no doubt about the man's compulsive obsession with hunting down Moby Dick; the music positively exudes malice. More than any other cue in the score, "Ahab's Introduction", lasting some six minutes, reflects Huston's request to Sainton to score much of the film as though he were writing an opera.
"There She Blows" is an exuberant, cantering-paced musical sea chase when whales are first sighted. Huston asked for some high-spirited "Carnival" music to depict the crew's joy and exultation and Sainton responded accordingly with this jubilant cue but it is shadowed in its closing bars by a remembrance of the stranger's dockside prophesy. From now on the music is practically all doom and gloom. "Meeting at Sea" in which Ahab learns from those aboard a passing ship that Moby Dick is close by prompts more dark brooding and hammering psychological maelstroms in the orchestra. "Waiting" is a fine shimmering evocation of the Pequod caught in the doldrums as she lies becalmed in a pressing heatwave. The sudden appearance of Moby Dick in the next cue sees the orchestra whipped into thunder although the doldrums continue forbidding a chase. Then, in "The Search Continues", the darker realms of Arnold Bax are recalled as Ahab becomes more and more possessed with his blood lust. It is also a portrait of a storm tossed sea at night. In "St Elmo's fire", Sainton offers a variation of Debussy's Sirènes, though the women's wordless voices, here, are sounding not a lure but more of a warning against Ahab's profanity. Unnerving tension is created at the beginning of the ten minute cue "Eerie Calm/He Rises" by massed violins playing harmonics with two violins and two flutes quietly commenting. But when Moby Dick appears all hell is let loose. The only pause in the thundering rage in the orchestra comes when Ahab, now dead and lashed forever to Moby Dick, beckons his whalers on, drawing from Sainton a magnificent dirge with the brass leading the orchestra to divide so that, simultaneously, the music reaches defiantly to the heights and plunges to the depths foreboding the obsession, now tainting the crew, that will lead to the deaths of all of them save Ishmael who lives to tell the tale.
Sadly the only other film scoring opportunity that came Sainton's way was from Charlie Chaplin for King in New York but Sainton quickly left the project after an artistic disagreement.
The CD booklet is well up to the very complete and lavish standards set by other releases in Marco Polo's classic film score series. It includes an essay on the adaptation of Herman Melville's formidable book and the making of the film by Ann Howard Whitaker, another informative essay on how Philip Sainton composed the music and a detailed track-by-track analysis of the score by Bill Whitaker from which I have quoted or paraphrased above; plus a reproduction of a radio talk by Sainton himself on scoring for Moby Dick; a note about the restoration of the music by John Morgan and an Afterward from Barbara Clark, the composer's daughter.
I end this review with the apposite words of renowned Sci-fi and fantasy writer, Ray Bradbury who wrote the screenplay for Moby Dick and who contributes a message in this CD's booklet. It summarises exactly what I feel about this marvellous recording: "...When the film was finished and, for the first time, I heard this score by Philip Sainton, [I] was delighted to discover that it struck all the right notes and chords to play out the drama...Moby Dick, the film is Melville and Sainton is both Melville and Moby Dick."
Reviewer
Ian Lace

---
*****************************************************************************

EDITOR'S CHOICE - FILM MUSIC CD OF THE MONTH December 1998

****************************************************************************
| | | |
| --- | --- | --- |
| John WILLIAMS Close Encounters of the Third Kind The Collector's Edition Soundtrack ARISTA 07822-19004-2 [77:23] | | |
| | | |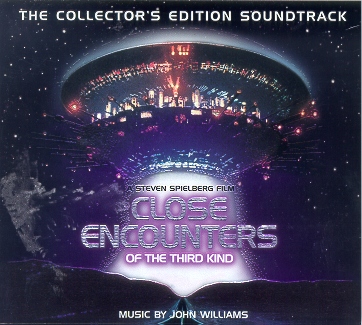 Some years ago I listed my favourite all-time film scores for the UK produced magazine, Classic CD. I included John Williams's score for Steven Spielberg's Close Encounters of the Third Kind in that list. This music is still my favourite of all of Williams's brilliant scores. The original Arista soundtrack recording LP has had a special place in my collection since its release in 1978; it was stunningly recorded with the best musical selections from the film. [Charles Gerhardt's suite from the film recorded with the National Philharmonic Orchestra was also a treasured album. (It was issued with a suite from Star Wars; since available on an RCA CD.)]. Now my old LP has been superseded by this new collector's edition which not only brings the original soundtrack music back in CD format but also boasts an extra 37 minutes of additional music which was either previously unreleased or not used in the film.
The producers of this new album went back to the original recording sessions of the score and selected a generous 78 minutes of music. The cues, given in their entirety (even those that were shortened in the film), are presented in the order they appear in the film to recreate the progression of the narrative structure. Thus we hear the music that gives a sense of awe an mystery and vivid evocation of the opening scene shrouded in a swirling desert sandstorm as the lost planes form the 1940s are discovered in a condition as though they had left their base only an hour before.
Later in "Roy's First Encounter" we hear the ambiguous shifting out-of-this-world tonality that we associate with the aliens. These alien sonorities are developed in the substantial and very impressive 6½-minute cue "Barry's Kidnapping" the music takes on a menacing dimension for we are seeing their threat through the young mother's eyes; she instinctively knows the little aliens are after her son and the threat comes from every corner of the house; the chimney, the ventilation grilles and at length through the cat flap. The music shimmers, shifts, slithers, screeches; voices and instruments twist, turn and rise swiftly away... It is also good to have the music which accompanies the young mother and hero Richard Dreyfuss to the tower shaped mountain rendezvous. Williams's music with its driving rhythms splendidly and sympathetically conveys their rising excitement and anxiety. In "The Mountain" cue containing previously unreleased material, their overwhelming sense of wonder as they first see the Devil's Tower is palpable as the music reaches (with the addition of women's wordless chorus) an ecstatic climax but the elation is mixed to with a sense of tragedy and regret as the pair pass animals struck down dead (or drugged). In "The Cover Up" Williams uses snare drums, timpani and bass drums up front to underscore the ruthless efficiency of the military machine in deterring public interest in the alien's impending visit.
But it is of course, the music for the climactic meeting with the aliens which everybody anticipates starting form the point when Dreyfuss reaches the rendezvous point on the other side of the mountain and the smaller space craft swoop down. Here we have 30 minutes of Williams's remarkable music which brilliantly captures and makes credible the amazing series of events. Starting with the swooping down of the advance guard of smaller space craft Williams conjures music that underscores the vivid colour and brilliant lights of the space vehicles and parallels their breathlessly swift trajectories. The arrival of the giant "Mothership" begins as something of a concerto for the orchestras bass instruments the music rising through the orchestra as it descends through the clouds passes majestically over the mountain and reverses itself for touchdown. Then we have the almost comical interchange of data between the mothership and the base's electronic console commencing with that famous five-note figure. It is interesting to note that Williams achieved this dialogue using acoustic instruments only ( probably double bassoon, bass trombone and tuba for the mother ship's contribution). The last sequence "The Visitors/Bye/End Titles, represented her with 12 minutes of material includes material not used in the film. It covers of course those last very affecting scenes as the tall stick-like alien waves goodbye and the mothership leaves. Williams responds with really inspired music which truly uplifts the soul and spirit. All is perfect, the allusion to When You Wish Upon a Star is kept subtle and oblique. Unhappily the music that was not included in the film and very wisely was an overt reference to the song which brings you crashing back to earth with a bang. My advice is to slowly drop the volume when you get to about 10:20 in this last cue and switch off.
Nevertheless a wonderful souvenir of what must be for many a treasured cinematic experience.
It is very attractively presented in chrome etched packaging with a sumptuously produced well illustrated, full colour booklet with notes about John Williams's work on the score and an interview with the composer.

And a review of the associated video:-
CLOSE ENCOUNTERS OF THE THIRD KIND - THE COLLECTOR'S EDITION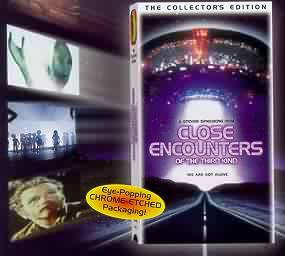 This video is presented in the same design and chrome etched packaging as the CD so that they are effectively a matched pair. But the rub is that who wants it except the Close Encounters fanatics (all right I will admit to being numbered among them). We have had Close Encounters videos in normal ratio then wide screen editions then digitally enhanced editions and now this special edition. So what's really special about it? Well the main thing is that you gain the 15 minute documentary about the making of the film tacked onto the end. But you also loose the scenes in the mother ship which has distinguished most other editions. So has Spielberg now decided that his definitive edition should be sans these scenes? He is interviewed for this documentary on the set of Saving Private Ryan. He first of all talks about his childhood experience of being taken out in the middle of the night by his father to see the spectacle of a meteor shower. It was this experience he says that prompted his desire to make sci-fi pictures like Close Encounters and E.T. Later in the interview he talks about his youthful naivety and idealism of twenty years ago when he made the film. Now that he is older and maturer he would make the film quite differently, he claims. He says that he would never allow the Dreyfuss character to become so obsessed with his encounter and cause his family so much distress and allow them to leave home so that he could pursue his dream and go off in an alien spaceship. He chose to make the Dreyfuss a very ordinary guy so that the majority could identify with him. In my opinion that was the main weakness of the film; he was too much of a nerd and his family were pretty obnoxious too. I would like to respectfully suggest to Mr Spielberg that he should have another go at Close Encounters but that he might consider starting from the premise that there were other mothership's making other rendezvous at the same time so that he could invent another set of main characters and use today's computer-based technology to enhance the same basic story (maybe taking it a little further to hint at the aliens short/long term purpose) but, please, giving the equivalent Dreyfuss character more dignity, sensitivity and intelligence. Interestingly the documentary includes comment by Richard Dreyfuss who was attracted to the film because of its noble theme and its idea of suggesting that we are not alone but that we probably have nothing to fear and that the aliens could be friendly. This concept broke new ground. The two female leads also contribute thoughts; Melinda Dillon noting the extreme heat when they were filming Garry's abduction scenes. The actor who played Garry, now a young man, is also seen. Douglas Trumball talks about the visual effects for which he was responsible. He says that Spielberg wisely wanted to get away from the conventional flat saucer-like images to make the space-craft seem more credible. When Spielberg saw the lights of a huge oil refinery he hit on the idea of making the mother ship look like a huge city in the sky. John Williams appears briefly just to explain how the five note theme was developed.
Think twice about spending money on this special edition if you already have the digitally enhanced wide screen version of the film. This edition is not all that special
Reviewer
Ian Lace
---
| | | |
| --- | --- | --- |
| Philip GLASS Koyaanisqatsi OST [73:23] Jukebox (bonus CD - selections from Glass's Nonesuch recordings) [73:46] NONESUCH 7559-79519-2 | | |
| | | |
(Please note that we have used some artistic license showing the above illustrations. The actual CD comes in a cardboard slip cover with just the picture of the car in the desert and nothing more. Sliding this aside, the purchaser discovers the CD with a very stark booklet front page design showing only the words Philip Glass and Koyaanisqatsi printed in blue on a yellow background)
Made in 1983,by filmmaker,Godfrey Reggio, Koyaanisqatsi (pronounced Ko-YAWN-is-SCOTS-ee), was a film completely without narrative, without any identifiable character and without dialogue. It was simply a cavalcade of awesome visions - clouds rushing across a New Mexico desert, the dynamiting of a failed housing project in St Louis, people swarming out of Grand Central Station, and crowded traffic on a Los Angeles freeway. As Tim Page says in his very helpful notes, "Although Koyaanisqatsi was intended at least in part as an indictment of late-20th century Western society (the title is Hopi for "life out of balance"), it is one of the paradoxes that the images of a supposedly crazy, hard-driven over-the-top America are so vibrant and captivating - probably the most exhilarating (and curiously affirmative) passages in the film.
The original recording of Koyaanisqatsi was issued on LP now with the advent of CD it has been possible to include about half an hour's more music - material that hitherto has been available only with the film. Furthermore as Glass, himself, admits in the 1970s and 1980s his ensemble was in the process of creating a musical language - "now we're fluent in it."
The opening, title, movement begins with a deep pedal droning on the organ followed by a gloomy meditation on the word Koyaanisqatsi by deep male voice(s). Throughout there is the usual Glass tendency to compose material using simple music cells with repetition relieved from monotony by subtly shifting modulations and harmonies and the introduction of new instrumentation. The second movement is a slow moving and introspective piece with long-held sighing notes for cellos with staccato one note then increasingly complex flute punctuations; the movement lives up to its name "Organic" for it might be seen to imply the slow steady growth of a plant. "Cloudscape" is a shimmering vehicle for muted brass as if one is viewing a landscape fudged by heat haze - a very colourful evocation and there is some very inventive writing for brass including bass trombone and tuba. "Resource" sounds like fairground roundabout music before the saxophone comments and you suddenly have the impression that you are listening to a steam train labouring up a gradient then speeding along the track (that is the most appealing thing about Glass's music it really fires one's imagination). The idyllic a capella lyricism of "Vessels" demonstrates Glass's equal facility for writing very effectively and imaginatively for voices. The multi-part voices move against each other with impressive inventiveness and great clarity and transparency. "Pruit Igoe" has an ecclesiastical feel like Vessels but it becomes increasingly agitated and in turmoil as all Glass's instrumental and choral forces smash the serenity of the opening string meditation. "The Grid" is longest and most impressive section for full chorus and ensemble. Quoting Page again, "It begins simply enough in a rather old-fashioned manner, the brass puttering along with near-Elgarian[?] pomp. A few minutes on, however, one of Glass's trademark bright, rapid arpeggiated passages for keyboard and woodwinds cuts fiercely into the action, and the music is transformed. For the rest of its twenty-one minutes and twenty-three sections, The Grid might as well have been titled The Dervish as it whirls furiously and exhaustively through hundreds of reiterations all varied just enough to sustain the listener's interest." The final "Prophesies" is another substantial 14 minute piece with a nice solo organ introduction with added voices and predominantly gentle Fauré-like sonorities before the return of the mournful Koyaanisqatsi chant that opened the work.
There is also a very considerable bonus CD, "Glass Jukebox" supplied with Koyaanisqatsi. It is considerable not only in playing time but also in the quality of the music selections from earlier Nonesuch recordings. These are:-
"Secret Agent and Roast Beef" plus "Trust" from Joseph Conrad's The Secret Agent
"Interlude" from Orphée Act II, Scene 5
"Living Waters" from Anima Mundi
"Runaway Horses"; and "Osamu's Theme: Kyoko's House" from Mishima
"Knee 3" and "Dance 2" from Einstein on the Beach
"New Cities in Ancient Lands, Africa and New Cities in Ancient Lands, India"; and "The Unutterable" from Powaqqatsi
"Mishima/Closing" from String Quartet No. 3 "Mishima
"Promenade dans le Jardin" from La Belle et la Bête
"Part 2" from Music in 12 Parts
"Movement 5" from String Quartet No. 5
"Song No 15, Father Death Blues (from Don't Grow Old)" from Hydrogen Jukebox
---
Reviewer
Ian Lace

---
| | | |
| --- | --- | --- |
| Nino ROTA Symphonies Nos. 1 and 2. Norrköping Symphony Orchestra conducted by Ole Kristian Ruud. BIS CD-970 [63:18] | | |
| | | |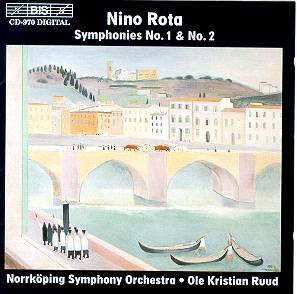 Following on from the recent release, by Chandos, of the Nino Rota Piano Concertos, reviewed on this site recently, these are world premiere performances of two more considerable concert works by this renowned composer of film music. While there is very, very little music here that we know from the film scores, the symphonies, No. 2 in particular, show recognisable traits that would develop into Rota's successful film scores.
Rota's First Symphony, written over the years 1935-39, has considerable charm and appeal. It speaks directly in the late Romantic tradition, there's no hint of the avante garde writing that was beginning to occupy the attention of so many other composers at this time. The opening movement has an open-air freshness, its feet seem to be firmly rooted in the Italian soil. It opens calmly but grows increasingly animated and dramatic with colour and melody. The Andante has a cloistered serenity, strings ascending heavenwards while tuba and trombones give some underpinning devotional gravity. One is reminded of the religious epic film music of Miklós Rózsa. The Scherzo is light and frothy, skipping gaily along in childlike innocence; indeed, one is reminded of childhood games and loud boisterous horseplay. The Finale is dramatic and full of conflict: dark vs light; sinister vs heroic. Any film director would be delighted to consider such material.
The Second Symphony was written mainly between 1937 and 1941, when he was teaching in Taranto in the remote, extreme south of Italy; and completed in 1975. The work's opening movement has a similar beginning to the First Symphony, tranquil and speaking of a simple Italian rural life dominated by the church. It soon intensifies, however, and is full of action and emotion. The second is a merry, but strongly accented Tarantella with a lovely trio section. There is some nice intertwining string writing. The stream of the music mood broadens out into a more deeply felt peroration and sometimes it gave me mental pictures of some medieval pageantry as that at Sienna. At one point there is a faint pre-echo of the love music from Il Gattopardo (The Leopard). The Andante has its roots in plainchant, the Respighi of Concerto Gregoriano is not far away. The Final Allegro vivace is all gaiety. You feel there is a party in the village street; bells summon all to the feasting and dancing first under the hot sun and then under the stars. Much of this symphony is of the stuff that film scores are made.
Rota wrote two further symphonies (it is to be hoped that BIS will record them). The Fourth Symphony (Sinfonia sopra una canzona d'amore) was sketched in 1947 and was drawn on several times for film sound tracks such as The Glass Mountain and Il Gattopardo.
Ruud and the Norrköping SO give strong performances of these works. Highly recommended to Rota fans.
Reviewer
Ian Lace

---
| | | |
| --- | --- | --- |
| Erich Wolfgang KORNGOLD Die Kathrin Melanie Diener; David Rendall; Robert Hayward; Lillian Watson; Della Jones; BBC Singers; BBC Concert Orchestra conducted by Martyn Brabbins CPO 999 602-2 3CDs [162:22] | | |
| | | |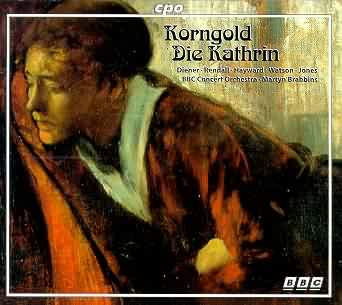 Grand opera and a tumultuous passion meet operetta in Die Kathrin. This is Korngold's fifth and final opera. It runs 18 mins short of three hours. It is here recorded without scene 3 which comprises spoken dialogue only. The words are printed in the booklet.
Here we have a late grand opera not as late as Walton's Troilus and Cressida but late enough. It was written between 1932 and 1937, being completed very close to his very fortunate departure for the USA to score the film, The Adventures of Robin Hood. Listening now to so much of his concert music we realise that rather than his concert music sounding like his film music his swooningly effective style was well established in his concert works first. You notice it all the more in this full-strength opera complete with grand orchestra including orchestral piano, three saxes and a spot-on vibraphone.
Korngold subtitled the work 'a folk-opera' and you can see or hear why, especially in the final Act. It charts an extremely sentimental story with music to match.
CPO have, in short, done the work proud. Their cast, though not without weakness, is very good and the eponymous lead is wonderful. David Rendall (a name suddenly known because of a recent incident in which after a stage dagger retractor mechanism failed he inadvertently stabbed a fellow singer) as the romantic soldier-chansonnier, François is in good voice though he shows some strain. I cannot swear to the faithfulness of the accents but they sound authentic.
The story (apologies for brutal compression here) is one of Kathrin falling in love with a garrison soldier (François) whose heart is in music, the lute and singing rather than soldiering. He seduces her to the backdrop of glorious music and the two fall in love. A child (a boy - inevitably called François) is born. The garrison leaves the town and with it goes François. Kathrin (in early pregnancy) goes to Marseille in search of her love. She is almost seduced by a night club owner who, by typically operatic coincidence, has hired François as a chansonnier. François believes the owner has seduced Kathrin and is shot by Monique (an associate of the owner) though everyone believes it was either Kathrin or Francois. François goes to prison. Kathrin goes to Switzerland and there has the child. The couple are reunited five years later and live blissfully ever after.
From the first track of Scene 1 we are treated to Korngold in confident resplendently bright music (pre-echoing his film music). There is a Mahlerian female chorus and the music rushes and surges in romantic waves like a Viennese Nutcracker (The Snowflakes). The singing has a heady Puccinian urbanity and an elated ecstasy. The first hints of operetta are heard in a brightness mixed with Elgarian audacity. In 'Es ist ja wahr' vigorous and noble trumpets erupt in silvery flamboyant fanfare. Sliding and mildly discordant washes of string sound evoke the Franz Schmidt of the second symphony. The caressing and trembling tenderness of the love duet is pointed up by the vibraphone which instantly recalls the fine use of this instrument in the film scores. Truly sumptuous.
The second scene opens with a (Richard) Straussian duet for two sopranos, Kathrin and Margot, and leads into Kathrin's aria as she writes her farewell letter to the delightfully-named lover, François Lorand. François comes to her room in the moonlit night and the 'Dear John' letter, Kathrin's letter, is never sent. You can hear her ecstatic despair and joy melt and flow together in the lava flow of Korngold's melody. Ardent romance smokes and fumes on François's words 'Kathrin ich habe dich gern'. Echoes of Robin Hood and Elizabeth and Essex resonate around the embrace which ends the scene in gossamer sensuality. A master-stroke is the almost tangible picture of the 'Dear John' letter blowing off the table as the warm night air fills the room.
Track 7 opens with several minutes of orchestral entr'acte: a thunderous and clangorous prelude which reminded me of one of Arnold Bax's stentorian Irish marches - just a tad bombastic. It slips into an eldritch processional - kitsch but effective. The next scene can be envisioned as a slow motion wave of passion frozen then haltingly moving forward. From this develops a heroic trio with François's music utterly wonderful despite being delivered with a faintly steely edge The drinking song scene rather lets the track record down. It is a blowsy carouse to the prominent words: "Valleri! Vallera!" For me it is a miscalculation, superficial and weak with a skittering and tramping chorus of students and girls. It is punctuated by a prominent xylophone. This has the worst overtones of Verdi at his most tawdry. Appalling cheap brummagem stuff. This however is lightened by the touchingly tender 'Mein mann hat mich vermieden', predicting music from Tomorrow and The Sea Wolf film.
Act II depicts Kathrin's fate while wandering to find her François, armed with expired passport and a love letter. Vulnerable and lonely she is gulled by Malignac (the night club owner) who gets her a fake passport. In the fourth scene operetta raises its head again with jerkily romantic and winningly bright-eyed music. The ladies choir sings with silvery tone. This music might almost be by Stephen Sondheim as in A Little Night Music. The luxuriantly floated high notes from Lillian Watson, as Chou Chou, are a treasurable moment amongst many. A softly seductive trio of saxes permeate the music. At 2:47 in track 5 (Disc 2) we get a truly lovely Viennese impression (yes I know the locale is meant to be Marseille) breathing coffee and cream.
Malignac muses satyr-like on the pleasures of enjoying Kathrin, his plan all along. Korngold allows him some fine music in one of those steady mountain-climbing, stepped melodies of which Korngold is a master-craftsman. There is a mildly distressing wobble in the voice of Robert Hayward (Malignac) but nothing too distracting. The seduction proceeds but in front of François who interrupts only when he realises that it is Kathrin before him. This episode slips intothe next scene with the orchestra's wild caterwauling, howling and shouting of death. The music then begins to toll and shudder after the death of Malignac. Kathrin is left musing on her fate as Francois is dragged away to trial and prison.
The third Act is the shortest of the three, at 43:32. It is in four scenes and all have a folk-opera feel. The music may well have been influenced by Delius's 'A Walk To the Paradise Garden'. The setting is the Swiss mountains. The melodies and airs have around them a halo of innocence and a lightness which suggests Canteloube's orchestrations of the Songs of Auvergne. A devastatingly poetic moment comes at the opening of scene 2 when the orchestra vividly pictures clouds piercing the mountain heights just as François arrives singing. Surely Korngold wrote this music to be sung along to - a Viennese karaoke. François, the journeyman singer, serenades Kathrin for a lovelorn tailor - a Cyrano de Bergerac moment. The lute song is sweetly sung and in the middle of it François recognises Kathrin and recognition is marked by a Schrecker-like crisis in the orchestra.
We are then treated to more bright Sondheim-like eagerness as they reproach and then forgive themselves and fall into each others arms to meltingly swooping strings and burnished eloquent brass crying out to heaven. The strings subtly touch in the moonlight as the lovers go to the house, borne along on the glimmering glow of the strings. A happy ending with very little sourness but just enough grit and steel to sustain this major structure.
Now, opera managements forget your fly-on-the-wall stardoms and let's have an operatic season with Die Kathrin included. Come the day! Audiences glowing with this experience will walk out into the night after the performance onto wet streets. The recording, which is remarkably rich, delivers a great frisson. Just listen to 'Bin dir weib (man) das sich selbst durch dich gewann.' Utterly wonderful. I confess to being moved to tears by this exuberantly emotive music.
Brendan G Carroll author of THE Korngold biography (The Last Prodigy) is the author of the 116 page notes. Everything is thoroughly well documented. I noted many fine little touches showing a discriminating judgement: e.g. the brave and successful decision to keep any printing off the covers of the CD insert - just a great photo of a 40 year old Korngold. The libretto is in German and English. There is a synopsis. The notes - though not the libretto - are in English, French and German.
This is a superb production: music of your most romantic dreams and packing a grand emotional punch with smouldering and flaming fervour. Hotly recommended.
If you liked Die Kathrin let me also recommend the Chandos CDs of
Walton's Troilus and Cressida; Othmar Schoeck's two operas Massimila
Doni (Koch) and Venus (MGB) and, as an off-beat link-in, Stephen
Sondheim's Sweeney Todd (BMG) and A Little Night Music (Sony-CBS).
Reviewer
Rob Barnett

Another contribution from Ian Lace
Rather than repeat the detail of Rob Barnett's fine review I would like to contribute some broader thoughts.
I write after listening to this 3 CD set for the third time. Each successive hearing has revealed more and more delights. So many highlights from this sumptuously scored opera are imprinted upon my memory. There is the fine singing throughout of Melanie Diener as Kathrin, but I felt that she was particularly memorable and poignant in her Act I letter song and in the closing aria of Act II, "War ist geschehn" - in which she agonises over her lover's (wrongful) arrest for murder and then summons up her courage to rise above it all and live for their still unborn child. Equally splendid is Lilian Watson, outstanding in the demanding high-voiced role of Chou-Chou in her Act II aria as she tries to win François's affection (there is a lovely passage in this aria as François, in response, tells her that he cannot forget Kathrin). The only sympathetic aria for Malignac, "In einer Viertelstund", strongly sung by Robert Hayward, is another highlight of Act II. The sumptuous romantic orchestral scoring as François and Kathrin discover and sublimate their love through Act I is delectable and then there is the lovely pastoral-evocative orchestral opening to Act III; and the simple charm of François's Act III song "Wo ist mein Heim", (Where is My Home..?) Rendall is at his best in this little gem. Alas mention of Rendall brings me to the debit side of the recording; I have to say that I was generally disappointed with his singing; I did not care too much for the timbre of his voice which is marred by an excessive vibrato. I am told, too, by friends in Europe that, generally, language pronunciation is not too secure either.
I understand that Decca was originally going to produce Die Kathrin but cancelled out. We owe it to Brendan Carroll that he came to the rescue and persuaded the BBC and CPO to proceed with the project. It should be stressed that this is a live performance/broadcast after limited rehearsal time and produced on a small budget. Under such circumstances, Brabbins and his performers have achieved a small miracle.
Film fans will recognise echoes of much material that Korngold used in his film scores and there is an added fascination - the opera's opening scene is set outside a cinema - it is used as a device to introduce François to Kathrin for the latter cannot go inside without being escorted by the former.
To broader issues. Die Kathrin was Korngold's fifth and last opera. Before it came Das Wunder der Heliane (The Miracle of Heliane) a magnificent epic drama which failed because of the backlash against Korngold's works due to the immense interest in Krenek's jazz-opera Jonny Spielt Auf and Korngold's father's ill-advised critical pillorying of the work. Heliane's failure shook Korngold's confidence and he turned to adapting arranging and conducting a series of operettas.Alas fate was also to rob him of public acceptance of Die Kathrin which was about to be staged in Vienna when the Nazis entered the City and the premier was cancelled. When it was eventually premiered in Stockholm, in October 1939, it met with hostile anti-Semitic reviews. Furthermore, when it was given its belated Vienna premier in 1950 it was derided as being hopelessly outdated.
Working against the emergent tide of serialism, Die Kathrin is resolutely tonal - even of the ripest most effulgent late Romanticism one could imagine. The libretto is weak and the concept follows a well worn path. The story echoes too closely, perhaps, those used by Puccini in La Rondine and Lehar in Giuditta. So it is no little wonder that the 1950 Vienna war-weary and cynical audience was in no mood for it. Having said all that, one must recognise the unique differences in Die Kathrin, from preceding works of that nature even though these were clearly insufficiently strong to have made an impact on audiences and critics. Die Kathrin might be regarded as three operas/operettas in one. (As Rob Barnett rightly infers it is something of a hybrid and hybrids are notoriously difficult to accept - Puccini, for instance, was heart-broken at the failure of his La Rondine.) You have a traditional lush late Romantic first act followed by a more modern second act with a significant jazz content and an orchestrally pared down third act which resembles something of a folk opera (Rob's allusion to the Delius of A Village Romeo and Juliet is pertinent). What probably also went unnoticed was the unusual scoring of Die Kathrin - a large orchestra is used with many additional instruments including three jazz saxophones, guitar, accordion and vibraphone.
Korngold's fate was not unusual - how often has a composer experienced adulation, followed by rejection and then by years of derision and abandonment before he is rediscovered as times and tastes change? Personally, I think that as much as this fickleness might be abhorred, in a way, it is a necessary process for it permits the natural progression of musical ideas. As much as many of us abhorred atonality and other modern music it was necessary that it should have its day. Hopefully the best of it will inform the best of the music of tomorrow together with the best of Korngold, and the late Romantics in general and the classical composers before them. You will get my drift... Now if I can take this point and parallel it with the history of film music, we can see a similar rebellion against the traditional forms of Korngold, Steiner and Alfred Newman etc. in the early 1950s with the emergence of the jazz-based scores of Alex North, the dissonances of Leonard Rosenman and the sparer more economical scores of Elmer Bernstein. These and other changes have informed the scores being written today which do not hesitate to embrace many styles in one score to the benefit, and closer understanding of the screenplay.
In conclusion I would add that I hope Decca might be shamed into reconsidering a further recording of Die Kathrin employing a first class cast and orchestra. After all, EMI employed Gheorghiu and Alagna spectacularly successfully in their Award-winning recording of Puccini's La Rondine an opera that was thought by too many people who ought to have known better to have been little more than a disaster.
Ian Lace

---
| | | |
| --- | --- | --- |
| Collection: ART HOUSE CLASSICS: Gabriel YARED The English Patient; Michael NYMAN The Piano;David HIRSCHFELDER Shine; Wojciech KILAR The Portrait of a Lady Lynda Cochrane (piano); John Debney conducts the Royal Scottish National Orchestra VARÈSE SARABANDE VSD2-5982 | | |
| | | |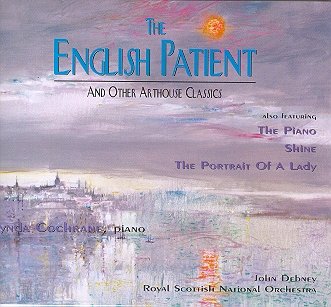 The majority of the tracks on this double CD album are for solo piano. Debney and the Scottish Orchestra are featured on none of the Nyman tracks, on two out of five Hirschfelder tracks, one of the Yared and two of the four Kilar tracks. Not that this fact should deter buyers for this is a most attractive collection.
Lynda Cochrane is the resident pianist with the Royal Scottish National Orchestra. Keen readers will have noticed that Varèse Sarabande have been using the orchestra very much over recent years and Lynda impressed producer Robert Townson with her playing in the opening solo for John Williams's Sabrina in VS's collection 'Hollywood '96'. The idea to feature her playing in this anthology sprang from that experience. To judge from the evidence on these two CDs, it was an inspired notion for she plays with considerable technical powess, intuitive sensitivity and delicacy
The first CD opens with seven cues from Michael Nyman's The Piano. Now I have often taken a hard line against this composer, siding with those critics who stood out against the general public acclaim for Nyman and who have regarded his work as something akin to the way the little boy looked upon the Emperor's new clothes. However in Ms Cochrane's hands the music began to have a real appeal for me. She gets beyond Nyman's meandering tinklings, especially in the second impressionistic and romantic "Big My Secret" and "The Attraction of the Pedaling Ankle." As Michael McDonagh in his CD notes says, "...they are certainly more affecting than they were in the full-blown orchestrations in the film and in the concerto which Nyman made from this material."
As much as I admired David Helfgott's struggle against his adversity, I, and a number of other critics, could not admire his interpretation of Rachmaninov's magnificent Third Piano Concerto. I thought David Hirschfelder's score for Shine was also over-rated. The two orchestral OST pieces here, including "Scales to America" with pianist and orchestra are pleasant and evocative enough and nicely put together but the ear is inevitably seduced away by the two Chopin pieces (the famous Polonaise in A flat major, op 53 and the lovely, gentle Prelude No. 15, op. 28) plus Liszt's enchanting Sospiro.
The second CD begins with the Royal National Scottish playing, in a rather subdued fashion, the lovely haunting music from The English Patient which was associated with those vivid opening images of the doomed plane flying over the desert. Although the Scottish orchesta's playing is immaculate, this arrangement by Mark McGurty drains too much emotional intensity from this early part of the score although things improve when the love theme, for violins in their high register, is reached. Lynda Cochrane plays the Bach Aria from the Goldberg Variations and the heavily Bach-informed and baroque-decorated cue "Convento Di Sant Anna" plus another introspective piece summing up the main themes, that has the film's title as its cue designation.
Wojciech Kilar's considerable five minute end title music for The Portrait of a Lady (the film was based on the famous novel by Henry James) begins with unison recorders over a quietly pulsating piano and string ostinato. As it progresses, the music becomes more impassioned but for the most part it is tinged with plaintive nostalgia, and speaks of loss and regret. Again it is supported by piano music from the clasical repertoire - this time by Schubert: first the beguilling Impromptu in G flat, D 899, No.3 and then the Impromptu in A flat, D 899 No. 4, both very well suited to the atmosphere of the screenplay. The CD ends with another Kilar cue, "Love Remains" with an extended part for reflective solo piano before the orchestra steals quiety in, in support. Both of the Kilar cues are enchanting.
Reviewer
Ian Lace

---
| | | |
| --- | --- | --- |
| Jerry GOLDSMITH Mulan (with songs by Matthew Wilder and David Zippel) Vanessa-Mae (violin); orchestra conducted by Jerry Goldsmith WALT DISNEY Records 606312 [50:44] | | |
| | | |
Goldsmith has done it again! Another winning, rich-textured score full of colour, thrills and romance, forged with a consumate feel for Chinese/oriental musical styles with richly coloured orchestrations. I was continually amazed, amused and delighted with Goldsmith's imaginative and, perhaps, innovative use of an amazing array of percussive instruments together with unusual figurations for other instruments especially the harp. Occasionally he imports some electronic figures - but sparingly like the "dragon's breath" sort of material in the opening part of "Attack on the Wall". There is always something to captivate the ear in this score.
This album is truly one for the family; there is something for everybody here. The first seven tracks are more pop-based to appeal to the youngsters (with the songs' lyrics printed in the folder). Many critics have panned these songs; I would say that they are no better or no worse than those in many modern Disney films. Track 2 is an instrumental version of "Reflections" played in saccharine-sweet high tones by Vanessa-Mae (credited in very small type at the back of the booklet). But the good news is that much of the running time of this CD is devoted to Goldsmith's fine music. His segment commences with a seven minute suite which encapsulates the heroic, tenderly romantic, tragic and comic elements of the score and goes on to include five more substantial cues. Goldsmith leads a virtuoso orchestra (no doubt pick-of-the-crop contract players) and is served with stunning recorded sound with often floor-board cracking bass figures. I leave Rob Barnett to cover the disc in more depth but I enjoyed it very much
Reviewer
Ian Lace

[for the Goldsmith contribution]
A further view from Rob Barnett:-
The latest Disney animation epic has a mix of original songs by Matthew Wilder with lyrics by David Zippel. The disco single with which the disc opens is so abysmal you are almost put off listening to the rest; which, as it turns out, would be rather a pity.
Track 2 takes us to Jerry Goldsmith's Reflection which is a rhapsody for violin and orchestra with prominent solo piano. The soloist is Vanessa-Mae. This Reflection takes as its core the rather good hit song from the film and thankfully not the 'single' version on Track 1 but instead the touchingly sung version on Track 3. The music sounds like a cross between The Lark Ascending (Vaughan Williams) and Saint-Saens Havanaise with a sprinkling of Chinese instruments or a recreation of their sound. The accomplished singer in Track 4 is Lea Salonga whose voice and singing is beyond criticism - a voice to watch out for. The pop version in track 14 is sung by Christina Aguilera but it is sung by her in everyone's idea of a commercial soul style. It is however a pliable and resilient song and succeeds even in this gratingly clichéed treatment. The sound of the song in track 4 has echoes with the earlier (and still wonderful) Beauty and the Beast score.
Honor To Us All - this is an archetypal Disney song with several shakings of orientalism over the top. It is distinguished by the fact that one of the voices is that of Marnie Nixon! Donny Osmond sings I'll Make a Man Out of You [5]. This is a so-so song well sung with determination. A Girl Worth Fighting For is a jokey soldiery song which falls flat though the occasional wordplay is worth catching (as it was in Hunchback). The beat and suppleness of the words rather unfortunately reminds me of those naff Seventh Cavalry male chorus songs which adorned some US films in the fifties and sixties.
Haircut has a rather good long-striding French Horn motif and the suite that follows it, is suitably heroic. The relief comes in a nudging and smilingly ardent recall of Reflection. Great music-making and a superb melody. The exotic pastoralism is well portrayed. The suite ends in heights-intoxicated splendour. There is yet more imaginative stuff in Attack at the Wall - black and clashing. Mulan's Decision [track 10] returns to that beguiling never-never land between the Chinese countryside and deepest Gloucestershire. Blossoms is another very fine Goldsmith creation akin to Track 10 but adding the darker elements found in track 9. Track 12 evokes wind chimes atmospherically amidst the Attack by the Huns and in its muscular headlong music sounds often rather like an oriental Vaughan Williams. The last orchestral track is The Burned-Out Village - music of trance-like sadness.
The booklet prints all the words in a well-illustrated book. The sound is excellent. Recommended for the song Reflection and some first class orchestral inspiration from Jerry Goldsmith and instrumentation from veteran Alexander Courage. High star marking for the song Reflection and the resourceful and lovely Goldsmith score.
Reviewer
Robert Barnett

---
| | | |
| --- | --- | --- |
| Bill WHELAN Dancing at Lughnasa The Irish Film Orchestra coducted by Prionnsías O'Duinn SONY SK60585 | | |
| | | |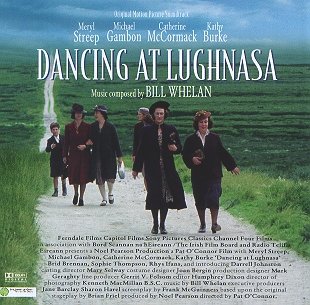 The film Dancing at Lughnasa stars Meryl Streep, Catherine McCormack, Michael Gambon and Kathy Burke. Bill Whelan's Celtic music for the film is presented in nineteen tracks - all quite short.
There is little or no fast music. The music speaks of a continuum of reflection, soft-curving landscape and a sense of sadness of past generations all presented with simple and unspoilt beauty. The music deploys the oboe and cor anglais prominently and effectively. It is all rather static with solo wind instruments seemingly giving a voice to the serenade of the dreaming landscape. Influences include Dvorák and perhaps a little Vaughan Williams. Strangely the main theme reminded me of Basil Poledouris's headline theme for Lonesome Dove! (tracks 6 and 8 for example). There is a great deal of reflective music and very little variation. This is a weakness of the score. It is concentrated in mood and quite lovely three or four tracks at a time. It does not wear well however as sustained solo listening material.
In the last track [19] Dolores Keane self-absorbedly and touchingly sings Bill Whelan's arrangement of Yeats' famous (and oft set) poem Down By The Salley Gardens.
As with so much film music this will delight those looking for the gentlest of relaxing background. It will also please those who wish a reminder of the film. This disc is also for the followers of the impressive Nollaig Casey (fiddle - Track 15 - 3:34 duration - the title track), the ubiquitous Davey Spillane (pipes and low whistle - Track 15) and Bill Whelan (Track 13) himself on drums and percussion. The dedicated follower of Irishry and Celtic fringe will want this disc although its folk roots are none too obvious.
I hope to hear more from Bill Whelan. The craftsmanship and concentration of this beautiful music is strongly in evidence. The problem is that alone this shapely music is too much of a good thing. The total playing time is quite brief.
Reviewer
Robert Barnett

---
| | | |
| --- | --- | --- |
| David HIRSCHFELDER Elizabeth OST LONDON 460 796-2 | | |
| | | |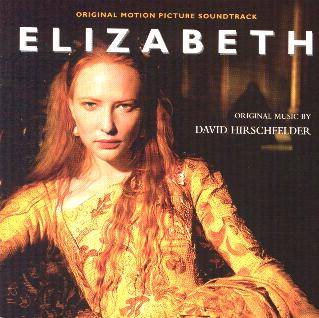 The film is a visual tapestry of colour-filtered photography and shadow, high-angled camerawork, suitable period embellishments to modern architecture, and lavish costume. It's quite an assault on the senses, and opening on the burning of some Protestant heretics it demands your attention immediately. Propelling the momentum of the shock start is the music of Australian composer David Hirschfelder. Here is a charging fusion of choral highs and percussive lows. Horns blare over the top of cyclic string motifs, and the breathless pace comes to a sudden halt. Through the course of the film it is used a handful of times and takes on the role of dramatic entrance accompaniment. Horse riders cresting a hilltop bearing news of great import. It features twice in the album's 'Overture', and with increasingly appealing arrangements as the score progresses.
About halfway through the picture there is a comedic musical moment. The French court's would-be suitor arrives with a jolly flute and tambourine preceding him. The musicians are drowned out by a regal fanfare from the Queen's entourage. The one tradition is pooled with, yet separated by the other. This stands as a perfect analogy of Hirschfelder's score, which blends classical with period with modern. To look at each of these in turn, requires some thought into the successful integration of source music; classical or otherwise.
There are 4 source cues in all. Tielman Susato's 'Rondes I and VII' from 'Dansereye' are direct re-uses from an existing recording. Essentially they are court room jigs. With William Byrd's 'Domine Secundum Actum Meum' the bittersweet boy soprano and tenor lines contrast with (yet complement) a violent event in history from which the cue takes its name - 'Night of the Long Knives'. Interestingly this was a creative choice of the director, but one which the composer fully supported.
It is with the film's finale that the question of appropriate use comes in. As Elizabeth makes her peace with both her enemies and herself, Elgar's 'Nimrod' from 'Enigma Variations' segues into Mozart's 'Requiem'. Both pieces have been re-arranged by Hirschfelder and are a technical marvel, as well as an aural treat. The use of Kim Wheeler's soprano voice over 'Nimrod' is frankly inspired. This is a continued proof of his abilities as an arranger, following the success of his work with Rachmaninov for 'Shine'.
The fact that a piece is chosen for film or television is an acknowledgement that it has a public recognition. As a viewer this will therefore make an associative connection that is arguably too much of a distraction from the film's events. Considering the events in question are the emotional denouement to such an important chronicle of a life, their combined distraction is potentially disastrous. What must be stressed here however is that the composer openly admits (*see below) they came about through the lack of time. Some experimentation led to the director settling quite happily on them knowing Hirschfelder would embellish them uniquely.
If you can ignore the grossly disparate historical realities (music from the turn of this century followed by a piece from the 18th to conclude a film set in the 16th), then you will deem the picture a complete success. As far as this review is concerned however, the disc's stand-alone representation of the music is superb. The only minor niggle of the packaging being that the CD's back cover manages to neglect to credit anything other than 'Original Music'...
The period touches are nowhere more prominent than in the courtroom's confines. Like the 'Rondes' pieces, 'Coronation Banquet' is a succession of woven together dances and general entertainment pieces. At the request of "play a Volta" from the Queen, 2 very fine toe-tapping segments are strummed up by an assortment of pipes and shakers.
It is with the main body of the score that the composer's own voice becomes apparent. 'Shine' never really offered much opportunity for anything but "The Rach" to impress, and the more recent 'Sliding Doors' was a romantic comedy largely swamped in pop song. So this really is a major work for Hirschfelder, and if the 'Overture's charge is representative of the fullest most determined swipes of the conductor's baton, it is with the 'Love Theme' that a most intimate nature is acknowledged. A very delicate harp is bridged by sustained high strings before evolving into a flute line of remarkable sensitivity. It is a recognisably modern style of film scoring, but made appropriate by the modernistic portrayal of the Queen's love affair with Lord Robert.
There are other 90's flourishes with synthesised rumblings and sharp crashes. These underscore the brooding tone of the film, and are nicely incorporated into 'Conspiracy' for example. As a benchmark for the album's sound quality, they indicate an overall high standard. In all, this is a quite surprising cohesive whole given the range of styles. Most certainly it justifies to other parts of the globe just what Australia has been shouting about for so many years.
Reviewer
Paul Tonks

* Read this reviewer's conversation with the composer.
and Rob Barnett adds:-
Hirschfelder's last major success was for the film Shine which from the musical point of view centred on Rachmaninov's Piano Concerto No. 3. In this film the music has more of a chance to assert the foreground. The tracks mix twentieth century romanticism with dance and liturgical music of the first and glorious Elizabethan era.
Elizabeth stars the feline, Cate Blanchett in the title role with many celebrated 'names': Richard Attenborough, Christopher Eccleston, Kathy Burke, Eric Cantona, Joseph Fiennes and John Gielgud.
I have now heard this disc four times and the review I am writing now is very different to the review I was poised to write after hearing it first. The first hearing caused me irritation with what appeared to be yet another bit of fakery. I was all ready to deride it for not being the score to Derek Jarman's Prospero's Books. Repeat hearings have revealed subtleties and depths.
I am not going to go in for a track by track appraisal. The disc has been thoroughly and perceptively reviewed by Paul Tonks. The fusion achieved between the disparate elements is not always apparent and in some tracks no fusion is attempted at all: the style stands unalloyed. Unlike Paul I found little to enjoy in the marriage of voice and orchestra over Elgar's Enigma. This however is not the first time it has been done. Elgar himself did something similar, I thought, in his choral piece The Music Makers.
Overwhelmingly the tracks inhabit the John Barry land of the psychological vista - comfort and threat, beauty and horror. Time and again the music invoked visions of the human physiognomy laid open and veins and arteries, organs and musculature exhibited to view - a mixture of wonder and repugnance. The second track has luxuriant strings escaped from some wondrous performance of Elgar's Introduction and Allegro underpinned by darker surges and currents by drums and deep brass. The love theme (a good one - on track 7) is powerful, littered with references to sorrow. This perhaps picks up the fact that Elizabeth feels the responsibility of the Crown and cannot surrender herself to passion. There is a Shostakovichian scorching severity about track 11 (Conspiracy) which resurfaces, chugging and urgent, in track 13: One Mistress, no Master.
Track 6 is an example of a fusion track. Stomping Court dance music alive with the sound of pipes and drums dims the lights in one room and turns them up in another rife with Warlock and Sibelius. Vaughan Williams is another voice I heard in many of the tracks.
This is a worthy and rewarding album which deserves to be listened to several times before you allow impressions to take root. I shall be listening out for more by Hirschfelder but I do hope he will give more prominence to his original music rather than fusion and arrangement work around existing music. The insert has lots of pretty pictures but tells you pretty well nothing about the music or the composer.
Reviewer
Rob Barnett

---
| | | |
| --- | --- | --- |
| Philip GLASS and Burkhard DALLWITZ The Truman Show OST MILAN MLADV35850-2 [56:44] | | |
| | | |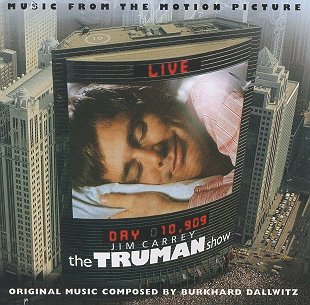 Extraordinary music for an extraordinary film. The Truman Show certainly deserves its popularity a thought provoking and biting satire on the insidious effect that television has on our lives. A round the clock soap; the ultimate in voyeurism.
This new CD sets the scene, in cue 1, with the narration that is included after Dallwitz's portentous cavernously-deep fanfare, "1.7 billion were there for his birth; 220 countries tuned in for his first step, the world stood still for that stolen first kiss... and as he grew so did the technology ...an entire human life recorded on an intricate network of hidden cameras and broadcast live and unedited 24 hours a day, seven days a week to an audience around the globe...from Seahaven Island, in the largest studio ever constructed - and, along with the Great Wall of China, only one of two man made structures visible from space. Now in its 30th great year - It's the Truman Show!"
It seems extraordinary that Philip Glass's music was not used entirely for this film. But it has to be said that the music of Burkhard Dallwitz fits in seamlessly with Glass's material. Dallwitz was born near Frankfurt Germany in 1959. He travelled to Australia when he was twenty and studied at Melbourne's Latrobe University studying advanced composition. He then went on to score for Australian films and television. His contribution to The Truman Show is music of striking originality and potency quite unlike most film scores. He catches the awe of the world-wide interest in The Truman Show but he also suggests the monotony in its round the clock absorbtion in music that is almost primitive for in more than one track there is an emphasis on African or aboriginal drums and rhythmic hand clapping. But the listener is constantly captivated by Dallwitz's colourful, kaleidoscopic sonorities
Philip Glass's contribution is a mix of a two or three cues of original music and material which he had previously composed such as "Living Waters" and "The Beginning" from Anima Mundi and Anthem - Part 2 from Powaqqatsi. Of his original music, "Truman Sleeps" is a soothing lyrical piece for solo piano, "Raising the Sail" is a rather sad yet haunting (that is, when the piano enters) Glass inspiration for keyboards and electronically muffled strings; and "Dreaming of Fiji" is very much in the same mode but with a rather catchy, slightly Celtic-sounding melody.
The CD also includes the second movement from Chopin's Piano Concerto No. 1 played by Artur Rubinstein.
Reviewer
Ian Lace

---
| | | |
| --- | --- | --- |
| Stephen ENDELMAN The Proposition OST PHILIPS 462 504-2 [41:54] | | |
| | | |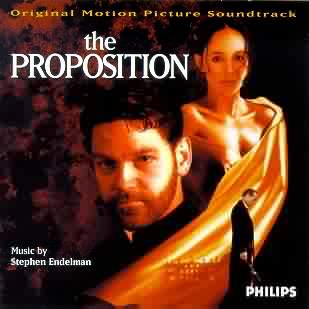 Endelman here mobilises a cool and strong lyricism with softly Celtic curves. As the theme unfolds you will be forgiven for thinking of the music for The Last of the Mohicans and of some pastel-shaded landscape. A husky violin adds point and contrast to the sound-picture and reappears in track 11. The approach is repeated in later tracks (try 7 for example) with touches of George Butterworth, Ilona Sekacz (Mrs Dalloway), John Barry's Swept From The Sea and
Sarde's music for Polanski's Tess. Contrast is to be found in tracks 6 (jazz age flapper music) and 12 (Grapelli café-style violin music). Track 10 returns to the soft-focus countryside where we get a (very appealing) cross between Michael Nyman and Mahler's Adagietto. The film stars William Hurt, Kenneth Branagh and the delectable Madeleine Stowe. Track 16 in my copy was defective with juddering and gaps throughout the track from 0:49 to 1:09. Test that track before
buying. A nice score but too unvaried for focused listening.
Reviewer
Ian Lace

---
| | | |
| --- | --- | --- |
| Anne DUDLEY American History X OST ANGEL 7243 5 56781 2 6 [48:09] | | |
| | | |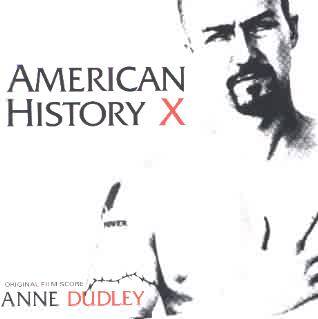 Score composed, produced, orchestrated, and conducted by Anne Dudley. Just look at those credits! It may seem egregious since it is not usually the case that composers do all the jobs, yet even when they do, many forget or waive the right to have them acknowledged. What occurred to me is that since the success of The Full Monty roused a little controversy over whether it was the songs or the music being congratulated, perhaps here an attempt has been made to make it abundantly clear. The scores are light years apart however.
Before ... Monty only The Crying Game could claim enough international success to have brought Dudley's name to people's attention. Adding the recently released More Monty album, only a very minor portrait of the composer's range is given (each disc featuring scarcely minutes worth of score proper). Here then is the film and score to change that.
Her notes in the booklet state that director Tony Kaye requested a "big and elegiac" soundtrack. The idea being to lift the contemporary tale of a man coming to terms with the shape of events contributing to his life. The result is an enormous sound that often seems to be on a religious epic's scale (cue titles such as "The Path To Redemption" and "Benedictus" reinforce the idea). The drama must be huge - or if not, thanks to Dudley it will be now.
The title cue which assaults the senses immediately is representative of most of what follows. A mysterious low key build-up adds a choir to echoing drum rolls. Already there is an undercurrent of menace before any of the dynamics come to the fore. When they do, the drum rolls peal out a dramatic tattoo to finish on a huge crescendo. Five minutes into the disc, and the listener has already been demanded to sit on edge.
Thematic material from the first cue appears again in the second - "The Assignment", but here the effect is far more melancholy. A lone horn calls out the long line melody of the theme. Some finale flourishes on drum separate this from "Venice Beach". With the sort of shuddering strings associated with creeping about, plus some of the slow pace of the elegy which closes the CD, this is about as subdued or restrained as the album gets. To highlight the contrast. "Playing To Win" follows with a massively dramatic (almost heroic) action fanfare; something that would seem quite appropriate for a superhero or two.
An uncredited orchestra makes for a mostly symphonic sound. Some rather effective electronic samples find their way into the mix occasionally though. "People Look At Me & See My Brother" and "Raiders" both feature an echoing effect as of struck metal. It can also be heard in the Goldsmith Senior portions of bad guy Borg cues in Star Trek: First Contact. Another interesting effect comes in "The Path To Redemption" - a chattering, scurrying sound. The brooding danger of these when coupled with some low end brass is most unsettling.
Amongst the aurally accessible material, there is also time for some crashing atonality. Essentially shock chords one might more regularly associate with the horror genre's need to over emphasise a 'surprise'. An example is the cue "If I Had Testified", which still opens and closes by way of theme and choir. What this all builds towards, is the pay off for the director's request. Dudley describes the last cue thus: "the choir and orchestra finally become one as the words of the 'Benedictus' are sung". This final elegy really is quite marvellous, and rounds off what will be a major discovery to those only familiar with the earlier scores mentioned above.
If taken by it, this reviewer recommends her 1994 score the German animated film Felidae.
Reviewer
Paul Tonks

---
| | | |
| --- | --- | --- |
| Harry GREGSON-WILLIAMS and John POWELL Antz OST ANGEL 7243 5 56782 2 5 [49:35] | | |
| | | |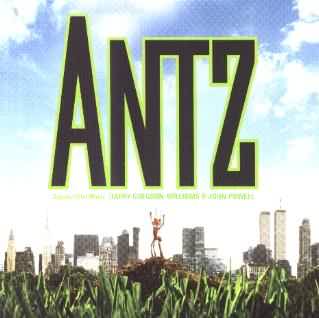 It has always seemed amazing that there weren't a flood of cash-in sequels to the success of Toy Story. The fact that they take so long to make obviously accounts for some of that. Yet it is odd that no rival studio to Pixar picked up on what they were doing and rushed something out. Instead, some 4 years later sees 3 headed our way almost all at once. This is the 'rival' effectively, hailing from Spielberg's Dreamworks. Impending are Pixar's A Bug's Life, and the inevitable Toy Story 2 (which was actually intended to be Direct To Video, but is considered good enough for cinema). Both these will feature scores by Randy Newman, who must have kick-started a pigeon-holing in his career with the stop-motion animation of James & The Giant Peach.
Originally only John Powell's name was credited on Antz. That now follows fellow Media Ventures colleague Harry Gregson-Williams. If you look at most of MV's releases (almost exclusively connected to Dreamworks so far) it is interesting to see just how often this crops up. Powell's own Face/Off credits additional music to Gavin Greenaway. Both Gregson-Williams' The Replacement Killers and The Borrowers credit Steve Jablonsky, and Greenaway again on the latter. Media Ventures is of course the brainchild of Hans Zimmer. Taking a peek at some of his recent efforts, the team can again be seen acknowledged. The Peacemaker was conducted by Greenaway & Gregson-Williams, with a whole cue by Greenaway. Just to finish my pattern, Antz credits additional music to Greenaway, Jablonsky, and Geoff Zanelli. So what's the deal ?
The reason I make mention in this case is because for this album, the double credit blends two creative influences together and we cannot tell who did what (although "Mandible and Cutter Plot" bears strong resemblance to Powell's Face/Off style). I just wanted to get the one downside out the way.
What makes the film so fun is in the whole concept of a CGI Woody Allen flick - which is about the only way you'd ever see a buddy-buddy relationship with Sylvester Stallone perhaps. Being a kids movie there are plenty of heavy or under-handed morality messages. Above all else it concerns individuality and that it is OK to be different. Allen's character goes from a neurotic outsider to colony saviour. which cues a composer to think quirky and heroic. So whichever of the two hooked into that first certainly delivered.
"Opening Titles - Z's Theme"' is wistful and searching on a simple piano line. A harmonica chips in every so often, and a gentle mix of triangle and light percussion is all about a humble simplicity. Pass on to solos for flute, and strings and you've got the picture. The establishment of Z's plight out the way, we next go into large scale mambo style for the sight of millions of ants hard at work."The Colony" is quite a showstopper and introduces a very catchy theme which with a rhythmic breakdown partway through is easily recognisable in subtler guises later on.
One of the very nicest touches of the whole score is Jonathan Snowden's flute solo for "General Mandible". Gene Hackman's has much of that other well known General about him (Patton), and accordingly his theme plays off the militaristic clichés after the subtler opening. A mixed choir (conducted by Rupert Gregson-Williams - a brother ?) actually recalls Zimmer's score to Crimson Tide in which Hackman was a submarine captain. There are less versions of the theme on album than to film, which is small shame.
The only source cue featured here is one of the best integrated this reviewer has come across in some time. As Z is bemoaning his existence at a regular bar, Sharon Stone's Princess Bala walks in. She too is tired if the mundanity of (a royal) existence. At 6:15 every day we learn that the colony joins in some meticulously co-ordinated dance aerobics. The cheesiest sample ensemble imaginable strikes up a version of "Guantanamera", and all the ants stomp in perfect synchronisation. The comment is on conformity of society, and in a subtler way it pokes fun at
the night-club scene. The song therefore sits perfectly, and is redeemed from its painful introduction by a big band version once the 2 malcontents are thrown together.
Interestingly "The Antz Go Marching To War" isn't given an original credit, yet it is an instantly recognisable ditty (also to be heard in Goldsmith's Small Soldiers). Here the comedy angle is played up with lyrics such as "we slaughter termites just for fun - hurrah hurrah", and "we'll all be dead before we're through - hurrah hurrah". The quick song break then segues into some synthesiser crashing (an MV staple), before a fantastic percussive rhythm and horn trills underline the army's determined storm onto the battlefield.
Sadly, "The Magnifying Glass" doesn't open with the play on the Close Encounters 'welcome' theme as it does on film. It does contain a superb mini action cue however. With the main battle already over, this is something that doesn't get developed. "Ant Revolution" alludes to the start of some action by building suspense, but the only pay-off for the expectation of further heroics comes in "Z To The Rescue" which is a generous near 8 minutes of dramatic detonation.
The variety continues through a lounge music version of the Colony Theme ("Weaver and Azteca Flirt"), some traditional brass band music ("The Antz Marching Band"), and some welcome romantic respite in "Romance In Insectopia". In all, it makes for a terrifically tongue-in-cheek album, and goes to show that synthespians are in for as much musical diversity as we live ones have enjoyed so far.
Reviewer
Paul Tonks

---
| | | |
| --- | --- | --- |
| Emil CMIRAL Ronin OST Varese Sarabande VSD-5977 [66:02] | | |
| | | |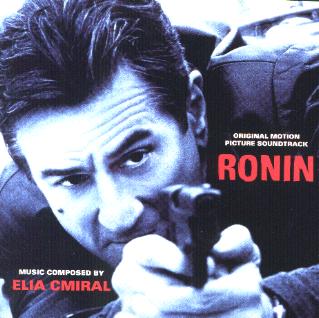 While you attempt to pronounce it, the name behind this remarkable score is nonetheless going to stick. Cmiral is of Czech-Swedish origin, and previously impressed with Apartment Zero. In replacing Jerry Goldsmith on this latest thriller from John Frankenheimer, his independent's days are over.
The name 'Ronin' alludes to a breed of fallen Samurai warriors, and the film attempts to imbue some of that disgraced nobility in a rag-tag collection of international mercenaries. So with a tragedian quality to the characters, some of this score follows a predictable mood. It is how that is achieved that warrants attention.
"Ronin Theme" opens the album with the wash and rumble of an electronic soundscape, but progresses to layer in parts from a session orchestra. Over five very full minutes, the thematic basis for most of the score is introduced. The theme itself appears in its most regular and effective guise on an Armenian duduk (a gloriously soulful reed instrument). The successive merge into emotive strings works beautifully, however the album's closing orchestral rendition ("Good Knowing You") does not convey as much emotion after the repeated solos.
What then follows defies description without cross-comparison of sounds you might be more familiar with. If you took the abrasive rawness of Elliot Goldenthal and combined it with the modernistic approach of Graeme Revell, then mixed in some of Danny Elfman's quirkiness (particularly with percussion) you would come somewhere close to covering the breadth of style contained in this hour of surprises.
There are many instances of punctuating crescendo on brass, cymbal and enhanced synth effects. The combination is quite shocking. There are quite furious passages of percussive rhythm which actually suggest the heyday of Lalo Schifrin. In "This Is The Day" and "You Are A Dead Man" this kicks up a terrific pace and weaves numerous percussion instruments into its hits around sharp brass stabs.
That gives an impression of the Cmiral take on the thriller score. Then there are the entirely left-field cues that defy logical inclusion in their surroundings - and yet sit quite comfortably. "Carousel For Little Tamao" is a waltzing fairground's accompaniment. The 'oompah' of riding up, down, and around on a Merry Go-Round. "Passion" smacks of the grand Hollywood heyday tradition of swirling strings as the camera pans away from two first time lovers and looks onto crashing waves or a roaring hearth. "The Girl Sold Us Out" uses the duduk again at its tenderest, and probably strikes as a particularly effective change of pace after some relentless pyrotechnics in "Gunfight At The Amphitheatre"
Reviewer
Paul Tonks.

---
| | | |
| --- | --- | --- |
| Ryuichi SAKAMOTO Snake Eyes OST HOLLYWOOD 162 155-2 [47:53] | | |
| | | |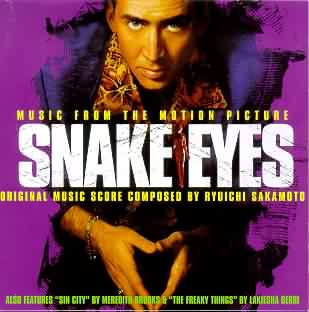 This film starring Nicholas Cage and directed by Brian de Palma has already made something of a splash because of the initial long-long single-tracking shot. This has been compared with the same effect in Orson Welles' 'A Touch of Evil'. The film has otherwise received a rather savage reception. None of the reviews I have seen have commented on the music.
Sakamoto wrote the score for The Last Emperor (it won an Academy Award). This one is pretty impressive. The first track breathes sweetly and warmly: a balm to the mind's turmoil. The gentle contours take something of John Barry's style and a little of the lyric Herrmann. The second track is jumpy. Track 3 makes noises like shaking, iron skeletal strands of barbed wire pulled taut and humming in the wind - eldritch and threatening. Figures scuttle and spin across the landscape. There is a hint of Shostakovich in this music and even of Vaughan Williams (Symphonies 4 and 6) in the night-ride through a terrain populated with caterwauling devils. A strange electronically produced phasing effect is used as well as for the Tyler and Serena track a synthesised echoey jazz treatment. A romantic score, then, dotted with islands of violence. The song, Sin City (sung by Meredith Brooks) is quite good. The other song (Freaky Things sung by LaKiesha Berri) is shallowly commercial and holds little attention. This is quite a meaty score and certainly worth exploring.
Reviewer
Rob Barnett

---

COMPETITION WIN a CD of your Choice from Crotchet

>>>>>> Further reviews