---
| | | |
| --- | --- | --- |
| | FILM MUSIC RECORDINGS REVIEWS | |

October 1998
Discs on these pages are offered for sale. There is also a page of search engines from a selection of on-line retailers here. Please support this web-site
Jerry GOLDSMITH Small Soldiers OST
VARÈSE SARABANDE VSD-5963 [31:13]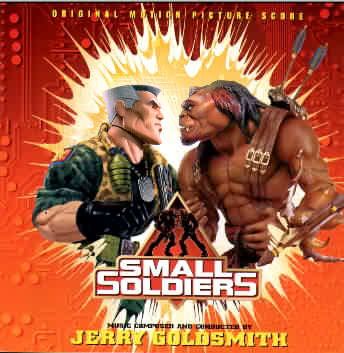 With this score Jerry Goldsmith returns to his creative peak after so-so scores like Air Force One.
This fantasy score reminds one of the magic of his own 1985 Legend score. There is a perky charm about this music - the dotted rhythms, cheeky twanging guitars and the boyish Gung-ho high spirits are very suggestive of the miniature combatants. The writing for brass choruses and percussion is very impressive indeed (sometimes very reminiscent of Goldsmith's Patton music) and he invests the action music with tongue-in-cheek wit and considerable resource in construction and orchestration. The quieter moments are Coplandesque in, I guess, conjuring up the homeliness of the typical American home in which the small soldiers wage war against the Gorgonites. I leave Robert Barnett to analyse this score in depth but I thoroughly enjoyed it.

Ian Lace
And for another view:.......
Hiding behind the most unpromising looking films occasionally lie rewarding scores. I have not seen the film so I may be doing it an injustice but a film apparently about transformed fantasy toy marines out of the super-muscled Gung-Ho USMC mythology is not my idea of a good start. No doubt the special effects are breath-taking and the mix of fantasy toys come alive (a cheaper alternative to temperamental and price high actors?) and mixed with human characters will be good quick-consumption entertainment. Whatever the result the music is fine.
"The Assembly Line" is a mechanical march: sharply positive and ebullient. "Alan and Archer" is an excellent essay in moonlight-clear innocence with a touch of John Williams's score for ET. "Roll Call" is another impressive track with a sleigh-ride brightness and plenty of Sibelianly rustling activity. At 1:10 I was sure Goldsmith was about to dive into Barber's Adagio but he turned the dangerous corner in just enough time. There are shards and shatters of mosaic from the Star Trek Voyager music and a most startling electric guitar. This fades into music recalling Goldsmith's own Patton music - all horizon-distant bugle calls. The tune "Johnny Comes Marching Home" (striking a contrived note at first) appears in all the finery of martial heroism.
The fourth track: "Preparation For Assault" emulates typical Klingon war music tracks from the Goldsmith SF scores. There are clashing drums, more guitar and "Johnny Comes Marching..." is given some peppery energising twists and turns. "Branded" is like some Spanish pavane resolving into creepier undercurrents. There is a wandering quiet wonder about this track.
"Special Design" again uses the electric guitar with slamming brass and percussive strokes. The drum sounds are synthesised-sampled - a small miscalculation I feel. The penultimate track is "I'm Scared". The woodwind sound a deliberately sour note and the guitar is there again preluding what becomes a miniature tone poem of militaria and fanfares.
"Trust Me" has brilliant harp swirls and whirls and that damned ubiquitous drum machine. There is a gallop at 2:00 and another march swinging into Rózsa-like El Cid character: all glowing and clicking with celebratory pride. The last track is "Off to Gorgon" sporting a great swelling tune. The episodes are eager and alert and the music conjures up 'dawn's early light' and 'twilight's final gleaming'. It has some superb grandiloquent moments. They are pretty grand and … well … pretty glorious. Very well done.
Interesting to see that the orchestrator is Alexander Courage the composer of the original and most famous (for a certain generation which includes me) Star Trek series theme. Goldsmith himself has penned most of the Star Trek themes and film scores since then including the swimmingly symphonic score for Star Trek Voyager.
Of course at just over half an hour this is for the dedicated Goldsmith hunter-gatherer and memento collector. Anyone who has the disc will be rewarded with freshly classic material high above the hum drum run of scores.

Rob Barnett
---
Return to October Film Music Reviews
---