---
| | | |
| --- | --- | --- |
| | FILM MUSIC RECORDINGS REVIEWS | |

October 1998
Discs on these pages are offered for sale. There is also a page of search engines from a selection of on-line retailers here. Please support this web-site
Alex NORTH The Agony and the Ecstasy Jerry Goldsmith conducts the Royal Scottish National Orchestra VARÈSE SARABANDE VSD-5901

Crotchet (UK)
iMVS (UK)
Soundstone (USA)
***********************************************************************

EDITOR'S CHOICE - CD OF THE MONTH (Classic Score) Oct/Nov 1998

***********************************************************************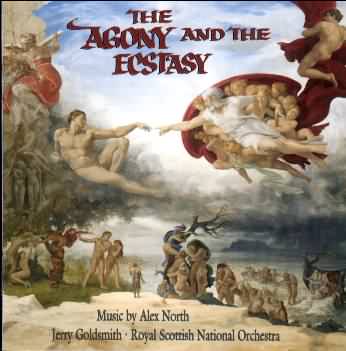 This is a magnificent album. The Royal Scottish National Orchestra under Jerry Goldsmith are inspired and the sound is stunning. For me, this is Alex North's cinematic masterpiece. His music for the battle scenes of The Agony and the Ecstasy is in the same class as that of Walton's Agincourt music for Henry V and the film's more liturgical music reminds me of Respighi in neo-classic mode in such works as his Concerto Gregoriano.
The Agony and the Ecstasy was made by 20th Century Fox in 1965 and starred Charlton Heston as Michelangelo and Rex Harrison as the warrior Pope Julius II. It was based on the best selling book by Irving Stone. The film, named as one of the best films of the year by The National Board of Review, was nominated for five Oscars including best score.
From the imposing opening chords on the organ, the music grips and holds the attention. The Main Title sets the tone. A plainchant melody (North choses to use a modal score using the 5th century Dorian and Lydian modes) is interwoven over a steady march beat, a telling metaphor for the co-existence of the spiritual and political worlds.
I have spoken about the splendour of the pageantry and battle music but the quieter more meditative cues associated with Michelangelo's flight to solitude, to seek inspiration; and his doubts and agony associated with his work in the Sistine Chapel, are no less impressive. "Refuge and Genesis", underlying scenes in Carrara where Michelangelo seeks inspiration in the solitude of the dawn, is a beautiful idyll - as Michael McDonagh says in his full and eloquent notes,"like a slow solemn dance; muted lower strings move through subtly changing textures - celeste, harp and harpsichord add especially expressive colour." "The Sistine Chapel" is another deeply moving cue, so too is "Blind", vividly depicting Michelangelo's discomfort and encroaching blindness as he works on the ceiling of the Sistine Chapel. Again quoting McDonagh, "North's music for the sequence..."opens with growling winds and pointillistic bits of colour from harp and celeste." As the sequence develops "a kind of dogged counterpoint occurs with a huge climax followed by transparent textures."
I would like to think that this new CD from Varèse Sarabande will win the sort of acclaim - and awards - that their Vertigo album achieved. Unmissable

Ian Lace
---
Return to October Film Music Reviews
---