---
| | | |
| --- | --- | --- |
| | FILM MUSIC RECORDINGS REVIEWS | |

October 1998
Discs on these pages are offered for sale. There is also a page of search engines from a selection of on-line retailers here. Please support this web-site
Bernard HERRMANN Souvenirs de Voyage*. Echoes** * Lyric Quartet, Houston with Nancy Weems (clarinet); ** The Texas Festival Quartet

VARÈSE SARABANDE VSD-5559

Crotchet (UK)
iMVS (UK)
Soundstone (USA)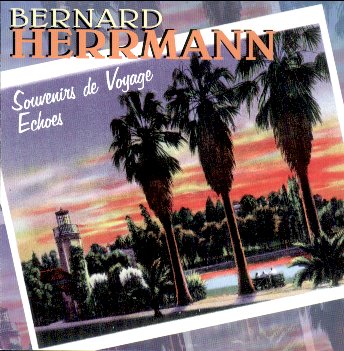 Bernard Herrmann's film music for Vertigo and Psycho strongly influences these two chamber works. You can detect warmer Vertigo influences in Souvenirs de Voyage, for string quartet and strings, (a phantom piano player has crept into the credits on the back liner paper of the CD) which was written in January 1967. Like his earlier string quartet, Echoes, it is tinged with melancholy although its romanticism and tonal colours are much warmer. The change was probably due to improving relationships - professionally with Truffaut and personally with his third wife, Norma Shepherd. Souvenirs was inspired, in part, by A.E. Houseman's poem "On Wenlock Edge the wood's in trouble" (from A Shropshire Lad). Herrmann's response is suggestive rather than the literal interpretation of Vaughan Williams, but Herrmann vividly depicts saplings bent double in the gale. Vaughan Williams is recollected in the second Berceuse through his Riders to the Sea for the scene now shifts to the Aran Islands off the west coast of Ireland. Herrmann uses swaying, dreamlike string rhythms and sighing clarinet appoggiaturas suggesting heaving waves. The final Andante tranquillo is lusher and more romantic for its inspiration was Turner's Venetian watercolours.
Echoes was written in 1965 after Herrmann had become unpopular in Hollywood. He was at a low ebb and as he said, of this string quartet, Echoes was "a series of nostalgic emotional remembrances". It is a darker work; bleak and confessional. As Steven C. Smith says in his biography of Herrmann, "While many of its memories remain private (making Echoes, in an unassuming way, Herrmann's own Enigma Variations), others can be guessed by allusions to past works...The origins of the Allegro are unmistakeable: the plucked signature of its opening is Psycho's violent prelude, the crying violin harmonics of its coda, Vertigo's lost Madeleine."
There are a number of recordings of both these works in the catalogue but these are fine sensitive readings.

Ian Lace
---
Return to October Film Music Reviews
---