---
| | | |
| --- | --- | --- |
| | FILM MUSIC RECORDINGS REVIEWS | |

October 1998
Discs on these pages are offered for sale. There is also a page of search engines from a selection of on-line retailers here. Please support this web-site
| | | |
| --- | --- | --- |
| James HORNER The Mask of Zorro Original music composed and conducted by James Horner SONY SK 60627 [74:48] | | |
| | | |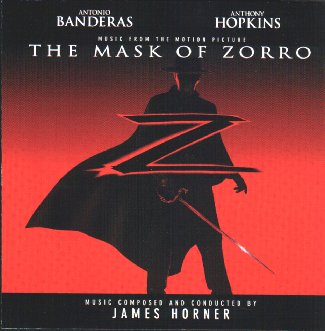 Here is yet another Horner score for the latest Amblin Entertainment 'swashbucklebuster'. The stars are Antoni Banderas and Anthony Hopkins with Catherine Zeta-Jones (who has come a long way from her role in UK ITV's The Darling Buds of May) and Stuart Wilson. The film is directed by Martin Campbell. Steven Spielberg is first amongst the trio of executive producers.
There are 12 quite beefy tracks (the longest at 13:21) plus a thirteenth which offers a close-up big-sound pop-ballad for the film: "I Want to Spend my Lifetime Loving You". This is performed by a wobbly but enthusiastic Marc Anthony and a breathily engaging Tina Arena. It is in common spirit with the duet at the end of the soundtrack of the Disney film of Beauty and the Beast. The Zorro song ends with some harp strokes out of the pages of Holst's Hymn to Varuna.
The first track combines a castinet-clicking Mexicana and a rollicking 'spurs and chaps' Western theme all topped off at climactic moments with a choral wail. The Hispanic element has the usual Moorish turns and accents, solo guitar appearance and which conjure up warm nights, romance, high sierras and suspense.
Romance and an ominous rumbling like faroff thunder are very well caught in track 2 and again there is that wailing (similar to the serpent sounding in a certain Bernard Herrmann score evoking the death throes of a dinosaur trapped in lava ) both vocal and flute (with reverb). That distinctive wail is to recur throughout the score. There is a Three Musketeers gallop in track 3 with much for guitar, castanets and clapping.
Track 4 whispers ominously but has a warm solo trumpet with some Mariachi about it. The main theme has a hint of Barber's Adagio in ripe theme. Whispers and omens of Elena's Truth. "The Fencing Lesson" opens with deep bass pizzicato and dazzling percussive guitar work, heel-clicking flamenco and clapping. As a relief there are some cool harp highlights. The music flames and explodes in storm towards the end. Track 6 has a solo violin is followed by what sounds like a very warm Greensleeves variant.
"Montero's Vision" is quite striking being both awesome and eerie (again that wail!). Then comes track 10 which re-runs the regal Hispanic theme like something out of El Cid. Track 11 borrows some of the menace of Mars from Holst's Planets makes a regular snare drum appearance. The Planets must be one of the standard palettes and fall-backs for film music composers so often has it been sampled, blended, melted, shadowed, echoed and outright mimicked. The last track lets the full theme unfold undulating like the contours of a romantic landscape.
The artwork includes on the back cover a redtoned monochrome of Zorro in what seems to be a tribute to the 1920s silent Zorro (Rudolph Valentino?). I wonder what music was chosen to accompany that film?
Sound quality is fine as is expected from Sony Classical.
There is a great deal of excellent music here. All credit to Horner (and/or his masterful orchestrator) for this really quite distinctive flute wailing which bookmarks the score in the memory. This is quite a longrunning disc for an OST issue. It is good to have so much. I would not want it any other way. However one hour and a quarter solid in the company of this music alone is too much. One theme receives a host of different treatments but it is still a single theme - not that this is anything unusual in film music. Take the disc five tracks at a time or be prepared to have it in the background. It makes a very agreeable audio atmosphere with enough surprising turns and effects to make you from time to time stop what you are doing and catch the attention.
Robert Barnett

---
Return to October Film Music Reviews
---