---
| | | |
| --- | --- | --- |
| | FILM MUSIC RECORDINGS REVIEWS | |

October 1998
Discs on these pages are offered for sale. There is also a page of search engines from a selection of on-line retailers here. Please support this web-site
| | | |
| --- | --- | --- |
| André PREVIN Elmer Gantry OST RYKO RCD10732 [35:04] | | |
| | | |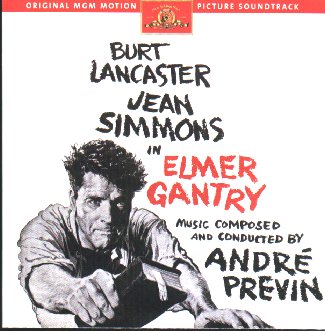 It is a pity we do not hear more of Previn's film music. On this showing he clearly had a deep feeling for the Hollywood vintage. I for one would like to explore his screen music with a CD reissue of The Four Horsemen of the Apocalypse. Meantime what of the present disc?
The sound is rather shrill as befits a 1960 film. This positively adds to the atmosphere.
Tracks 13 are big and beefily dramatic all very impressive with memories of Hindemith and Waxman. Track 4 (Lulu's Room) is a nicely gooey waltz played by what sounds like a large Palm Court hotel orchestra. Track 5 bellows out at you with great rolling brass music beloved of William Schuman in the 1940s and 1950s alternating with 'haunted house' string whisperings.
Track 6, "Not As My Lover", is like a dewy Coplandesque early morning carriage ride descending into gloom. Track 7 has more Copland-pastoral with a foreboding injected from the main title track. Track 9, "Kiss Me Goodbye", begins tenderly passing through an ebony-jazz smooch to return to an affecting tenderness and a momentary Rozsa-like violin solo which reappears for track 11 (Elmer and Lulu).
Tracks 8 and 10 (echoed in choral guise in the appendix tracks) "Shall We Gather at the River" and "Stand Up For Jesus" are unsubtle and repetitive as befits the image of early Evangelical music. The only remarkable feature is the tactfully rippling piano.
Track 11 offers astringent strings and a Rozsa-style solo violin again frail but fond. The Elmer and Lulu track has a genuine vulnerability a touch of Korngold and Previn had obviously heard Friedhofer's music for The Best Years of Our Lives. Resolute strings feature in the end title as well as a recollection of the main title's violent and tense opening. Very effective.
There are seventeen tracks. Twelve of these are from the original LP. To these have been added five more sequences not previously issued.
Track 12 is an orchestral suite. It was what people in light music circles used to call a potpourri: a melange of pastoral Copland out of The Tender Land (one of Copland's most underestimated works) and the stressful gloom of the title and endtrack.
Track 14 is an ultra jazzy treatment of "Onward Christian Soldiers" with stratospheric trumpet solo accompanied by drums. Continuing the evangelical vein there is then a very American revivalist choral treatments of "Shall We Gather at the River" and "Stand Up for Jesus".
The final track is the first appearance of a Spiritual. This is truly stirring sung by a choir in authentic 'big' style and distinguished by a very forward fervent solo by none other than Burt Lancaster. I can imagine this track being used for a few music quizzes.
The Rykodisc series of MGM soundtrack reissues has a uniform packaging. The folded leaflet instead of the standard booklet was a bold decision and gives plenty of opinion and information as well as souvenir film stills. A very worthwhile addition to the film score CD discography.

Robert Barnett
---
Return to October Film Music Reviews
---