---
| | | |
| --- | --- | --- |
| | FILM MUSIC RECORDINGS REVIEWS | |

October 1998
Discs on these pages are offered for sale. There is also a page of search engines from a selection of on-line retailers here. Please support this web-site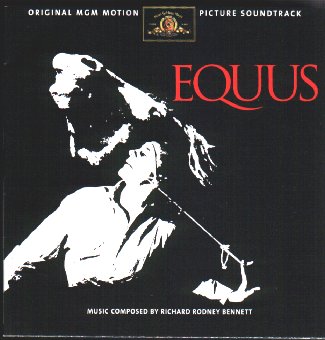 This harrowing film was based on Peter Shaffer's play of the same name. The screenplay was also Shaffer's work. The stars included Richard Burton whose voice, in tortured character, is heard here in six provocative and often horrifying monologues (briefly over music). The other stars are Peter Firth (heard on one track with Burton and alone in "The Ride"), Colin Blakeley, Joan Plowright, Harry Andrews, Eileen Atkins and Jenny Agutter. The voices of other actors are not heard here. For fear anyone is concerned that all you hear is music accompanying oration this is not the case. Nine sections are music only. Some of the oration tracks are purely speech without music accompaniment. It is possible to programme out two of the oration tracks but the other are segments of music and narration are grouped together in single tracks.
What of the music? This is quite understated and contemplative in contrast to the film's cruelty. The first track is rather Bachian even sporting a long cello melody which might have come from the suites. In later tracks there are extended soliloquies for violin and viola.
Bennett's adopted musical style is rather like a junction between Tippett (Corelli Fantasia and Concerto for Double String Orchestra) meets Finzi (Eclogue, Romance and Fall of the Leaf).
In "The Field of Ha Ha" and "The Ride", the music becomes distinctly more complex and darkly dreamy evoking with great aptness a nightmare and insane obsession and stifling claustrophobia.
The disc is well packaged. In common with the rest of the Rykodisc/MGM OST series the insert is a folded leaflet with plenty of useful text and commentary as well as stills from the film. This is admirable although I doubt the leaflet will survive years of use by comparison with a more conventional booklet.
Hearing this disc is a strange experience. The music is very fine and anyone wanting to understand and appreciate Bennett would do well to get the disc before it disappears. Be prepared also for a grittily emotional experience. A fine disc and an excellent memento of the film.

Robert Barnett
---
Return to October Film Music Reviews
---