---
| | | |
| --- | --- | --- |
| | FILM MUSIC RECORDINGS REVIEWS | |

October 1998
Discs on these pages are offered for sale. There is also a page of search engines from a selection of on-line retailers here. Please support this web-site
Joseph JAMES Priest of Love (The story of D. H, Lawrence) Original Music from the film played by a contract orchestra conducted by Alexander Faris D SHARP DS1003 [47:47]

Crochet (UK)
iMVS (UK)
Soundstone (USA)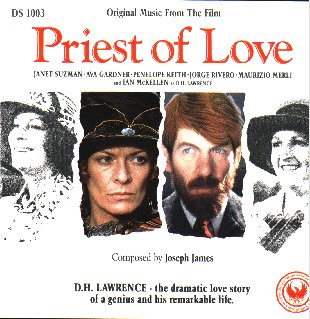 This is the CD re-incarnation of a film score originally released in LP format in 1981, the year this British film was released. It starred Ian McKellen as Lawrence and Janet Suzman as Frieda with Ava Garner and Penelope Keith. The music was composed by Joseph James a man who did not exist - it was/is the nom de plume for two writers, Stanley Joseph Seeger and Francis James Brown who first met in Florence in the early 1950s when they were studying with Luigi Dallapiccola.
The score for Priest of Love is mainly in the grand late romantic tradition. The arresting opening fanfare is followed by intensely emotional and dramatic Wagnerian-type music that grips the listener. It introduces a long fourteen minute cue portraying the many sided-character that is Lawrence in music of many moods. There are surging string melodies, quiet introspective, meditative passages; restless, passionate and intense sections depicting an obsessive character almost stifled by his own excessive emotions. Then there is pure, almost liturgical music seemingly suggesting the purity of love - the Priest of Love. One often senses violent quarrels and tender reconciliations. We meet a five note theme which is to be crucial to the score, sometimes it appears stark and dramatic - at other times it's almost a piece of typical British light music and at length it develops into an engaging waltz. The cue ends on a note of tragic resignation.
One certainly cannot complain about lack of variety in this score. Frieda's Theme suggests not only feminine nobility and fortitude but also a sense that Frieda is swimming out of her depth. One of the most engaging cues is "Italy" which sparkles. It is a colourful kaleidoscopic musical picture postcard complete with joyful, vibrant folk dance melodies, "oompah town band" material, and sentimental, romantic tunes - all very Italian. "Cornwall", in contrast, is an idyll one imagines seagulls floating over coastlines and verdant, green fields basking in summer haze. There is a grand, imposing "Fugue" and "Lawrence's Death" is marked by the organ and orchestra in full heroic splendour. Two catchy, jazz-based songs of the period (1920s) round off the album. A rewarding release and recommended

Ian Lace
and another view from Rob Barnett:
Joseph James is a pseudonym for the two composers Stanley Joseph Seeger and Francis James Brown. They first met in Florence in the early 1950s while studying with Luigi Dallapiccola. In addition to this score they have also written an opera based on Nathaniel Hawthorne's Scarlet Letter. Their Requiem received its premiere at St James' Church, Piccadilly, London in October 1997. The music heard here is arranged by Alexander Faris who also conducts the orchestra whose names are individually listed on the booklet. There are 78 of them including John Ludlow, Alan Loveday, Neville Taweel, Anton Weinberg and Leslie Pearson.
The Joseph James music is on 8 tracks. The first track is the longest at 14 minutes and is a Portrait of D H Lawrence entitled 'Lawrence'. This is a big orchestral score in sumptuous romantic style. Much of the music has a suitable Palm Court feel mixed with tender waltzes and the atmosphere of the affluent Edwardian world. The style reminded me very strongly of Richard Rodney Bennett's urbane score for Murder on the Orient Express, Samuel Barber's orchestral suite Souvenirs, Prokofiev's music for Eugene Onegin and Paul Gemigniani's orchestrations for Stephen Sondheim's A Little Night Music. The whole score has a slightly Ravelian charm. There is an uproarious Tarantella to describe Lawrence's years in Italy. Cornwall is a gentle lullaby of a decidedly pastoral type with only a little of the Cornish marine spirit. The Fugue is just that and in grand Bach-Stokowski style with a faintly dodecaphonic accent. The Death of Lawrence is nicely handled and the big theme reminded me of a little of John Barry. The finale is out of the same box as the closing grandiose bars of Britten's Young Person's Guide to the Orchestra.
At the end of the disc there are two fairly inconsequential make-weight tracks with an additional tango played by the Pasadena Roof Orchestra and a song The Way We Get it Together.
The film is not one I am familiar with. The notes tell us that Lawrence was played by Ian McKellen; Frieda by Janet Suzman; Mabel Dodge Lulian by Ava Gardner; The Honourable Dorothy Brett by Penelope Keith. The film must date from around 1981 although that is not absolutely clear from the documentation.
This is not striking music-making rather what we have here is reasonably sophisticated entertainment music which strikes lightly on the ear. I make no great claims for it except as unexceptionable charming and largely undistracting background such as we might come across for a TV production.
Alexander Faris is a sensitive and practised hand in the world of light music and the musical theatre. Years ago he conducted a rather fine performance of Dvorák's Serenade for Strings on Classics for Pleasure (LP only) alongside Tchaikovsky's own Serenade. This seems to have been a one-off, unfortunately. His sensitivity is particular clear in his control of dynamics.
The disc will also have some draw as a souvenir of the film and for the far from small band of D H Lawrence acolytes.
The recording probably dates from 1981 though I am not at all sure about that. Sound quality is fine without being startlingly clear.
© Robert Barnett

---
Return to October Film Music Reviews
---