---
| | | |
| --- | --- | --- |
| | FILM MUSIC RECORDINGS REVIEWS | |

October 1998
Discs on these pages are offered for sale. There is also a page of search engines from a selection of on-line retailers here. Please support this web-site
Nino ROTA Two Piano Concertos Massimo Palumbo (piano); Marco Boni conducts I Virtuosi Italiani CHANDOS CHAN 9681 [64:29]

Crotchet (UK)
iMVS (UK)
Soundstone (USA)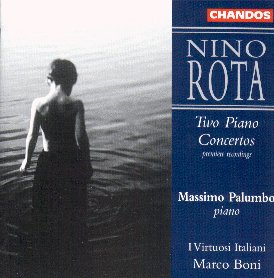 Nino Rota is, of course, the composer of scores for many highly successful films including: La Dolce Vita, Satyricon, War and Peace, The Godfather, Waterloo, and one of my top ten favourite film scores of all time - Il Gattopardo (The Leopard).
Rota appears to have been a rebellious student tormenting his tutors: Pizzetti and Casella. Although he was schooled in the works of the moderns, he insisted that his music be accessible and melodic - principles that he sublimated in his film scores. These two contrasting piano concertos demonstrate an equally impressive facility for creating music for the concert platform.
Neither of these two concertos contain quotations from the film scores.
The longest, the E minor Concerto, was composed in 1960 (the year of his score for Rocco and His Brothers). It is written in the late romantic style. It begins mysteriously with the piano stating the main theme in gentle limpid ripples, then the music gradually becomes sterner and the orchestra joins in for the first big climax. From then on the music progresses through many moods from the assertive and heroic to the pensive and poignant. There is a very impressive long cadenza which allows Palumbo to display both sensitivity and virtuosity. The lyrical slow movement is both gentle and passionate while the finale is something of a musical joke. It is a struggle between the two main themes - one is frivolous and innocent, the other more serious and introspective. While the former becomes ever more cheeky and sardonic the latter inflates itself pompously and majestically with the piano commenting on, and embroidering around both.
The Concerto in C major (no date of composition given) is more modern and to my mind the more interesting. Its opening pages seem to suggest that it is cast in the classical tradition. Then one gets the impression that a commedia del arte atmosphere is being imposed for the music is full of galumphing mischievousness but this is just a portent of this movement's music's restless, kaleidoscopic nature as it shifts between the dictatorial to the dreamy, from poetry to pomposity and from comedy to pathos. It is as though Rota has become an Italian Poulenc. The second movement is in the form of a theme and variations, opening with the theme stated on the cor anglais - very Italian-pastoral sounding with a hint of the Sicilian, reminiscent of the Godfather music. The rather Rachmaninov-like variations embrace the grotesque and sardonic wit as well as both gentle and intense romanticism. The finale is a fast moving, exuberant romp. This colourful concerto makes considerable demands on the pianist and Palumbo rises very well to its challenges while Boni supplies splendid accompaniments to both concertos in which the orchestra is treated as an equal partner to the soloist. Well worth exploring. Recommended

Ian Lace
---
Return to October Film Music Reviews
---