---
| | | |
| --- | --- | --- |
| | FILM MUSIC RECORDINGS REVIEWS | |

October 1998
Discs on these pages are offered for sale. There is also a page of search engines from a selection of on-line retailers here. Please support this web-site
George & Ira GERSHWIN Standards & Gems (Nonesuch Gershwin recordings compilation with new additions)
NONESUCH 7559-79498-2

Crotchet (UK)
iMVS (UK)
Soundstone (USA)
Little Jazz Bird; But Not For Me; I Don't Think I'll Fall in Love Today; Barbary Coast; Could You Use Me?; Someone to Watch Over Me; Fascinating Rhythm; How Long Has this Going On?; Meadow Serenade; My Cousin in Milwaukee; Isn't it a Pity?; Somebody Loves Me; When Our Ship Comes Sailing In; Maybe; I've Got a Crush on You.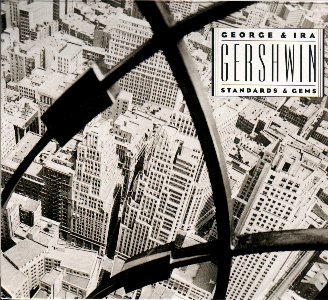 This is an excellent introduction to the Nonesuch series of George & Ira Gershwin shows recorded authentically in the spirit of the original productions in the capable hands of conductors Eric Stern and John Mauceri. They were:
Girl Crazy - (79250-2) [1990]
Strike Up the Band - (79273-2) [1991]
Lady Be Good - (79304-2) [1992]
Pardon My English - (79338-2) [1994] - See review
Oh Kay - (79361-2) [1995]
This compilation features twelve numbers, as listed above, all sparklingly rendered from the above recordings (including "Isn't it a pity" and "My cousin in Milwaukee" from the album I have reviewed above) plus three new numbers previously not released: "I don't think I'll fall in love today" from the 1928 show, Treasure Girl , "How long has this been going on" from Funny Face (I guess I will always associate this, one of my favourite Gershwin songs, with the irreplaceable Audrey Hepburn singing it in the 1957 Paramount release) and "Somebody loves me" from George White's Scandals, 1924. I hope this CD proves to be an irresistible temptation to collect all the other shows CDs listed above.

Ian Lace
---
Return to October Film Music Reviews
---