---
| | | |
| --- | --- | --- |
| | FILM MUSIC RECORDINGS REVIEWS | |

October 1998
Discs on these pages are offered for sale. There is also a page of search engines from a selection of on-line retailers here. Please support this web-site
| | | |
| --- | --- | --- |
| George & Ira GERSHWIN Pardon My English William Katt; Arnetia Walker; Michelle Nicastro; and John Cullum; orchestra conducted by Eric Stern ELEKTRA NONESUCH 7559-79338-2 | | |
| | | |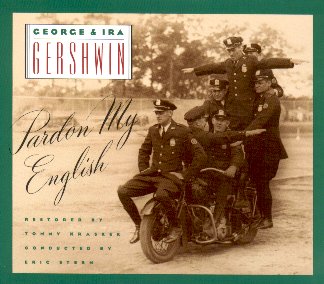 This 1994 recording was issued in Nonesuch's splendid Gershwin stage show series which comprised: Girl Crazy, Oh Kay, Lady Be Good and Strike Up the Band. I choose to include it in this series of special Gershwin reviews because the show is much less well known than the others I have listed - which is a real shame. Pardon My English dates from between the two Gershwin political satires, Of Thee I Sing and Let 'Em Eat Cake but it is more reminiscent of George and Ira's Jazz age works. It opened in January 1933 with a lavish star cast but it was doomed. It closed after only 46 performances, the shortest Broadway run of any of the Gershwins' collaborations. There had been script changes, changes of cast, music and production teams. Jack Buchanan, so memorable in The Bandwagon, could not cope with the split personality of the leading man, alternating after countless bumps on the head between ardent lover hero, Michael and ruthless gangster, Golo. The best thing about this frothy satire set in a pre-war Dresden where soft drinks are prohibited, is the Gershwins' music which deserves to be better known for it sparkles.
The Overture sets the mood of fun and high spirits with little satirical touches and blowsy jazz figures. The tunes of a number of songs will sound familiar: "Watch Your Head" and "Hail the Happy Couple" for instance. "Isn't it a Pity" is one of Gershwin's loveliest romantic melodies (for Michael and Ilse sung by William Katt and Michelle Nicastro) with equally brilliant lyrics by Ira like:-
Put your hand in mine -

A perfect fit!

We never knew -

Just think of it!

Isn't it a pity

We never met before

Imagine all the lonely years I've wasted,

Fishing for salmon,

Losing at backgammon

What joys untasted

My nights were sour

Spent with Schopenhauer
Ira liked to call this type of lyric "rhymed conversation"; George's accompaniment for this song is a joy, I think particularly of the inspired touches for the 2nd refrain with muted trumpets and engagingly sentimental violin trills. In contrast there is the other big romantic song, "Luckiest Man in the World", but this time more witty and ironic for the more worldly Golo and Gita. It has a more subtle but still memorable tune and caustic lyrics, by Ira, like:-
I have heard from Jake the plumber

(A gentleman you may recall),

When you were through with him last summer

He couldn't plum at all!

Oh, I'm about the luckiest man in the world

To have a girl like you.
Gita has two colourful numbers "My Cousin in Milwaukee" and "Lorelei". Arnetia Walker, who plays her, makes one smile with suitably slinky, smokey-voiced renderings of such lines as:-
What a picture when she (Lorelei) shook her frame!

She'd take 'em all - ja, ja!

With ev'ry shake forty battleships went up in flame!
I must also mention the wonderful joyful, exuberant number, "I've got to be there" and the silly but marvellous comic song "The Dresden North-West Mounted" (police) ("we always get our man- if we can!") which might explain the otherwise inexplicable - why there is a picture of a bunch of American cops crowded onto a motorbike on the CD booklet cover.
As in all the other albums in this series the soloists, choir and orchestra perform in such an authentic manner that you would think you have been transported back to the Broadway of the 1930s. (As far as I know this show has never been filmed.) Excellent

Ian Lace
---
Return to October Film Music Reviews
---