---
| | | |
| --- | --- | --- |
| | FILM MUSIC RECORDINGS REVIEWS | |

October 1998
Discs on these pages are offered for sale. There is also a page of search engines from a selection of on-line retailers here. Please support this web-site
George GERSHWIN Gershwin plays Gershwin - The Piano Rolls ELEKTRA NONESUCH 7559 79287-2 [60:15]

Crotchet (UK)
iMVS (UK)
Soundstone (USA)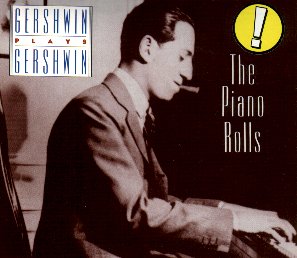 After the disappointments of the Joshua Bell(enised) Gershwin, what a pleasure it was to turn to the real thing - Gershwin playing his own compositions as though he were in the studio today thanks to the talents of the Nonesuch team behind this remarkable album. The coded information on Gershwin's piano rolls has been converted to computer floppy discs for use in playback on a 9-foot Yamaha Disklavier. This is an oversimplification of the technical feat which is fully explained in the very thorough booklet notes. The Disklavier piano is a high-quality full-sized concert grand which produces a most impressive richness of sound and dynamic range which until now has been unusual for piano rolls recorded for CDs.
From the notes, we learn that Gershwin was in the habit of enriching and embellishing his piano rolls by overdubbing and this is evident in such numbers on the CD as "That Certain Feeling", "Sweet And Low-Down" and "Rhapsody in Blue". There are some interesting Gershwin rarities included which makes this album all the more alluring: "Novelette in Fourths", "So Am I", "When You Want 'Em You Can't Get 'Em , When You've Got 'Em You Don't Want 'Em", "Kickin' the Clouds Away" "Idle Dreams" (with an attractive Chinese/oriental flavour and clever strumming/humming harmonies), "On My Mind the Whole Night Long" and "Scandal Walk".
The longest work ends the programme - a two piano roll version of "An American in Paris" in which a second 7-foot Diskclavier grand piano was used. This is Frank Milne's arrangement and it is one of the most powerful and impressive roll performances of the era.
This CD is the first of two volumes: I hope to review Volume II next month. It is another must for Gershwin enthusiasts.

Ian Lace
---
Return to October Film Music Reviews
---