Christina Antoniadou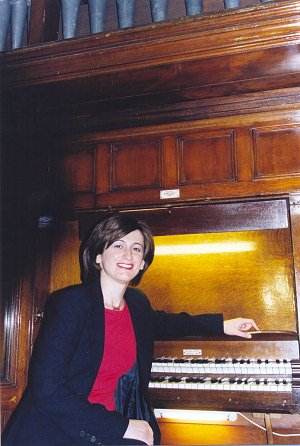 CH

CHRISTINA ANTONIADOU
Organist BMus, MMus, LRAM
E-Mail: christina_antoniadou@yahoo.gr
Christina Antoniadou was born in Athens, Greece where she received her earliest music training in piano and theoretical studies. As a scholar of the Association "Friends of Music", she studied the organ with Nicolas Kynaston at the Athens Concert Hall.
She continued her studies at the Royal Academy of Music in London, where she studied with James O' Donnell and Patrick Russill. She took the LRAM diploma in organ teaching and graduated with a degree by the Royal Academy of Music and the University of London. She completed her studies with Michael Harris at the Royal Scottish Academy of Music and Drama in Glasgow, where she took the MMus degree in performance.
She participated in masterclasses with Marie-Claire Alain, Piet van Djik, Johannes Geffert, Dr Francis Jackson, Kei Koito, Susan Landale, Jon Laukvik, Lionnel Rogg and Winjant van der Pol. She had also improvisation lessons with Nigel Allcoat, David Briggs, Naji Hakim and Brigitte Harris and harpsichord lessons with Terence Charlston.
She has performed in UK, the Netherlands, Ireland and Greece. Highlighted recitals and concerts included, amongst others, the Athens Concert Hall, St Giles' Cathedral in Edinburgh, Dunblane Cathedral, RSAMD Concert Hall in Glasgow, St Marylebone Parish Church. As a continuo player, she performed with the Period Instrument Baroque Orchestra of the RAM at the London Bach Festival. She has performed works for organ and trumpet, trombone, violin, oboe and voice. She has also transcribed concertos for guitar and orchestra, for organ and guitar, and she has performed this rare combination.
Christina has the artistic direction of the Spring Organ Series in Athens (www.springorganseries.gr) which is organized since 2004 with the main aim to get the Athenians know the organ through inventive concerts of the highest musical quality.
Since 2001 she is a music reviewer at the internet site www.musicweb-international.com
She took seminars on management and computing. She speaks English, German and Japanese.
She is Director of Music at St Paul's Anglican Church in Athens and she now teaches the organ at the International Cultural Center and Conservatory ATHENAEUM and the National Conservatory in Athens.