PAUL SHOEMAKER
(1937-8th June 2010) Obituary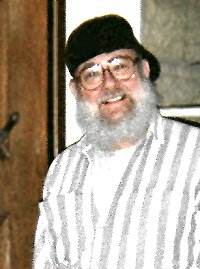 Paul Shoemaker was born near Los Angeles in 1937. His Theosophist mother enjoyed singing folksongs to him. The fun of banging on grandfather's piano was almost completely ruined by piano lessons. His father and uncles played classical recordings for him until he outraged them by knowing more about the subject than they did, and telling them so. The local newspaper printed his school prizewinning essay on fire prevention.
After flunking out of both the Cal Tech and UCLA astronomy schools, he took a job as an illumination engineer and failed at moonlighting as a science fiction writer. With his very first paycheck he became a compulsive recording purchaser. Reading LP program notes led him to reading Tovey and he became as the years passed an "armchair musicologist" as the record and book collections expanded at nearly the speed of light. He bought a clavichord and a large harpsichord and struggled to teach himself to play them, while hanging out with a local amateur string quartet. They played for him the Tovey completion to the final fugue of Bach, and this experience set him on a resolve to hear all the rest of Tovey's music. He has sung in several symphonic choirs, and actually performed on stage the bell part in what used to be thought of as a Bach Cantata (#53).
Upon retirement he moved to a tiny country town in Idaho, less than an hour's drive from a university with a huge music library. His arrangement for four guitars of the Bach Passacaglia in c was performed by the university guitar class. He sold his harpsichord and clavichord to buy a Yamaha DX7s synthesizer and has recently worked with computer MIDI files, and with computer digitization and restoration of classic LP recordings.
In addition to music and writing he has been involved seriously in astronomy, spirituality, photography, Egyptology, exploring the natural world, tattooing, gardening, and astrology.
He conspires to advocate the performance and recording of the music of Sir Donald Francis Tovey.
He can be contacted at P.O.Box 124, Notus, Idaho, 83656 USA. (208) 455-5664.
---
Return to Classical Music Web
contributors page
---