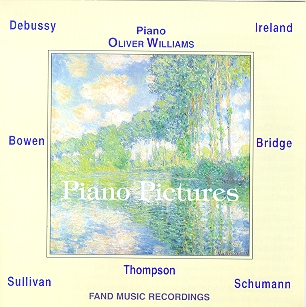 This unpretentious recital of ' Pictures in Sound' is an intriguing variety of beautifully played pieces ranging from Peter Thompson's (3rd) Marc Chagall Suite of five brief movements (a kind of Pictures from an Exhibition) to John Ireland's Sarnia. The Chagall Suite is brilliantly colourful and has all the delights of a Poulenc or Casella - the composer's more serious side showing in the summery miniature tone poem Bolinge Hill. There [is] … a rather meditative Bridge Three Sketches, the final waltz of which set becomes here, as it set out to be, a waltz, and not, as so often, a mere flurry of notes. The recital also includes the seldom-heard rambling Way to Polden of York Bowen. Williams's playing is essentially English - unfussy, no unnecessary emphases, but full of conviction. A pupil of Vivian Langrish the influence of the Matthay teaching is noticeable and refreshing. Langrish once commented 'the best rubato is the least rubato' - though perhaps this pianist might have allowed himself just a little more laxity in Bridge's Rosemary? His rendition of Ireland's Sarnia is an interesting comparison, timing-wise (slower than Ireland's own) nearer to Alan Rowlands' than to Eric Parkin's. The playing throughout is clear and finely articulated - but loses none of the poetry.
This is the kind of programme which our intrepid Classic FM presenters try to achieve but inevitably spoil through occasional lapses in taste. Despite its rather idiosyncratic mix of items, the disc is well worth having for the playing. Fand Music is a comparatively recent name and as a publisher (via Goodmusic) a source of some interesting items: Peter Thompson's fine orchestral tone poem Hampshire Summers and other pieces, as well as some hitherto un-known Bax (Legend, In the Night and more recently the Four Pieces (1947). 1 look forward to hearing more).
Reviewer
Colin Scott-Sutherland
Reviewer
Colin Scott-Sutherland