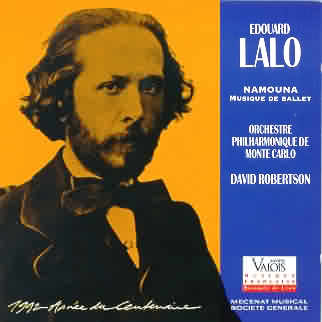 There are some dreadfully vapid ballet scores around and not a few of these emanate from France. Namouna, of which we have here sixteen dances from the ballet, is quite a different proposition although it does have its occasional pedestrian patches. It was premiered at the Paris Opera on 6 March 1882 after a chequered history of disappointments all of which are chronicled in the notes.
The Prelude is somewhat Wagnerian-impressionistic emerging from shadows in Lalo's most serious style. Ultimately it is perhaps rather clogged in texture. The Balcony Scene which follows is a contrast catching a jerky, nervous marionette movement often used many years later by de Falla. It is contrasted with a quick melody for the woodwind then echoed by strings. The Allegro Vivace [3] is like a miniature perpetuum mobile. It reminds me a little of Massenet especially the lively and dynamic ballet music for El Cid. There is a whisper quiet Valse de la Cigarette during which in the first production the dance Rita Sangalli had to light up a cigarette. Tambourin [6] has the expected tambourine and a quick-ticking pulse. There is North African splendour and exoticism in Danse Marocaine again defining an idiom then tapped into by many including Holst in Beni Mora. A grand dance La Gitane follows. Next comes the Bizet-like Parades de Foire [9] which sounds like a source for Respighi's orchestral suite The Birds. Namouna's Dance is a show-piece for flute solo. The Fete Foraine opens in a way reminiscent of Grieg's Hall of the Mountain King. La Sieste is appositely dreamy. The stately Mazurka has a steady regal pace offset by a Stanford-like jig for woodwind. The Presto and Slave Dance are vigorous. The chaffing Theme Variee recalls the lighter Tchaikovsky and has at 4:18 a noble climax. The final Bacchanale is a mixture of stern and celebratory occasionally close Tchaikovsky's music for Nutcracker. Bizet, Grieg and Massenet are not bad reference points if you want to know what this music sounds like. If you enjoy these composers' music you will probably like Namouna.
As for previous performances I recall Jean Martinon's DG LP from 1971(?) which may well have been reissued on CD. As far I can recall that did not offer the complete score. There are two suites or rhapsodies (there is a third as well awaiting a premiere recording) and I believe that those suites plus a Norwegian Rhapsody were on that LP. Martinon brought a degree more panache to the music but Robertson is sensitive to a gentle charm and hesitancy which has its own special allure.
The extensive notes by Joel-Marie Fauquet and the Californian conductor David Robertson are in French, English and Spanish. There is good haunting photo of Lalo heading the notes.
This CD was released in 1992 to comparatively little notice. It is a wonder to me that more attention is not paid to the French musical renaissance and to intrinsically inspiring characters such as Lalo. Recommended for the adventurous and for dance buffs.
It is notable that in works such as this Lalo laid the groundwork for a century and more of lighter music not only in the Gallic world but far beyond. British light music was certainly influenced by works such as this. Listen for the echoes of the lighter Elgar, Coates, Phillips, and so many others.
Reviewer
Robert Barnett