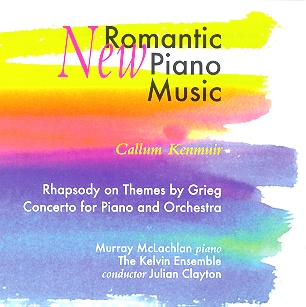 I recall my enthusiasm for this Concerto when the present soloist played it in St Andrews a year ago, and which now appears on CD under the intriguing title "New Romantic Piano Music". So the age of Romance is NOT dead..!
Callum Kenmuir, a Scot whose other activities are in the field of popular music, unashamedly writes music to delight. While this work, with its obvious allegiances to Rachmaninov and Saint-Saens is certainly 'Last Night of the Proms' stuff, it is no rag-bag of plagiarised ideas. Like any good romantic Concerto it has its 'big tune' - in this case a beautifully simple melody that lingers long in the mind. But the work is an original, cogently organised whole that is by no means an example of 'cross-over' - that curious phenomenon from Classic FM and the current pop-classical ikons. Its well orchestrated richness is conveyed with workman-like integrity, and here interpreted by the soloist with conviction and considerable obvious enjoyment. It has perky tunes - the opening of the work and the third movement, from whose 'boogie bass' emerges a bright vivace certainly recalling Shostakovich - and a limpid Chopinesque Nocturne in the central Lento teneramente. Throughout the 'big tune' pervades the music, and it is quite apparent that all this material is closely related. There is the briefest of programme notes - but with the conviction in McLachlan's playing the music needs no further explanation - it wears its heart on its sleeve.
The other work here is even more intriguing - a Rhapsody on the two very brief thematic fragments which were Grieg's only hints at a second Concerto (in B minor). This is fertile stuff and Kenmuir has integrated the fragments into a convincing work, with at times an almost chameleon-like assumption of Grieg's own idiom. After a brief atmospheric introduction the first theme appears strongly on the piano - then developed, extending the fragment, wringing the last drop of beauty and seeming to hint at his own Concerto en passant. Another phrase x is used as a kind of bridge, heralding the second theme - a somewhat trite figure which however Kenmuir develops with enthusiasm. A slow section follows, based on the bridge theme - and trolls and goblins take over with a galumphing treatment, developing into a macabre waltz. After a clarinet version of the first theme and a strange sepulchral version of the second, the grand climax has a kind of Lisztian grandeur.
Do get a copy of this recording - then sit back and enjoy this appealing music.
Reviewer
Colin Scott-Sutherland
Reviewer
Colin Scott-Sutherland