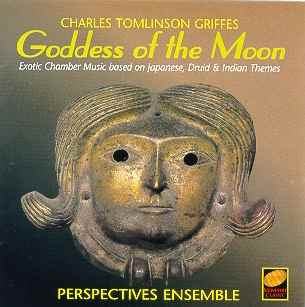 Charles Tomlinson Griffes was born in Elmira, New York. After early studies in Elmira he went to Berlin where the musical life was dominated by Richard Strauss. He studied piano and composition with various teachers including Engelbert Humperdinck. His music is very eclectic at various times he was influenced by Debussy and Ravel, Scriabin, Schoenberg and Stravinsky; plus the German Romantic tradition and Impressionism and the music of the orient as well as the poetry of the Scottish-Celtic writer Fiona MacLeod. He is best remembered today as the composer of two orchestral pieces: The White Peacock and the Pleasure Dome of Kubla Khan.
His music is dramatic, atmospheric and colourfully evocative. He had a strong innovative streak and often thought in terms of unusual combinations of instruments. He died at the tragically young age of 35.One cannot help conjecturing, if he had survived, that Hollywood would have beckoned him in the 1930s and the whole history of film music might have taken a quite different direction.
The most substantial work on this CD is The Kairn of Koridwen (composed in 1916). An observer has likened different parts of it to Olivier Messaien's Quartet for the End of Time, a Poulenc Sextet, the ending of Berg's Wozzeck and Bartok's Sonata for two pianos and percussion. Kairn originated as a dance-drama about a druid princess who is pledged to her island sanctuary and rather than escape from it with her warrior lover, remains there to fulfill her religious vows and in so doing seals her doom. In the Celtic language Kairn means sanctuary and Koridwen is the Goddess of the Moon (hence the title of this album). Griffes did not regard this as chamber music but as a "continuous symphonic music in two movements or scenes" and as "concert music". Consider the unique scoring: flute, two clarinets, two horns, piano, harp and celeste. The music is presented on the album as six pieces each with titles as though they are film soundtrack cues: Scene One: Introduction; Bringing out the Cauldron; Fury of the Priestess; Scene Two: Introduction; She Begins to Rise; and Dirge. Influences (or rather pre-echoes ) of Bad and John Ireland are discernible and the impressionistic influence is strong. The sound world and sonorities which Griffes creates are truly spellbinding and highly evocative; and descriptive of the narrative. Clarinets and horns are used both in unison to add depth to the texture and in counterpoint to each other to add perspective (one has the impression of druid calls between islands for instance).
Griffes' brief Three Japanese Melodies (1917) are exquisite and worth the price of the CD alone. Scored for flute, clarinet, oboe, two violins, cello, bass and tom-tom, in Griffes own words: "It is developed Japanese music - I purposely do not use the term "idealized"...the orchestration is as Japanese as possible: thin, delicate, and the muted strings points d'orgue serve as a neutral-tinted background like the empty spaces in a Japanese print. Three Sketches for String Quartet based on Indian Themes is a remarkable evocation of the music of the Native American Indian melodies. Griffes's sound world reinforced by occasional strokes on the bodies of the instruments seems to suggest larger forces at work. The second movement is a beautiful lament as though expressing a sadness at the passing of an era, while the lively Allegretto moderato final movement is a lively Indian dance.
The other work in the programme is the Sonata for Piano composed in 1917-18. It is considered by many to be his masterwork. Critics were uncertain about it considering it to have been experimental and to have broken convention. One critic writing in Christian Science Monitor observed: "The work though strange, perhaps, to some hearers, proved to be clear in structure, intense in feeling and refined in expression." To which I would add that it is both imposing and arresting. It is rhapsodic and it is often has an other-world, dream-like quality.
The instrumentalists of the Perspectives Ensemble, attached to Columbia University, is to be congratulated on their fine committed playing of these remarkable works and on their initiative in recording them. A real treat for the adventurous listener.
Reviewer
Ian Lace